We are three days into the Nav Durgas today, and know that our wait for the arrival of festivities is finally over let us give it our best this time to make these holy days fruitful. Let's understand each day of the Navratra and work accordingly. Worshipping the Goddess is important but what is even more important is to make sure you're doing everything right. Doing things right will help you to attract good vibes, health, wealth and prosperity in your homes and families.
From puja vidhi to shubh muhurat, we will be telling you about everything you need to at day 4 of the Navratri, so, keep a note of it and follow the same.
About Day Four Of Navratri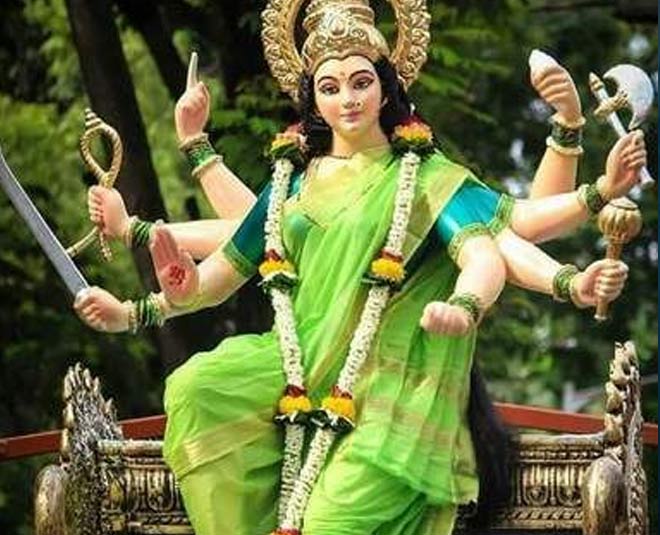 The fourth day of the Navratri is again a very auspicious moment and it must be celebrated with great determination. The fourth day is made to worship goddess Kushmanda. Kushmanda Devi is said to have created the Universe. She is known for her warmth and it is believed that the Universe was a void full of darkness and evil vibrations, but Kushmanda Devi came and scattered light in every dark corner of the Universe and that gave birth to life on Earth. Devi Kushmanda is also said to have eight hands and that is why she is also known as Ashtabhuja Devi. She rides the lion and has a Kamandal, Bada, Dhanush and Kamal in her hands.
"Ku" means little, "Ushma" means energy, and "Anda" means cosmic egg. And hence, this day is dedicated in worshipping the goddess who created the world and every organism living in it.
How To Please The Goddess
Devi Kushmanda is a sweet and warm goddess who appreciates the efforts of all her devotees. So, if you wish to achieve the love of the goddess and the siddhis and Niddhis, you should offer her red coloured flowers such as hibiscus or gudhail. And further, you can chant the mantra: "Ya Devi Sarvabhuteshu Maa Kushmanda Rupena Samsthita। Namastasyai Namastasyai Namastasyai Namo Namah" This mantra will help you attain peace and will fulfil all your wishes.
In addition to that, the fourth day is generally devoted to orange colour and it will be beneficial for you.
Don't miss: Navratri 2020: During Fasts This Recipe Of Samak Rice Pulao Is Perfect!
Puja Vidhi
Wear orange colour clothes and then move on with worshipping the goddess. The beliefs suggest that you should offer, fresh flowers, rice, and sweets to the goddess. And complete your Puja with the Aarti In the evening. Aarti must be sung along with the entire family and it must be taken into consideration the fact that the pronunciations should not be flawed.
Shubh Muhurat
Kushmanda Devi is a divine symbol of the Laxmi. She endows upon us, warmth and positive energies and that is why is it utterly important to be worshipping her at the right time. The Shubh Muhurat for Chaturthi begins at 2:07 AM on 19 October and Ends At 11:58 AM on 20 October. So, stick to the shubh muhurat and offer petha as bhog to the goddess as the goddess loves this sweet dish.
Don't miss: Festive Fashion: Exude Glamour In During Nine Days Of Navratri By Donning These Outfits
If you liked reading this article, stay tuned to Her Zindagi for more article like this.