Also known as Narak Chaudar or Kali Chaudas, Narak Chaturdashi is celebrated during the month of Kartik, on the 14th day of the waning moon. On this day, people pay respects to the Lord Of Death, Yamraj.
Narak Chaturdashi is usually celebrated a day before Diwali and is also called Choti Diwali. By worshipping Lord Yamraj on this day, people wish for long and healthy life. Read on to know more about the festival.
Narak Chaturdashi 2020 Date And Shubh Muhurat
This year, Narak Chaturdashi is falling on 14th November 2020, on the day of Diwali. This year, the shubh muhurat of the Abhyang Snan is from 05:22:59 to 06:43:18.
Applying sesame oil all over the body and bathing with water infused with apamarga leaves during this muhurat is considered auspicious. It is said that those who perform this ritual become fearless in life and go to heaven after their death.
Narak Chaturdashi Puja Vidhi
Begin the day by taking a bath before sunrise. Applying sesame oil on your body before bath and cleaning your body with apamarga leaves infused water is considered auspicious.
Sit on the floor, facing towards the southwards direction, and pray to God of death Yamraj to absolve all your past sins.
Light a diya outside the main door and pay respect to Lord Yamraj.
In the evening, take two more diyas and place them on both the sides of your home entrance or main door. It is believed that by doing this, you welcome Maa Lakshmi to your home.
It is said that on this day, one must throw all the useful waste from their house. This is considered to be the removal of poverty from the home. This is also because just after this festival, it is Diwali, which is the festival of Maa Lakshmi. When Maa Lakshmi enters your home, she brings in prosperity and wealth. It is thus important to clean your home properly of all dirt and impurities.
Don't Miss: Dhanteras 2020: Puja Muhurat & Right Way To Do It, Tips For Shopping, All You Need To Know
Legends Behind Narak Chaturdashi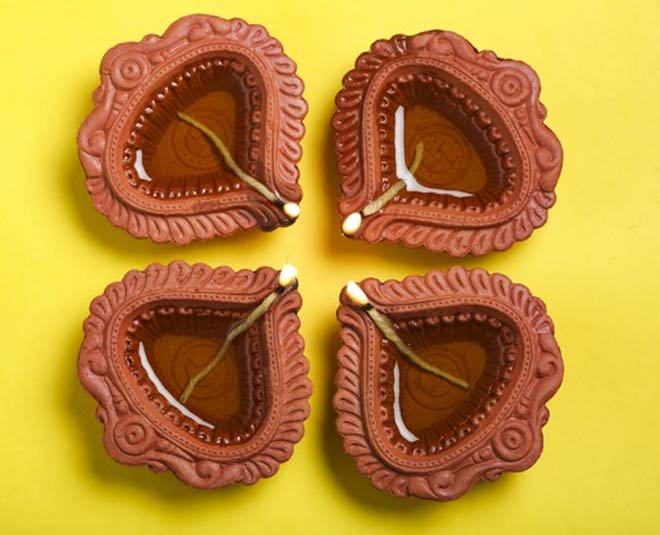 According to a popular legend, there was once a devil named Narkasura who had supernatural abilities. With his powers, he made it impossible for the priests and saints to live in peace. There came a day when he took 16000 women (wives of Gods) as hostage. He tortured them and the saints and priests were helpless so they went to Lord Krishna for help.
Lord Krishna assured that justice would be served. Narkasura was cursed that he would die off the hands of a woman and it happened. Lord Krishna transformed himself into an aide of his wife and during the month of Kartik, on the 14th day of the waning moon, he killed Narakasura with his sword. He then freed all the 16000 women.
Don't Miss: Bhai Dooj 2020: Date, Tilak Muhurat, Vidhi, Story Behind The Festival
The day is celebrated remembering Lord Krishna's victory over the demon.
Why Is Lord Yamraj Worshipped On This Day?
According to a tale, when Yamraj came to take a king to hell after his death, he asked him why is he taking him to hell, what sins had he committed. That is when Lord of death told him that he had once returned a Brahmin starving from his house. The king realised his mistake and asked Lord Yamraj for some time.
The King then fasted for an year and served food to the Brahmins during the month of Kartik. Years later when Yamraj came, he took him to heaven instead of hell. It is thus believed that it is auspicious to worship Lord Yamraj on this day and light a diya in his name.
How are you celebrating the festival this year? Share your thoughts with us! For more such stories, stay tuned!