One cannot deny being a mom is one of the toughest jobs. There are endless responsibilities and management involved to give kids the best upbringing. This not only involves teaching them moral values, giving them education and providing healthy food but also celebrating festivals and of course their birthdays.
On September 5, Mira Rajput's younger child, Zain turned a year older and Mira threw him an amazing theme-packed birthday. She shared the glimpses of the same on her social media handle. Mira also revealed in a post that how difficult it was to pull herself together for her son's birthday that falls almost 10 days after her daughter's birthday. While she says that it was "good old mom guilt" that kept her going, all the mothers out there can understand how exhausting the whole situation can become.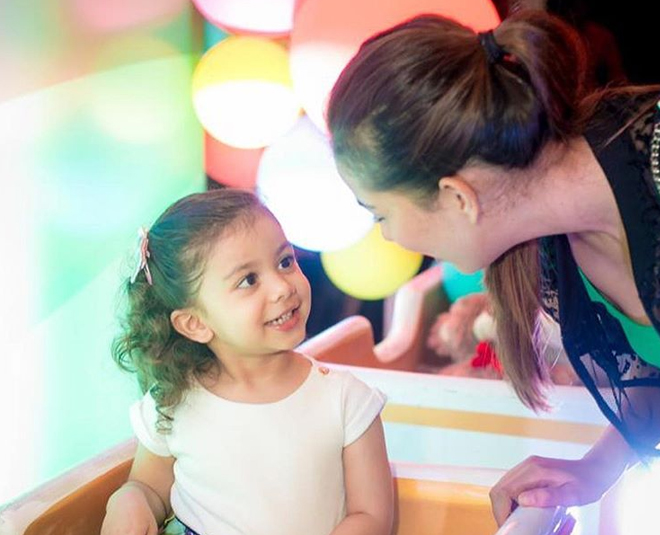 "After planning a detailed, game intensive and theme-packed birthday for the lady of the house, I was quite lazy to get up and do yet another one in ten days! But nothing like Pinterest and good old mom-guilt to get you right back on your toes to start all over again," said Mira on one of her IG posts.
When we took a closer look at the snaps from the construction-themed birthday party, we were blown away. Good for us, Mira shared details of how she organised her "buddy boy's" birthday, who "is obsessed with anything that goes vroom: trucks, bikes, tractors, cars, fire engines and his most favourite the JCB Digger," revealed Mira. Here's how the celebrity wife made arrangements for the party!
Mira Saved & Re-Used Many Items From Other Celebrations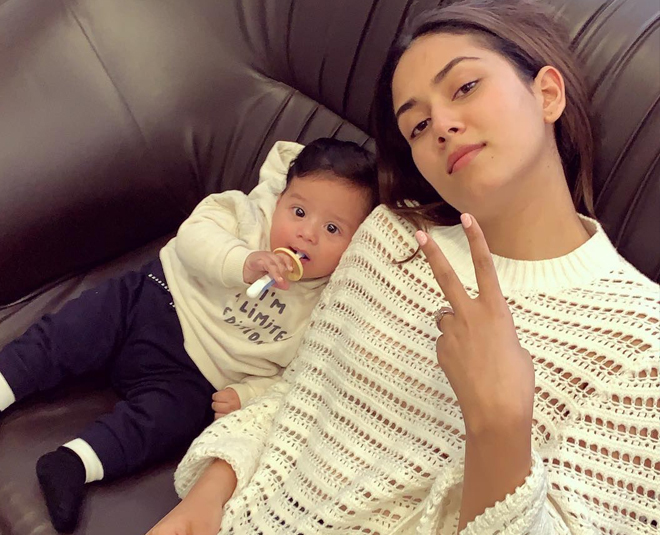 If you thought reusing old décor items is something that celebrity doesn't do, now you know they also follow reusing mantra. Mira Rajput in her IG story revealed that she used "stuffs kept from previous birthday parties" along with ordering other things from an e-commerce website. She suggested her followers to "consider buying 2-3 different colour combinations of tassels. You'll get longer strings and you can arrange them in the colour(ful) way you like."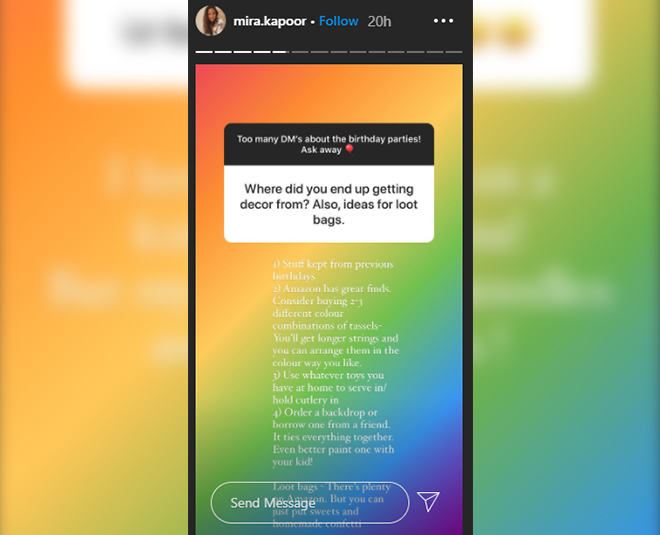 Cutlery Stand & Wrapping Paper
Not just us, even her fans loved construction themed packing paper. In fact, one of the IG users even asked her "where did she get it from?" The mom to two revealed she got it from a shop named "Studio Psd" that keeps high-quality personal stationery. For cutlery stand, she suggested a quirky yet fun idea. "Use whatever toys you have at home to serve in/hold cutlery in," said Mira. We think it is cost-efficient and will work as that wow factor.
Don't Miss: HZ Exclusive: Mira Kapoor Swears By These Desi Spices In Her Kitchen
Tassel Garland
One thing that gives that amazing birthday party vibes is beautiful tassel garland. While back in times our moms used to decorate with crepe paper tassels, now things have become fancier. Such as, the 26-year-old adorned her house using a colourful paper ice cream tassel that looked cute and cheerful. She saved them from her daughter, Misha's first birthday and used it years after on Zain's birthday. "I picked them up three years ago while travelling for Misha's first birthday. Kept them since then," said Mira in her IG story.
Don't Miss: Zain Kapoor Birthday Special: These Pictures Of The Little Munchkin With Dad Shahid Kapoor Are Adorable!
Construction-Themed Napkins
The construction-themed napkins added to the party décor and didn't just look like something that has to be ultimately tossed away in the bin. While Mira's son loves tractors and cars, she, on the other hand, adored these napkins and found it trouble-free to weave the birthday theme around it. "This theme combined his love for both vehicles and construction (also because it was just easier to widen the theme basket a bit and I was in love with the tractor shaped napkins)," said Mira Rajput, who got them from a store named, Party A La Carte.
Wallpaper
Wallpapers (myths around usage of wallpapers at home) can up the mood of the whole décor that you have done so far. You will have a corner to click pictures and it is also great for places that you want to hide from something. "Order a backdrop or borrow one from a friend. It ties everything together. Even better, paint one with your kid," she suggested.
If you liked this article, do comment on our Facebook page. Stay tuned to HerZindagi to read more such stories.
Picture Courtesy: Instagram (mira.kapoor)