Kirron Kher who is celebrating her birthday today sure has a serious side to her when at work as the veteran actress in Bollywood and when she is on the field as the MP of Chandigarh. However, its the fun side of the "Sardari Begum" actress that we dig. She has been a judge on the reality TV show "India's Got Talent" since its inception and then judged the Koffee With Karan show on season 6 with Vir Das, Malaika Arora, and Mallika Dua. Now, these shows gave us a glimpse to her fun side. The Punjabi side of the ever so beautiful in handloom sarees and Amrapali jewels that made us trip so much! Let's go down the memory lane and relive those fun moments.
1: Kirron On Deepika & Ranveer
This was when Karan Johar was trying to call Ranveer Singh to congratulate him but Kirron took him down with her comment: "The one who is married to Deepika Padukone, why would he pick up your call on a Sunday afternoon?".
2: She Made Fun Of Malaika's Dress
It was in the same episode when Malika was wearing a dress. Kirron asked if someone could lend her blanket as she is feeling cold. It was a funny moment because Malaika confessed later that her toes were cold and she couldn't feel them.
3. Kher On KJo's Jackets
If you have been watching India's Got Talent then you may be aware of how much Kher detests KJo's fashion sense. She has always taken a dig at the filmmaker's jackets and shoes which somehow remind us of Ranveer Singh's fashion sense. From calling him a "parrot" to calling his Gucci jacket "Tacky" irrespective of being a brand to criticising his shoes with "In joote par kya lagaya aaj?", she has gone all out with a dialogue delivery like that of a Punjabi aunty who never minces her words.
4: Karan's 'Millenial Lingo'
I think many would relate to this one as there are many of us who are not good with the latest lingos. She once jokingly schooled Karan Johar for his fashion sense and also his obsession with 'millennial lingo', as is described by Karan on Instagram. Karan once asked Kirron while making his fun videos: "What's your OOTD?" A taken aback Kher, who appears to be not as good with the millennial abbreviations, enquired about what exactly 'OOTD' means.
"Get with the program, Kirron ji - it's Outfit Of The Day!" replied Karan, after which she again attacked his fashion choices: "Tu outfit hi sochta rahega? Kuchh aur bhi socha kar!" But that's not all. When Karan questioned Kirron Kher if she knows what FOMO is, she said: "Tum logo ko kya ho gaya hai! Kapde tum ulte seedhe pehente ho, language ka satyanash kar diya hai! What is FOMO? I only know it's okay to be homo but I don't know about FOMO!" Just in case, FOMO stands for 'Fear Of Missing Out.'
5: Vir, Malaika Get A Scolding
When she scolded Vir and Malaika for creating too much noise while she was talking to Karan.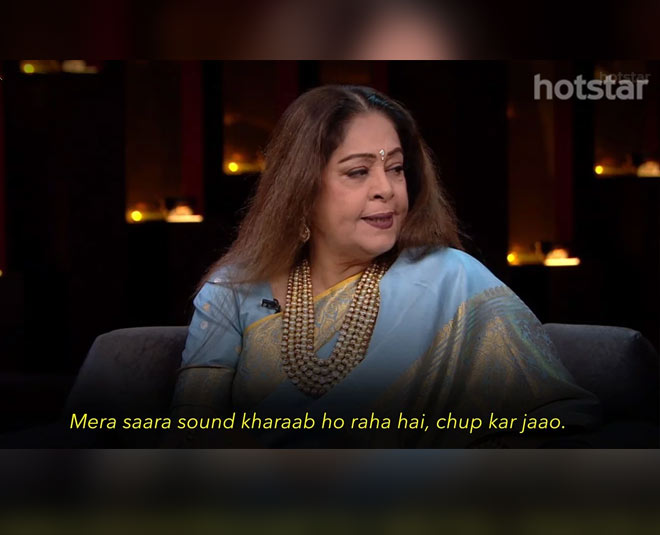 But the best was when Vir and Kirron were talking to each other. There was confusion for one award and Kirron suggested they give it to the top 2 favourites. Vir thought she meant breaking the award (a coffee mug and a saucer) into two halves.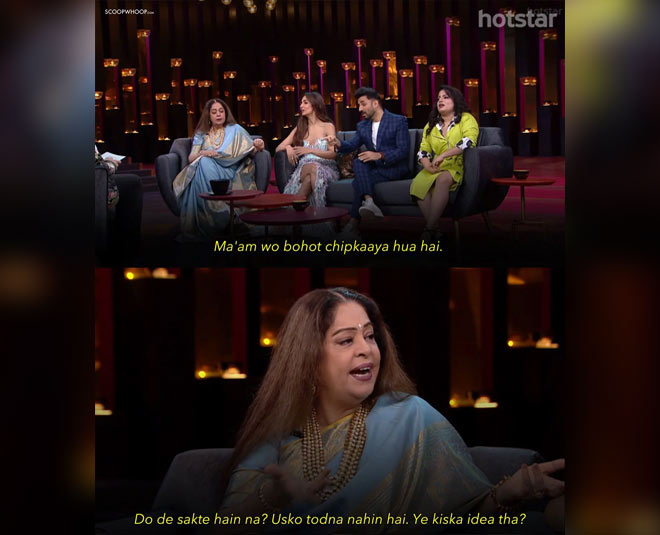 And finally, when Vir tried to explain to her how majority works, she asked him to just shut up. I loved Vir's reaction! If I could put a heart on this conversation!
We love this actress who is always well dressed, has given us some epic films, been that fun mom like the one in "Khoobsurat".