A festival or occasion that means a lot to the married and unmarried wanting to get married women and men, Karva Chauth is a huge festival in North India to be specific. It falls on the 4th day of the Kartik month every year, sometimes it is in October and some times in November.
In the midst of fasting for our better halves, this beautiful festival is also the time when mothers and mothers-in-law get to deepen their bond with their daughters and daughters-in-law. The daughters need to keep a tough fast which starts before sunrise and ends after worshipping the moon in the evening. They don't take food or water and they have to eat a sargi at around 4-5 am or after sunrise.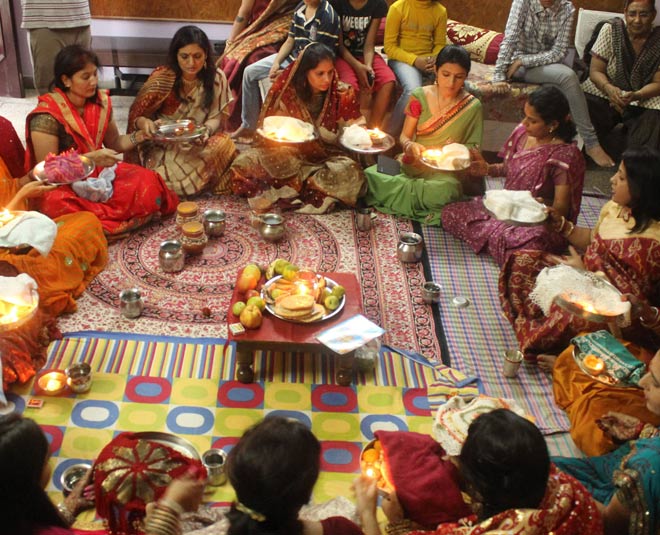 A sargi is given by the mother-in-law while the mother gives Baya to her daughter. The Sargi is a thali of really yummy food which has mithai, matthi, and some clothes. It also contains:
Fresh fruits
View this post on Instagram
They are high on water content so they help with the loss of hydration during the fast. It should contain citrus fruits and pomegranates.
Dry fruits
View this post on Instagram
Full of energy and nutrients, dry fruits are very important for someone during fasts. This includes cashews, raisins, almonds, and pistachios in the thali.
Roti & Cooked Food
Mathis, sabji, a roti or two, halwa are the cooked items that should be there in a thali for Sargi. They keep you full and they don't even cause indigestion.
Sweetmeats
View this post on Instagram
Indian sweets, that the daughter-n-law lovers perhaps?
Baya
Now, this is what the mother sends to her daughter which includes money, sweets, and small earthen pitcher. In the evening, the mother-in-law or any elderly women of the house accepts the baya, for their daughter-in-law.
Don't Miss: Karva Chauth 2019 Mehndi: Add Your Husband's Name To Your Mehndi In These Quirky Styles