Cute Moments Of Jay Bhanushali And Tara That Have Our Hearts
Here are some cute moments of Jay Bhanushali and Tara that have us groped to our cell phones!
Jay Bhnushali had been a star attraction in this season of Bigg Boss. We saw glimpses of his daughter, Tara being a huge part of his life as it is. Here are some moments from Instagram that Jay Bhanushali has shared over the years that have had our eyes gropped onto our cell phones.
Tara's First Birthday
Jay Bhnushali and his wife, Mahhi Vij celebrated their daughter's first birthday on the 3rd of August, 2020 wherein we found this absolutely adoring picture of the trio.
The husband and wife organised a big birthday bash for their little gem and left no stone unturned. They went on to decorate the entire house pink, with balloons and a two-tier yummy-looking cake.
On Tara's birthday, Mahhi Vij took it to her Instagram to share a heartfelt note to her little angel. She shared a video along with the note and recalled the time when Tara was born. She also mentioned in the note the emotional journey from the time premature baby Tara was shifted to NICU till the time she was able to hold the baby close to her.
Tara Massaging Her Dad's Head
View this post on Instagram
In an Instagram video, we spot little Tara massaging her daddy's head as he is back home from the Bigg Boss house and is in for all the rest and family time with his kids and wife.
'What do you want more..when you get head massage + some love @tarajaymahhi missed your hugs and kisses realized my day is nothing without seeing you..' captions Jay Bhanushali as he took the video to his Instagram profile.
Tara can be seen giving him a massage and as she is done, she is seen giving him multiple kisses on the forehead, wherein Jay Bhanushali is spotted enjoying to the max as he missed all this for the entire time he was in the house of Bigg Boss.
Read More-Jay Bhanushali And Mahhi Vij's Love Story Is Much Like A Film
Father Daughter Cuddles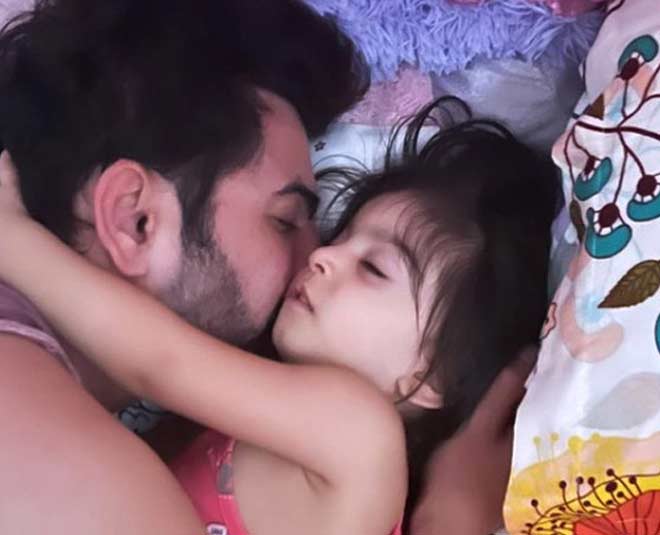 Father-daughter cuddles are truly the best, aren't they? We spotted a post on Instagram where Tara and Jay Bhanushali were cuddled up together and sleeping when Mahhi Vij managed to grab a picture of the two.
The father-daughter duo has been setting major goals all over Instagram and we have admired them ever since day 1.
Karwachauth Special
View this post on Instagram
While Jay Bhanushali was in the Bigg Boss house, Mahhi Vij and Tara set major goals outside the house, taking it to Instagram to post a cute video of the two breaking the fast with Jay Bhanushali's paused video over the television set.
Tara was seen handing over the glass of water and a sweet to Mahhi Vij in order to break her Karwachauth fast. It was absolutely the cutest thing on the internet the same day.
Read More-Bigg Boss 15: Is Karan Tejasswi's Biggest Enemy?
Posing Like Daddy
View this post on Instagram
Recently, Jay Bhanushali shared a picture of him and his little angel sharing a portrait wherein Tara is seen trying to copy her father.
You can see Tara wearing a cute pink frock while Jay Bhanushali is wearing an all-black attire with a white backdrop.
Isn't the father-daughter duo just the cutest? Connect with us over Instagram and let us know! Stay tuned to HerZindagi for more!