It has been an age-old tradition in India to spend money and have the most lavish arrangements for weddings. This not only takes a financial toll on the families but also harms the environment. Tons of food waste, plastic waste, and energy waste is not hidden from anyone. Still, most of us decide to close our eyes and go for an unsustainable affair.
Thankfully, some people are taking measures to break the stereotypes. We are talking about newly wedded Prerana Chakraborty and her husband Nivesh Jain. They, who love animal and nature are a match made in heaven. The couple recently tied the knot in a minimalistic, sustainable wedding. Not only they set an example in society, but Prerana and Nivesh did their bid to save the environment. HerZindagi exclusively spoke to the bride, to know more about her dream wedding.
Why Did Prerana & Nivesh Plan An Eco-Friendly Wedding?
Given the current scenario, where the world is facing a health pandemic due to the novel coronavirus there is already a scarcity of many resources. While the government has set a couple of rules and guidelines for wedding amid the crisis, the newly wedded couple felt the need to take a step forward.
Talking about the same Prerana said, "We are also responsible for giving birth to the grave conditions we are seeing today. Now the time has come for all of us to pay attention to such things which are harming mother earth, and protect nature. Many people have already started this and we are one of them."
Who Are Prerana & Nivesh Jain?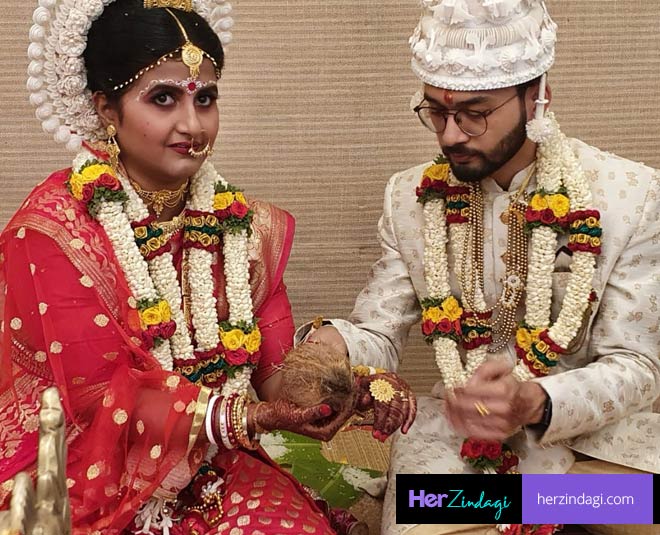 They are no celebrities, but just common people like you and me. However, their love story is a little bit filmy. The couple is based out of Bengaluru, where they met for the first time. Narrating how she met the love of her life, Prerana said, "Both me and Nivesh live in Bangalore. Nivesh is in an IT company and I am a Vegan Nutritionist by profession."
We both met while feeding the street dogs. Our views were so alike that within a short time we both decided to get married," she told Hz.
Why Did They Decide To Have A Sustainable Wedding?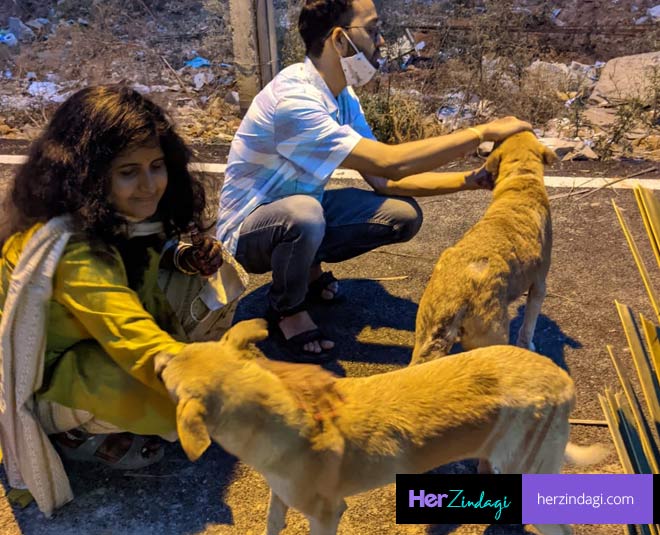 While most of us dream of lavish chandeliers, scrumptious food, stunning outfits, fun gifts, there are others, who have a subtle taste. The same gave the idea to these two to plan their minimalistic and eco-friendly wedding.
'I and my husband are both are minimalists, as well as we are animals and nature lovers. That's why we got married in Vegan style too. There were only 30 guests in our wedding," said Prerna.
How Their Family Reacted Towards A Sustainable Wedding?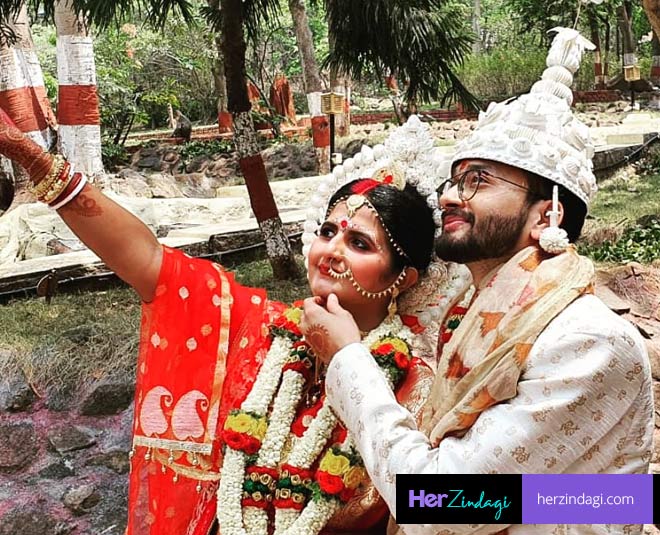 Just like the bride and the groom, even the parents have dreams and expectations from their children's wedding. An eco-friendly wedding definitely doesn't top the chart for sure. However, both Prerana and Nivesh parents were happy about their decision.
"On behalf of family, in-laws and husband, I was given complete freedom to plan the wedding according to myself. But it was not easy for me. It was difficult in the vegan style to plan everything from the outfit to the return gift to the guest," told Prerana to Hz.
"It took a long time to collect the food menu, the washroom items for the guest because for this I had to talk to different people and arrange the vegan items. We had only kept the vegan dishes in our food. But we had also kept paneer dishes for the family from the groom's side, but people liked vegan food more," she added while explaining how she made preparations for her wedding.
How They Did Waste-Management?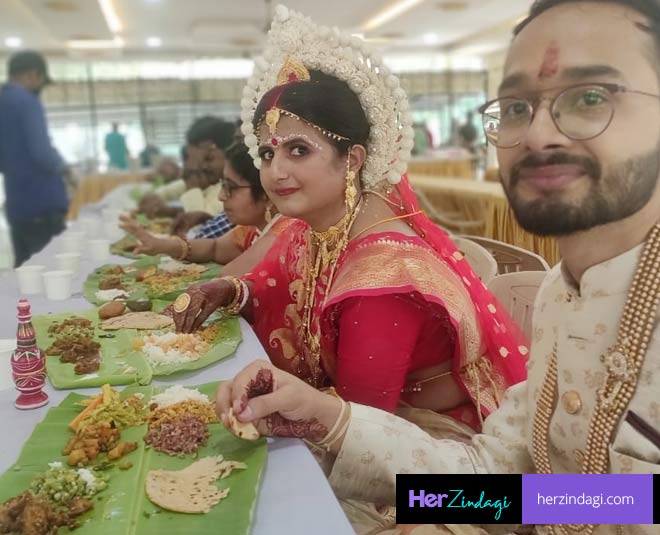 One of the biggest issues that marriages lead to is the amount of waste that gets generated in just one night. But, with smart planning, one can avoid any waste at all.
"We did not let whatever food was left of the wedding to be wasted, as well as the flowers of the decoration, we got it composted to produce biogas. As a food plate, we used banana leaves," told Prerana how she dealt with wedding waste.
Don't Miss: When Love Conquers All: Real Bride Shares The Highs & Lows Of Her Interfaith Wedding
Prerana's Eco-Friendly Wedding Attire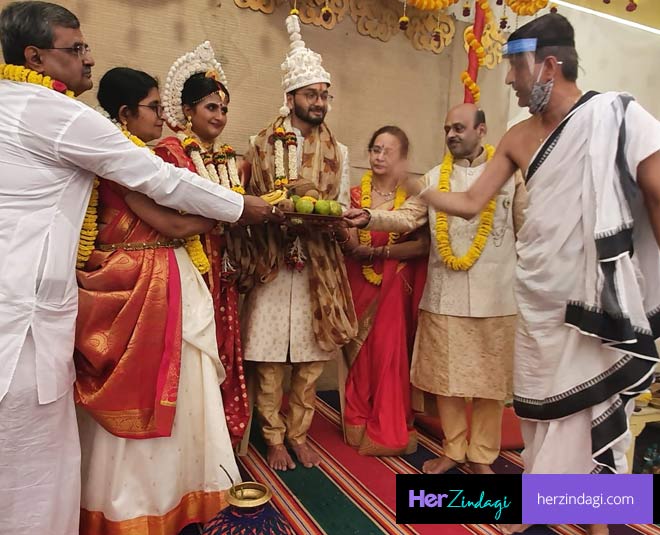 Breaking the custom of wearing a silk saree on the big day, our bride decided to reach out for an artificial silk saree.
"We have the custom that the bride wears a silk sari at the wedding. But I wore an artificial silk saree. This sari had come for only 3000 rupees, whereas if I had taken a silk sari, it would have been worth 20 thousand rupees. I had decided that I would not kill any living being in my marriage. However, my decision also annoyed my family, but later they all agreed," said the bride.
Don't Miss: Dia Mirza To Vidya Balan, Bollywood Actresses Who Wore Sarees On Their D-Day
If you also know a bride, who broke the stereotypes on her wedding, do share her story with us by commenting on our Facebook page. Stay tuned to HerZindagi for more such stories.