Tips To Make Your Home Look New And Fresh
Upgrade your home with these simple tips to give it a new and fresh feel.
The feeling of a new home is so wonderful and too refreshing. When we move into a new house, the new home decors appear too comfy and cozy, which keeps us all happy and pleased. The new ceilings, the beautiful floors, etc sparks the house. However, maintaining the new charm is tough, and the new home decor may lose its spark with time.
However, getting the feeling of a new home is not that difficult. You just need to update your home with a few simple ideas that will give a feel of a new home and will make you love your house even more.
1. Get Beautiful Plants In Your Room
Placing indoor plants in the house as interiors of the home can instantly add freshness and relaxation to the environment, while injecting colour into the space, giving a refreshing look. Not just this, indoor plants have been observed to improve moods, increase creativity, reduce stress, and eliminate contaminants from the air, all of which combine to a healthier as well as a happier you. Having these plants in your home and styling them in unique ways can give your space a completely different look.
2. Coat Your Walls With New shade Of Paint
Aren't you tired of staring at your house's same walls every day? If so, you can use a variety of colours to paint the walls of your home. Choose a colour of your choice and get the looks of your walls enhanced!
Complementary colours add a special charm to the room and make the room appear lively and alive, while a neutral, all-white colour can create a spacious appearance in the room.
3. Put Mirrors In Room For An Illusion Of Larger Space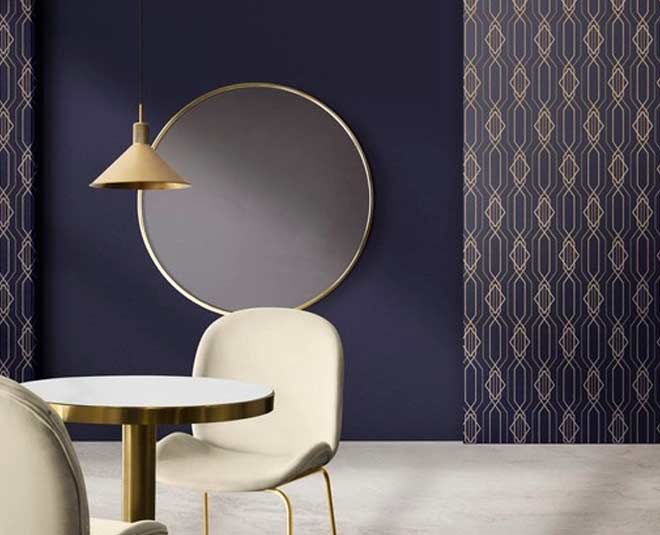 On your cupboards, use mirrors instead of laminates. This will provide the impression of a larger space while also brightening the space. Mirrors provide depth to a room and make it appear more spacious. This fantastic trick is ideal if you live in a small space or want to create a clever arrangement.
Place a mirror near the window to reflect natural light and make your surroundings appear more spacious and open.
Don't miss: Here's A Guide To Using Mirrors For Decoration In Different Areas Of Your Home
4. Replace Old Carpets With New Ones
If your carpet is damaged or if it appears old, get it repaired nicely or replace with a new one for a good look.
5. Place Innovative lamps
Install creative lighting and beautiful lamps that reflect your personal taste and flair. Buffets, arc floor lamps, and minimalistic wall sconces will quickly liven up even the most drab of spaces. These are the kinds of accessories that may make or break the ambience of the place.
6. Decorate Walls With Fairy Lights
Fairy lights are a pleasant and trendy way to decorate a space. Adding some attractive fairy lights in the right way will create a lovely look, whether it's to decorate your balcony, your reading/working room, or the temple.
Don't miss: 7 Unique Ways To Decorate Your Home Using Fairy Lights
Use these tips and refresh your new house.
For more such stories, stay tuned to HerZindagi!