Bringing in a fresh weather perspective between cold winters and hot summers, the spring season is known as nature's youth. Flowers bloom and the trees are luscious, which make it the season of new beginnings, rejuvenation, and rebirth and this isn't just limited to the season, but also one's bedroom.
Ms Sudha Anand, Founder of Swaas Home, told HerZindagi that "Coming back to the comforting warmth of your bed after a long and hectic day can instantly reduce the lurking weight on your shoulders and provide you with a sense of tranquillity. One way to achieve that is by turning your bedroom into a sleep sanctuary this spring season and we have got you covered with the right tools to do that."
Here are some tips by her that will help you in turning your room into that cozy haven you want to come to at the end of the day.
Good Bedding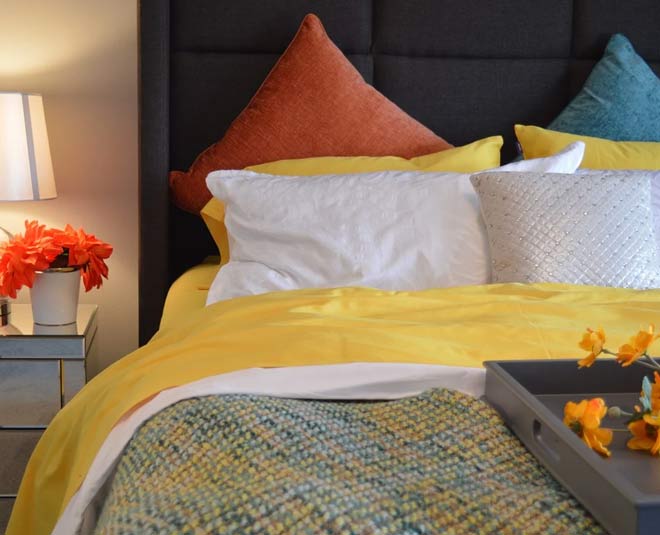 Image courtesy: pixabay.com
There should be no more tossing and turning in bed, which can wake you up or disturb your sleep pattern. The material on your bed should be comfortable and must allow you to stay cool while still feeling supported. You also want them to last a long time (good mattresses and linens are expensive purchases), so they'll be in your life for a long time.
Sheets that are soft, feel good against your skin, don't wrinkle easily, and last a long time are ideal. The spring period is the best time for you to experiment with great floral and nature-themed light prints for your beds that will instantly radiate positivity throughout your bedroom. Alternatively, simply replace your bulky winter blankets, throws, and pillows with lighter-weight and lighter-toned versions to update your look.
Sunshine
Image courtesy: pixabay.com
As the number of hours of sunlight increases each day, now is the ideal time to increase the amount of light in your home by replacing heavy or dark curtains with white or lighter-coloured alternatives–or even removing them entirely! Raising the window shades higher during the day is another simple way to let in more light. In a similar way, consider adjusting the artificial lighting sources.
Replacing lamps and light fixtures with new ones will completely transform a room's appearance.
Adding A Floral Fix
Image courtesy: pixabay.com
Floral arrangements in your bedroom will carry the natural beauty of the outdoors into your house. The scent of sweet-smelling lilacs is unmistakably spring. Queen Anne's Lace and hydrangeas, for example, have a laid-back, cottage-garden vibe. Tulips and daffodils are inexpensive and can be found at your local farmers market or grocery store, allowing you to have fresh flowers in your home on a regular basis.
Arrange your flowers in your favourite vase or use mason jars or recycled glass bottles for a more casual look. Another way to make the flowers stand out? Incorporate flower paintings or portraits into your decor.
Don't Miss: Get These Plants If You Need Luck, Prosperity
Soothing Wall Colours
Image courtesy: pixabay.com
When spring arrives, neutral tones provide the ideal canvas on which you can experiment with bright colours and accents. Fresh spring hues in pillows and blankets add a welcome splash of colour to the whites, greys, and tans that dominate many bedrooms.
Experimenting with a bright hue is a cost-effective way to bring some excitement to your bedroom if it requires a new coat of paint.
Don't Miss: 5 Types Of Bedsheets You Must Have For Different Occasions
Letting The Outdoors In
Natural materials will help you lighten up your space in time for spring. Depending on the design of your bed, natural wood tables could be a better option than heavy nightstands. To lighten up the look, search for taller legs or some kind of airiness in the design. There's also the choice of going outside to see what kind of beauty you might find.
Cut a few branches and arrange them in a wicker basket. In glass containers, arrange the pretty shells and pebbles you found on your beach vacation. Find materials that give any bedroom light, personal feel while also offering an excuse to get outside and enjoy the season.
Stay tuned to HerZindagi for more on home decor tips.