The lovely fragrant flower Parijat, also known as Harshringar or Night-blooming jasmine, is grown mostly as a shrub or a small tree. Its fragrance is liked by most and it is used in traditional medicines which helps in different treatments. To grow this plant at home, here are some steps that must be taken along with a low down on how to care for the plant and how to use it to reap its amazing health benefits.
How To Grow Parijat Plant At Home In A Pot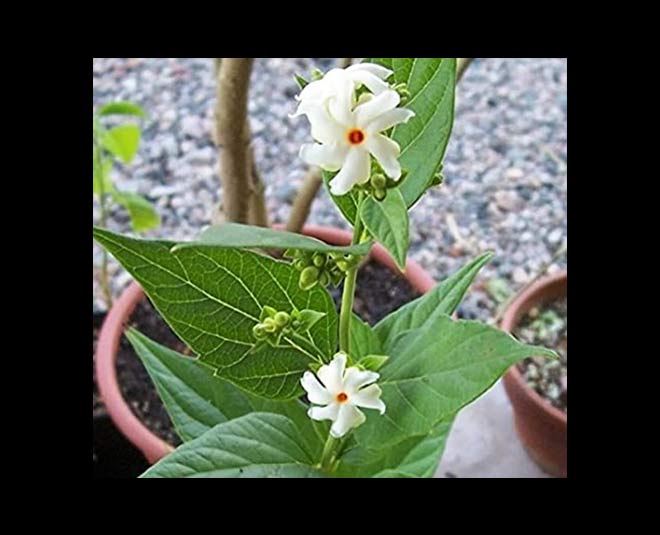 The common belief is that parijat is an outdoor plant which needs a lot of space but it is not exactly true. You can grow it at home as well but there are a few rules and tips that must be kept in mind.
The earthen pot must have a 16 inch diameter with three drainage holes made at the bottom as that is important to get rid of excess water from the pot.
Plant with the seeds or cut stem in the spring season
Avoid planting parijat in the winter season and avoid the seeds from germinating.
The potting mix must be that of 50% normal garden soil and 50% any organic compost like vermicompost. Mix well and fill the tray.
Each section must have one seed each and remember to maintain a 2 cm depth.
Maintain the moisture but do not overwater.
Don't Miss: 7 Reasons To Plant Marigold In Your Garden
How To Care For The Parijat Plant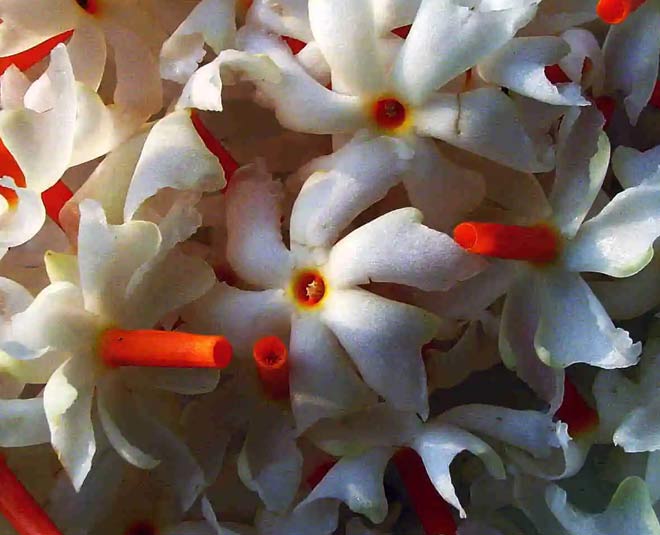 The sunlight needed daily is that of 6 hours.
The temperature must not be too high but in case, make sure it is under partial shade.
Never let water accumulate as that harms the plant. There should be proper drainage.
It should be watered once in the morning and the other time in the evening only if the top layer of soil seems dry.
In the cold season, avoid watering it regularly.
Don't Miss: Get These Air Cleaning Plants As Recommended By NASA Now!
Spiritual Importance Of Parijat
This plant has many attachments to it as per mythology. It has been mentioned several times throughout and here are a few stories connected to this fragrant plant.
The story behind this plant goes that Lord Indira used to grow this plant in his garden and Apsara Urvashi used would sit under the shade of this tree for stress relief.
Even Lord Krishna was gifted this plant by Lord Indira for defeating and killing Naraksura. Lord Krishna then gave it to his wife Rukmini.
The reason why it blooms at night has a lovely mythological theory as well. Goddess Satyabhama who was the third consort of Lord Krishna as per mythology was blessed by Goddess Aditi of heaven to look and be young forever. But when Lord Krishna gave this plant to Rukmini, she too became young forever. This was a secret which was revealed by a devotee to Goddess Satyabhama. When she heard of this and noted its benefits, she asked Lord Krishna to give her this plant from Rukmini's garden. But Lord Krishna found a solution for this. The plant started blooming at night in Rukmini's garden and by the morning the flowers would fall in the garden of goddess Satyabhama as she and Rukmini shared the same garden wall.
Uses Of Parijat
The plant has the power to cure fever, intestinal sickness, and dengue.
The leaves can be made into a tonic which helps in working on joint pain, clogging and worm infestation.
Its leaves are great for immunity. Grind 25 leaves and blooms of parijat with 1 glass of water. Boil it to half and make 3 portions. Each portion must be consumed in the morning, afternoon and evening and do this for 2 months. However, it is best to consult an ayurvedic specialist to avoid any allergy.
So plant this fragrant plant at home and let its pleasant aroma enter your home. Make full use of its leaves and blooms but do consult an Ayurvedic expert.
Stay tuned to HerZindagi for more on different useful plants that we often miss out on.