Holi is one of the most awaited festivals of the year. The festival that marks the arrival of Spring is all about love, colours and delicious food. Many don't know that the day also celebrates the good harvest. The word holi comes from 'hola' which means offering prayer to God for a good harvest.
Holi is a two-day long festival which marks the celebration of good harvest, triumph of good over evil and colours. The festival is split into two days - Holika Dahan and Holi. Let's quickly take you through the legend behind the two day celebration.
Holika Dahan
According to a Hindu legend, when Hiranyakashyap or the king of demons saw that his son Prahalad worships Lord Vishnu, he got angry. He then asked Prahalad's sister to sit in the fire while holding him in her lap. Prahalad's sister, Holika was blessed and could not be burned by fire. However, when Holika sat in the fire, holding Prahalad in her lap, she got burned into ashes and nothing happened to Prahalad.
Today, when we celebrate Holika Dahan, we place wood logs and dung cakes and then burn it. The fire represents the victory of good over evil.
Colourful Holi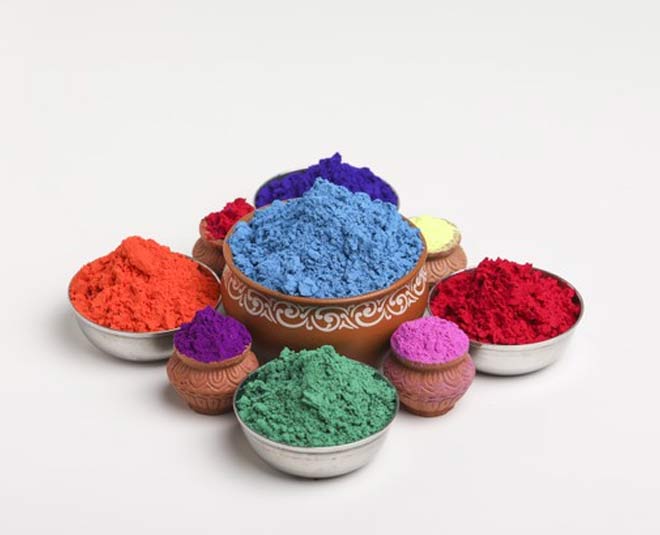 The second day of the Holi celebrations are all about throwing water and colours on each other, having gujiya and meeting friends and family. According to a legend, once Lord Krishna's mother asked him to put colour on Radha. This was because Lord Krishna was born blue and he always had this inferiority complex because of it. He always feared that his beloved won't talk to him due to his colour. (holi DIY decor ideas)
That was the beginning of putting colours on each other on the occasion of Holi. Due to the story of Lord Krishna and Radha, Holi also celebrates love and couples. With time, people in India started playing Holi with water and different types of Holi celebrations were introduced like Lathmaar Holi, Phoolon Wali Holi.
According to another legend linked to the colourful Holi, Lord Krishna once killed a demon named Pootna. After his vicotry, the Gopis celebrated Holi with him.
Don't Miss: Want To Celebrate Holi In Vrindavan? Here's The Complete Schedule To Go About It
Holika Dahan Time, Puja Muhurat
Holika Dahan muhurat this year will begin at 18:36 and last till 20:56. Usually, people do a mass celebration on this day by preparing the bonfire at one place together. Do note that one must never burn the bonfire inside their homes as it is considered inauspicious.
Don't Miss: Festivals From Around The World That Share Resemblence With Holi
Holika Puja Vidhi
Astrologer Sonia Malik shared that the Holika Dahan puja starts before sunset. Prepare puja thali with a diya, dhoop, sesame seeds and jaggery roti. Place a white thread on the jaggery roti. This will be served as prasad during the Holika dahan.
It is believed that when you put this roti into the fire on this day, the white thread doesn't burn even a bit.
During the Holika Dahan, put wheat grain, black chana and jaggeryMi roti into it. It is also believed that putting cow dung cake into the pyre on this day is highly beenficial.
Holika Dahan will be celebrated on 28th March 2021 and Rangwali Holi will be played the next day on the 29th March 2021.
How are you planning to celebrate the festival this year? Share with us on our Facebook page. For more such stories, stay tuned!