Halloween is a festival to remember the martyrs, the saints and the faithful departed. The festival was started way back in 1745 and belongs to the Christian religion. The word 'Halloween' means saints' evening. The Halloween costumes of today and other activities are thought to have originated from the folk customs and traditions of Celtic speaking countries.
Halloween is considered to be one of the most amazing festivals and the activities that are done on this day include, trick-or-treating, attending Halloween costume parties, apple bobbing, divination games, carving pumpkins into jack-o'-lanterns, lighting bonfires, playing pranks, visiting haunted attractions, telling scary stories, as well as watching horror films.
So, accentuate the festivities by making cool halloween based DIY projects with your kids at home.
Pumpkin Plates
For making this cool project, you will need, a paper plate, orange paints, black chart paper and a thin rope. Take the plate and colour it up with orange colour, let it dry then coat one more layer of the paint.
Image Courtesy: Pinterest (mombrite.com)
Then measure the plate and cut a piece of the black chart paper according to those measurements and stick it on the backside of the coloured paper plate. Cut out eyes, mouth and the nose for the pumpkin, using a black chart paper and stick on them the plate. Now make two holes on the top of the plate and pass a thin rope to hang. And it is ready! Wasn't it super easy?
Scary Paper Mummy
Mummies are another spooky creatures that fascinate a large audience around the halloween time. You can make small figures of mummies with your kids, all you need is cardboard, black chart paper, stick-on eyes and white medical tape.
Image Courtesy: Pinterest(somewhatsimple.com)
On the black chart paper sketch the shape of a small mummy. Then cut it out. Tracing it, cut out a similar shape on the cardboard. Now, take the black cut out of the mummy and stick it over the cardboard cut-out. Then take the medical tape and wrap it randomly around the body of the mummy. Finally, stick the eyes and there you go! Your scary mummy is ready.
Toilet Roll Monsters
This DIY is great for decorating your tables on halloween. And the best part is that, you can keep using these later as pen stands. So, let's check out how to make this DIY. For this project, you simply need toilet paper rolls, some coloured sheets of paper and that's it.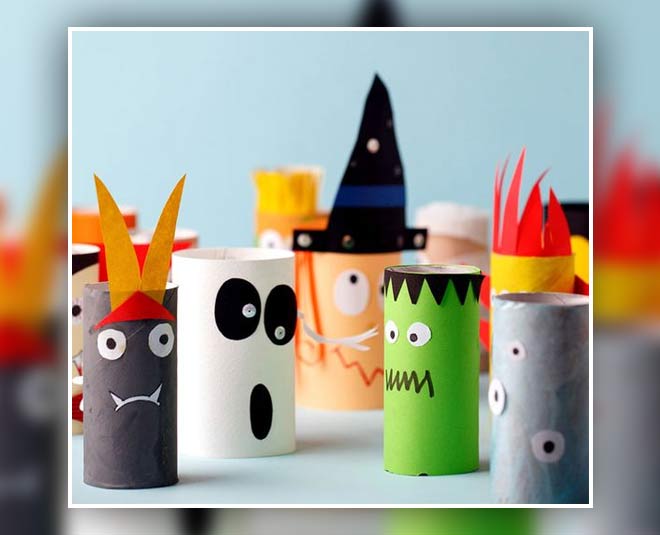 Image Courtesy: Pinterest(kidsactivitiesblog.com)
Start by wrapping different colour sheets on the toilet rolls and secure them on it with glue. Next cut out weird eyes, teeth, hair using black chart paper and stick it over the covered rolls. Highlight the eyes and teeth with a white highlighter and there you go.
Spooky Spider Web
Another very easy DIY project for kids is this one. This can be used to place on the table as well as on the wall. And to make this DIY project you will need, some popsicle sticks, black wool, black paper.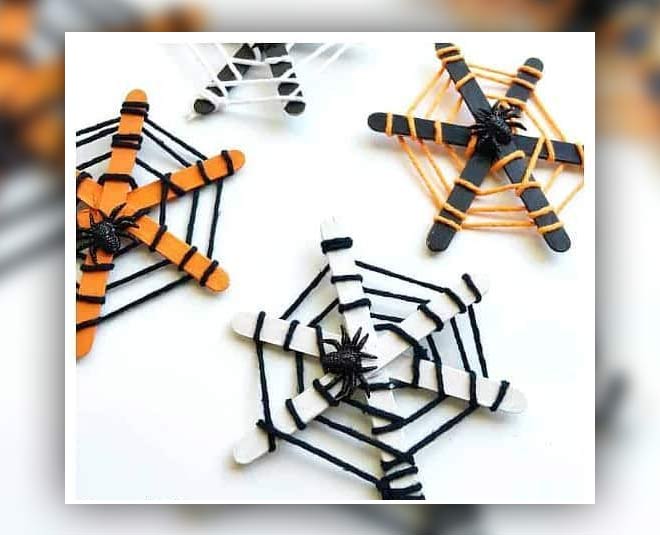 Image Courtesy: Pinterest
Cut a small circle out of the black sheet and stick around six popsicle sticks in a flower(some edible flowers) pattern using glue. Then take the wool and stick it in 3-4 levels on each stick, so that it looks like a real spider web. Then cut out small spiders and draw their eyes etc with a white highlighter. Lastly, stick them over the webs and voila.
Don't miss: Check Out How To Make DIY Organic And Eco-Friendly Ganesh-Laxmi Idols This Diwali
Halloween Star Garland
When it comes to halloween decorations, a garland is a must. Decorate your homes and get into that festive vibe by hanging this handmade garland in your abode. You will need a star stencil, black and orange papers and a strong string.
Image Courtesy: Pinterest(items.rakuten.co.jp)
Start tracing stars on the orange and black papers, make as many stars as you can. Then cut them out carefully and stick them on the string in an alternate pattern, first orange then black. Finally, hang the garland and enjoy halloween with your kids by helping them in making these cool DIY projects.
Don't miss: Destress And Drown Your Anxiety In Fluid Acrylic Art
If you liked reading this article, stay tuned to Her Zindagi for more pieces like this.