Wish your loved ones a very Merry Christmas in different ways via sms, Whatsapp, Facebook, Snapchat, Twitter & other social media with these options. From being funny to super romantic and thoughtful, here is a list of messages that cater to all.
In this loveliest of seasons may you find many reasons for happiness. Merry Christmas and lots of love from our family to yours!
To a joyful present and a well-remembered past. Merry Christmas to you and your family, and very best wishes for the New Year.
Season's Greetings! Wishing you and your family a blessed holiday season creating beautiful memories with your sweet family.
Whatever is beautiful. Whatever is meaningful. Whatever brings you happiness. May it be yours this Christmas holidays and throughout the coming year.
May the Holidays bring happiness and joy to you and your loved ones. Merry Christmas!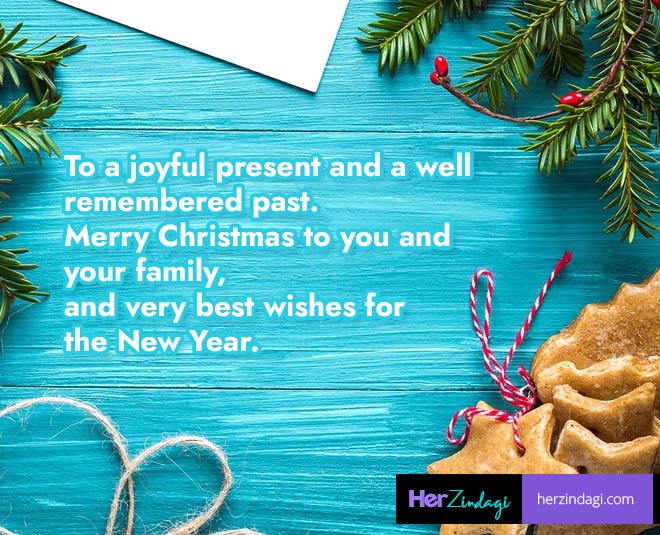 May the good times and treasures of the present become the golden memories of tomorrow. Merry Christmas to you and your family.
May the Christmas Season bring only happiness and joy to you and your beautiful family. We miss you and hope to see you in 2021.
They say the best of all gifts around any Christmas tree is the presence of a happy family all wrapped up in each other. Wishing you a very Merry Christmas surrounded by your precious family, and many blessings for the coming year.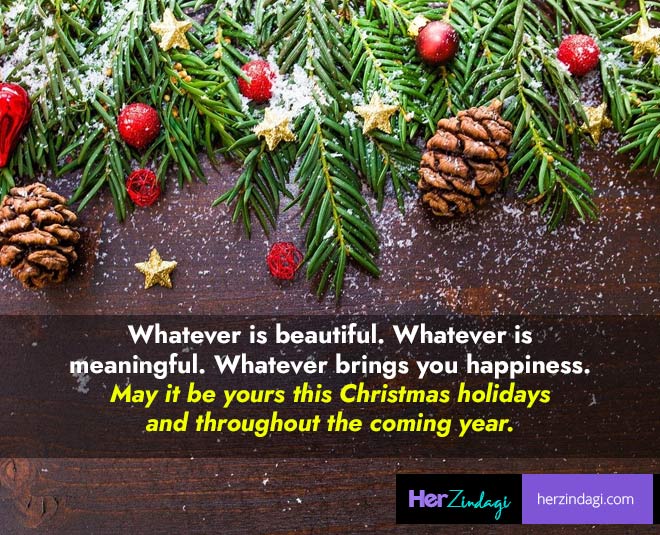 Warmest wishes for a wonderful Christmas and a Happy New Year. May peace, love, and prosperity follow you always.
To a joyful present and a well-remembered past! We raise a glass to you this Christmas all the way from [insert your location]. Best wishes for a Merry Christmas and a magnificent New Year.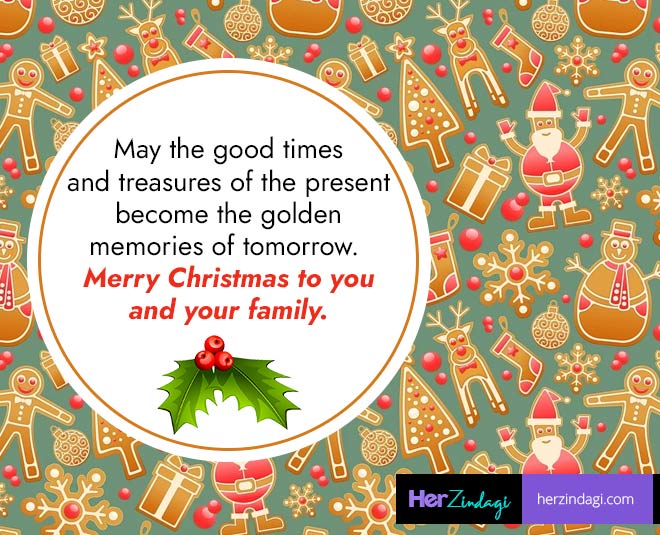 A silent night, a star above, a blessed gift of hope and love. A Merry Christmas to you and your whole family.
Christmas is not a date. It is a state of mind. ---Mary Ellen Chase
Funny Messages To Pull Your Friend's Legs
Merry Christmas! May your happiness be large and your bills be small."
"This holiday season, let's make it a point to cherish what's truly important in our lives: cookies."
"I told Santa you were good this year and sent him a link to your Pinterest board. Merry Christmas to you!"
Christmas is mostly for children. But we adults can enjoy it too until the credit card bills arrive."
Don't Miss: Get Into The Christmas Mode With These Fancy Recipes
"This Christmas, may your family be functional and all your batteries be included."
"Merry Christmas! I put so much thought into your gift that now it's too late to get it."
Don't Miss: An Expert Guide On How Christmas Tree Can Help Remove Vastu Doshas!
From Home to home, and heart to heart, from one place to another. The warmth and joy of Christmas brings us closer to each other. ---Emily Matthews
May the Christmas season end the present year on a cheerful note and make way for a fresh and bright New Year. Merry Christmas to you and your family!
Romantic Messages For The Love Of Your Life
"The only thing I love more than Christmas is you."
"It's not what's under the tree that matters most, it's who's around it. Every year I'm so grateful to have you there."
"You put the merry in my Christmas."
"Christmas is magical because we're together. "
Don't Miss: Christmas 2020: Buy Quirky, Useful Gifts Under Rs 1000 For Your Loved Ones
Friends Far Away
"We may not be together on Christmas morning, but you're always in my heart."
"I wish we could be together this holiday season, but I'm sending warm wishes your way."
"I'll miss celebrating with you this Christmas. Eat a few extra cookies for me."
"We may not be able to rock around the Christmas tree together, but I'll deck the halls in your honor."
"I prefer the retro chic of spending Christmas just like Joseph and Mary did — traveling arduously back to the place of your birth to be counted, with no guarantee of a bed when you get there." —Tina Fey
"I am not 100 percent certain what a sugarplum is, but for a few weeks every year I've got visions of them dancing in my head anyway." —Jane Green
Stay tuned to HerZindagi for more wishes and messages.