The bond between a brother and sister is the most precious. They grow with each other, know everything about each other and have immense love even though they fight a lot or fear each other's anger. No brother can live without his sister and no sister can go days without speaking to her brother. Celebrate this lovely bond with these sweet, heartfelt messages, poems and quotes and wish your siblings, cousins this Bhai Dooj 2020 with love.
There cannot be a better brother than you. Happy Bhai Dooj!
I'm so lucky to have a brother like you! Happy Bhai Dooj, bhaiya!
We might be miles apart, praying for your long life and good health. Happy Bhai Dooj.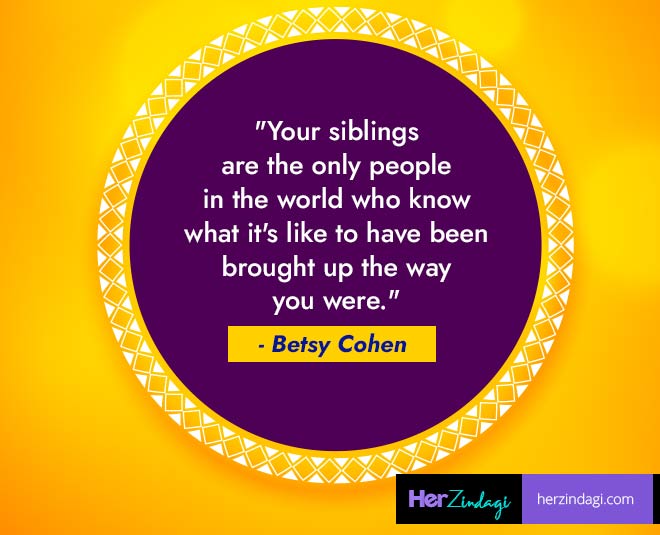 "Your siblings are the only people in the world who know what it's like to have been brought up the way you were." - Betsy Cohen
Bhai Dooj is festival of prayers from sister to brother, brother's protection for his sister. May this year we all celebrate it with even more love and protection for our sisters and brothers. Best wishes on this Bhai Dooj.
Behen chahey bhai ka pyar,
Nahi chahiye mahenge uphar,
Rishta atoot rahey sadiyon tak,
Mile mere bhai ko khushiyan apar
Happy Bhaiya Dooj!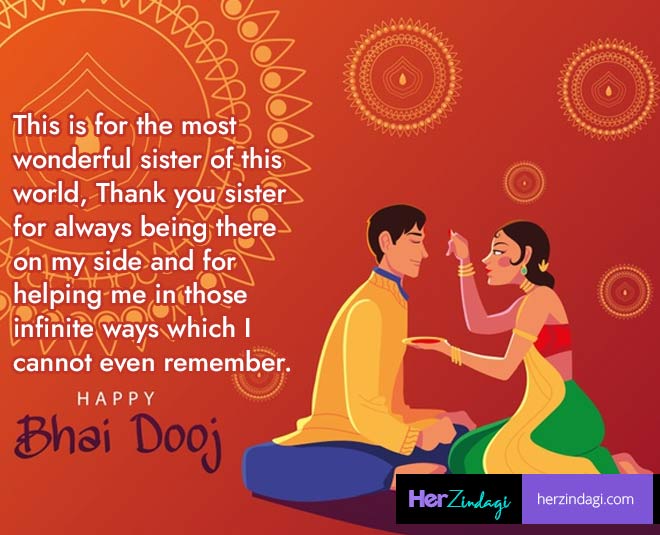 This is for the most wonderful sister of this world, thank you sister for always being there on my side and for helping me in those infinite ways which I cannot even remember. Happy Bhai Dooj!
May this Bhai Dooj strengthen our bond more than ever and bring joy and prosperity. Best wishes for Bhai Dooj.
Like the love of Lord Krishna for his sister Subhadra, all brothers should love their sister and like the blessings of Subhadra for his brother Krishna, all sisters should always pray for their Brothers. Happy Bhai Dooj.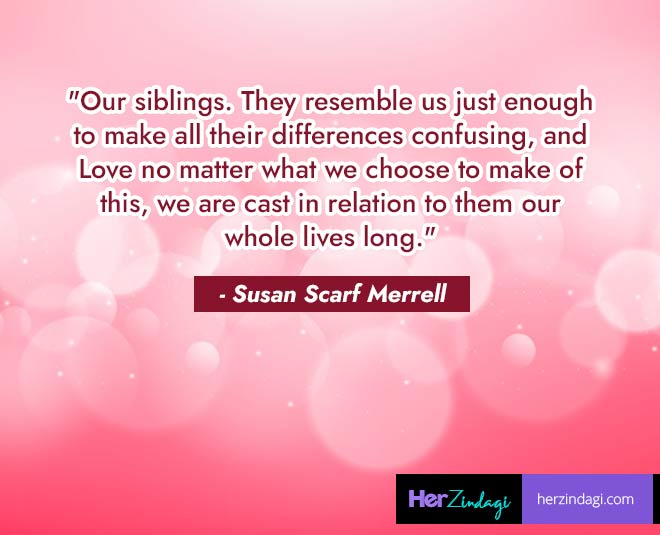 "Our siblings. They resemble us just enough to make all their differences confusing, and love no matter what we choose to make of this, we are cast in relation to them our whole lives long." - Susan Scarf Merrell
I tie this holy thread on your wrist and pray to God that all your wishes come true. Have a wonderful Bhai Dooj, BRO!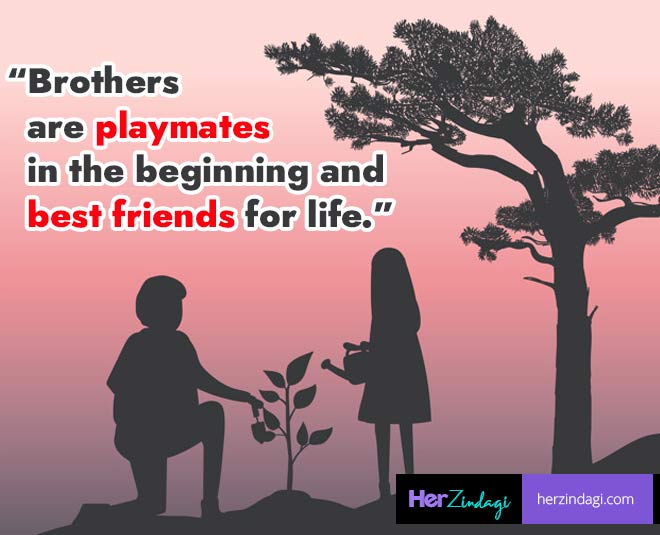 "Brothers are playmates in the beginning and best friends for life."
Wish you the days that bring you happiness infinite and a life that's prosperous and bright...Happy Bhai Dooj
Don't Miss: Bhai Dooj 2020: Date, Tilak Muhurat, Vidhi, Popular Legends And Celebrations In India
Praying for your long life and good health
on this Bhai Dooj and always
Have a Chocolaty Bhai Dooj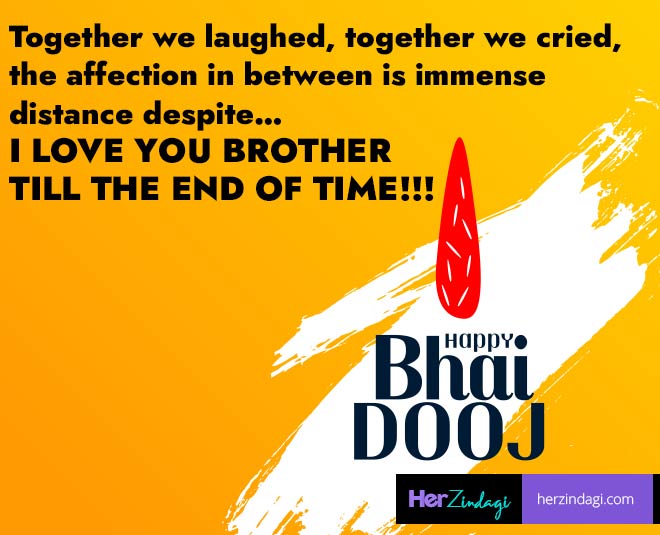 Together we laughed, together we cried, the affection in between is immense distance despite…I LOVE YOU BROTHER TILL THE END OF TIME!!! Happy Bhai Dooj!
Dear brother, you are my best friend. You stand by me when I am alone you make feel happy when I am low. Thanks for being for me always, dear brother. Happy Bhai Dooj.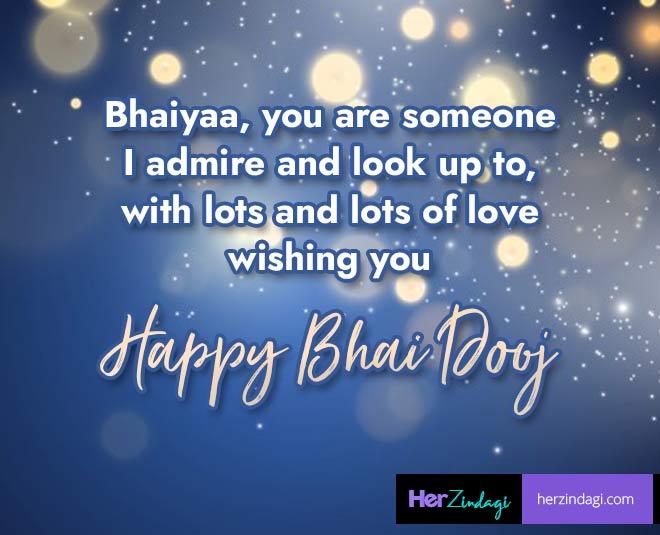 Time changes everything… but not the bond between us that has only strengthened with time. Happy Bhai Dooj.
Bhai Dooj is just an excuse I have always prayed for you. May all things bright and beautiful come looking out for you! Happy Bhai Dooj
Don't Miss: Some Thoughtful Bhai Dooj Gifting Ideas For Brothers Or Sisters!
It is time to celebrate the bond of love and trust between two souls united by the purest form of friendship. Happy Bhai Dooj to all brothers and sisters!
Bhaiyaa, you are someone
I admire and look up to,
with lots and lots of love wishing you
Happy Bhai Dooj
Wish your bhai and behen with these lovable messages. HerZindagi wishes everyone a very Happy Bhai Dooj 2020.
Stay tuned to HerZindagi for more on the festive season.