Happy Birthday Jaya Bachchan - Memorable Roles Played By The Legendary Actress
Jaya Bachchan is one of the most renowned actresses in Hindi cinema. Read on about her famous roles and movies.
Jaya Bachchan is one of the renowned actresses from the 1970s. Born on April 9, 1948, she started her career in 1963 with Mahanagar, a Satyajit Ray film. She has earned several accolades and also received the Padma Shri and nine Filmfare Awards. Today, she is a member of the Parliament of India in Rajya Sabha. Let's revisit some of the greatest roles played by none other than our beloved Jaya Bachchan.
Guddi (1971)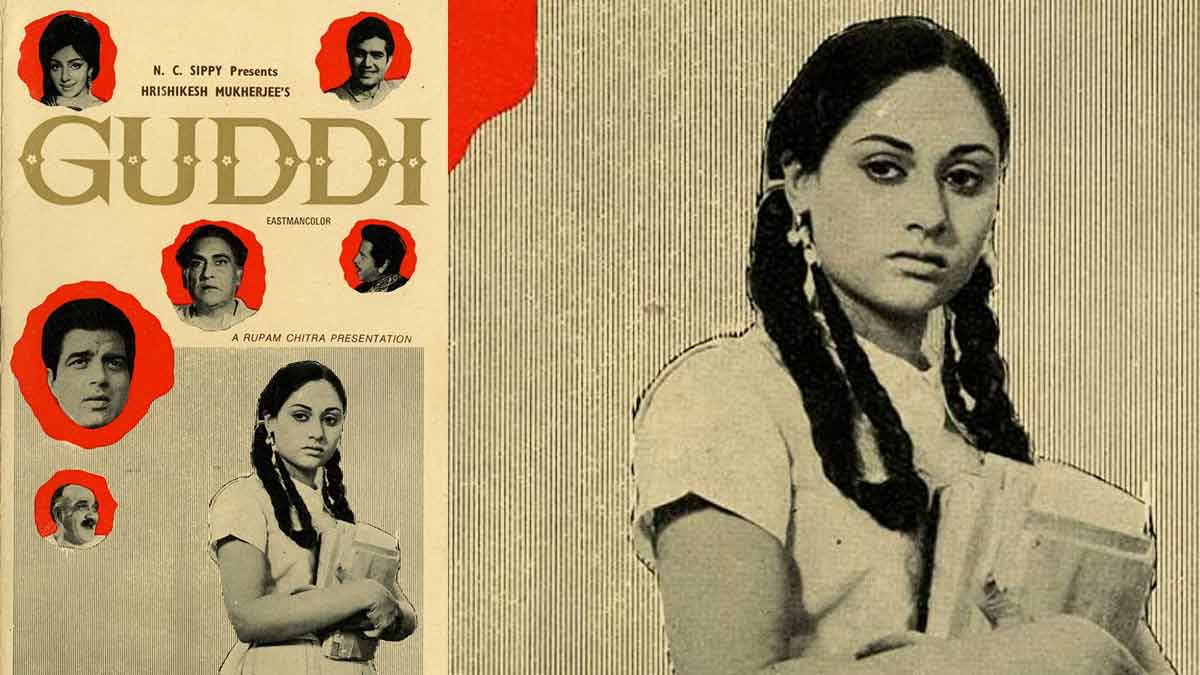 Image Courtesy: IMDb
Guddi was the first movie in which Jaya Bachchan was an adult. It was a film about a character who had a huge crush on the film star Dharmendra. Guddi could not differentiate between his on and off-screen images.
When her sister-in-law's brother, Navin, proposes to her, she denies it by saying that she had been in love with Dharmendra. Utpal Dutt, who plays the role of Navin's uncle, decides to expose the cruel world of cinema in front of Guddi and makes her meet Dharmendra.
Soon, she realises that even film stars are human beings with insecurities, fear and sadness. While Guddi had the utmost respect for Dharmendra, she married Navin in the end.
Kabhi Khushi Kabhie Gham (2001)
It was a 2001 Karan Johar film that starred Jaya Bachchan, Amitabh Bachchan, Kareena Kapoor, Kajol Devgan, Shah Rukh Khan and Hrithik Roshan. You must remember the iconic scene between Jaya and Shah Rukh when he returns home, and Jaya's character knew from mother instincts that her son had arrived.
Do you remember her famous dialogue revolting against Amitabh's character? "Keh diya na, bas keh dia," Jaya said to Amitabh when they were discussing whether or not to bring Shah Rukh (Rahul) and Kajol (Anjali) back home.
Zanjeer (1973)
Image Courtesy: IMDb
Zanjeer was one of those movies in Bollywood that started a new wave in the Hindi film industry. Jaya Bachchan played the role of Mala, a street performer, in the film. She was the love interest of the protagonist, Vijay Khanna.
In 1973, Zanjeer broke the records and earned ₹6 crores in India. The cast was excited and planned a holiday in London if the film succeeded. However, Harivansh Rai Bachchan said that if Amitabh and Jaya married each other, only then they could go to the U.K. They had a traditional Hindu marriage in 1973.
Silsila (1981)
Silsila is a 1981 romantic drama that showed Jaya Bachchan (Shobha), Amitabh Bachchan (Amit) and Rekha (Chandini) in a love triangle. In those times, the rumours of this love triangle were considered to be true in newspapers and tabloids.
The movie failed at the box office, but it has a cult following even today. It was shot in many locations, including New Delhi, Kashmir, Amsterdam and Mumbai. The three lead characters were appreciated for their performances.
Koshish (1972)
Image Courtesy: IMDb
Starring Sanjeev Kumar and Jaya Bachchan, Koshish was a film about a mute and deaf couple. It is a story of their struggle with each other as well as with the world. Jaya played the role of Aarti, who was dumb.
Directed by Gulzar, Koshish was a remake of the Japanese film, Happiness of Us Alone (1961). It also had a Tamil remake in 1977, and it was named Uyarndhavargal. It starred Sujatha and Kamal Haasan in the lead.
Abhimaan (1973)
Abhimaan was a Hindi-musical drama starring Jaya Bachchan, Amitabh Bachchan, Bindu, Asrani and David. It is a story of Subir, a professional singer, and Uma, a musically-gifted village girl.
After marriage, Subir promotes Uma to make her career in singing. As soon as her career takes off, Subir's career started to dwindle. He started getting jealous of his wife, and the marriage starts to fall apart. However, when Uma suffers a miscarriage, the couple bonded emotionally and reconciled.
Anamika (1973)
Image Courtesy: Amazon.com
In this movie, Jaya Bachchan played the role of a woman with amnesia. Sanjeev Kumar's character, Devendra Dutt, sees her when someone was throwing her out of the car. The next day, Devendra and his uncle named her Anamika (a woman with no name).
In the later part of the story, it was disclosed that Anamika did not have amnesia. She had suffered a lot in the past. Hearing the story, Anamika and Devendra reconcile with each other.
Don't Miss: Like Pathan, Other Action Movies Of Deepika Padukone
Milli (1975)
Milli was an important film in Jaya Bachchan's career. It was a romantic drama that also starred Amitabh Bachchan, and Jaya received the Filmfare nomination for Best Actress. It was the only nomination for the film.
Milli, Jaya's character, suffered from pernicious anaemia. It was untreatable in 1975. Her cheerful nature becomes an inspiration for her depressed and alcoholic neighbour, Shekhar, played by none other than Amitabh Bachchan.
Don't Miss: Bollywood Star Kids Running Multi-Crore Business
He falls in love with her, but he decides to part ways when he learns about her disease. However, another neighbour, played by Aruna, convinces him to reconsider the decision of leaving. Shekhar marries Milli, and the couple leaves for Switzerland in the hope to find a cure for the disease.
Stay tuned with HerZindagi for more entertaining stories.