Getting married? Then the frenzy of shopping must have begun or is ready to begin soon. As you start planning about all the things to shop, checking out the shops and browsing online, there may come a time when it seems a bit too overwhelming. Don't worry; here are top five bridal shopping tips to get you sorted.
Make A Thorough Shopping Checklist
Image Courtesy: www.beautyandmakeuplove.com
You can plan the checklist ceremony-wise or rank in order of importance to know where to begin. Then when you zero in on the places to shop from, you will know what items will be ticked off the list that day.
Don't Get Swayed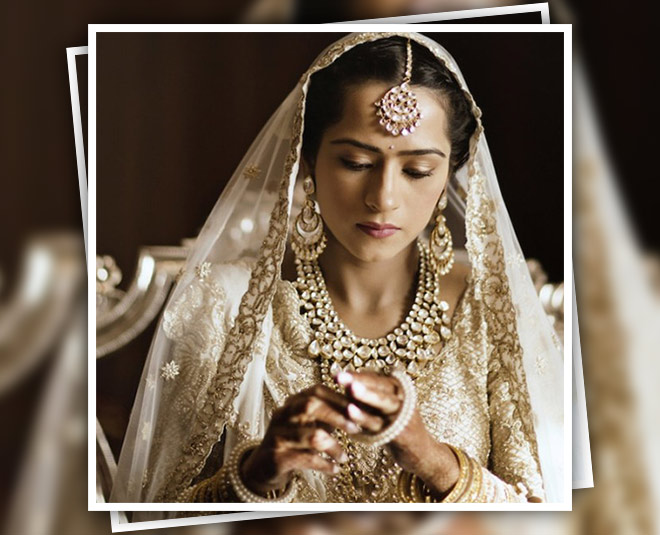 Image Courtesy: www.theweddingbrigade.com
Decide on what you want and stick to it with a little room for changes but don't get swayed by something like an expensive designer lehenga, a bridal gown that looks good but wont suit your body type, too many choices of jewellery, killer heels that look good on bridal attire but would make you cry if you wore them all day – you get the point!
Read More: Bride-To-Be? Choose Your Bridal Lehenga As Per Sun Sign
Be The Smart Bride
If you are investing a bomb on something then make sure it can be modified to be worn later for parties. For example, a heavy maang tikka can be turned into a necklace, a two-piece lehenga can be hooked together to make a gown and so on. This way you can easily rehash your wardrobe later without another bout of shopping later.
The Clock Is Ticking
Image Courtesy: www.theweddingbrigade.com
Do not start buying too early as trends tend to change from season to season. Also you may go up or down a size in the meantime due to the excitement or stress of the wedding preparations. Remember to never go shopping for clothes during your periods as your body may be bloated, leading to a size change. Make sure you have enough time on your hands to get alterations done and tag along a friend with you to oversee and get a second opinion if you feel unsure about anything.
When You See It, You Feel It
It stands true that when you see the bridal lehenga or bridal saree that's meant for you, you fall head over heels for it. This means that you will have to go through 5 shops or 10 but you will know when the style and price is right! Later, you only need to carry the blouse to match it with the jewellery, bridal dupatta, shoes and other things.
For more on bridal trends, designer bridal necklaces, shopping tips, designer bridalwear, celeb weddings, keep reading HerZindagi.