International Woman's Day is celebrated in many countries around the world on 8th March every year. It is a day when women are recognised for their achievements in various fields without regards to any divisions or discriminations, it is also focused to help women gain full and equal participation in global development which has assumed a new dimension for women in developing countries. A woman is wonderful, outstanding, magical, amazing, never give up on situations she faces and comes out with flying colours!
This day is celebrated in many countries around the world, towards achieving gender balance, equality for both men and women. Woman's day is a time to reflect on progress made, to call for change and to celebrate acts of courage and determination by honouring women, who have played an extraordinary role in the history of various countries and communities. Woman are always a source of inspiration for the family on the whole & they are also regarded as the real architects of society.
Woman's Day clutches a great significance of empowerment and it is becoming a custom year after year. Moreover, this celebration is a sign of appreciation, respect, love and care towards all the women in our lives and our society! In addition, I am glad that schools and colleges now celebrate women's day. This will instil respect and care for women in the mind of the young generations, right from childhood days.
Women irrespective of their positions and posts are one of the most wonderful creation of God on earth because they not only manage workplaces well but also ensure that every need of the house too is met with perfectly at all times and in all circumstances. Today's girls with ambitions and aspirations are sure to be the women with perception and pride & confidence in the future. That's one of the reasons women deserve the honour of setting aside a day in the year to constantly remind ourselves to respect, care, motivate and support them in all they do or aspire to do in life! So let us all today believe that "Empowering Women means Empowering Humanity"!
Here's wishing all our grandmothers, mothers, sisters, daughters, wives a very happy woman's day!
To make this day special I present a Chilled Out Menu today with No Gas Cooking for a change! Let us all prepare these healthy and nutritious foods today and offer a little Treat to the women in our life's!
Recipe-1: Very Berry Shake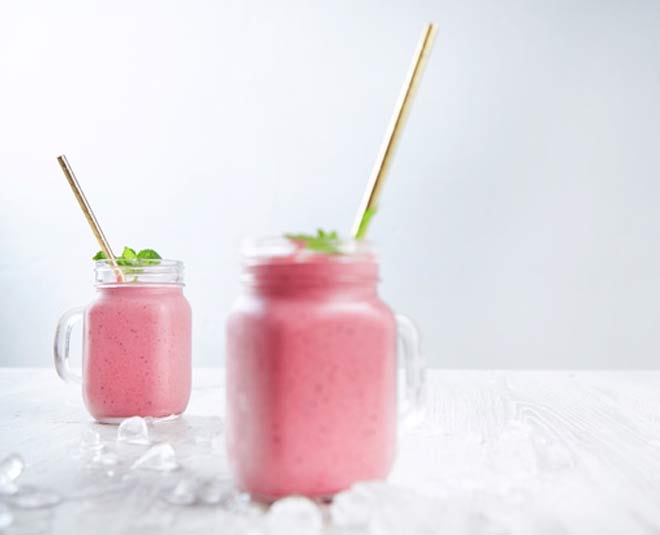 A simple healthy, nutritious easy to make berry, banana, oats shake.
Ingredients
Fresh strawberries-8- 10 nos.
Banana-1 no ripe.
Oats cookies- 2- 3 no.
Milk/ soy milk/oats milk- 2 cups
Honey- 1 tsp
Sunflower seeds/chia seeds- 1 tsp
Cinnamon powder-1 pinch- optional.
Mint leaves- 3-4 nos. for garnish.
Method:
Prepare all the ingredients for the health shake.
Using a blender combine all the ingredients together and churn them well.
Serve in glasses and garnish, serve immediately.
Chefs Variations: try preparing the same shake using dates with walnuts, soy milk and oats, another simple recipe using chickoo, almonds, honey, oats milk and chia seeds also work well
Recipe-2: Between The Sheets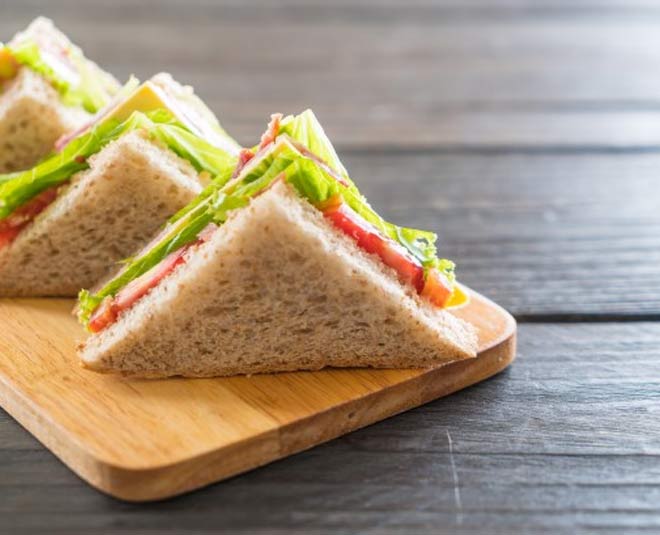 A simple easy to make sandwich no using gas, colourful and tasty.
Ingredients
Sliced bread of your choice- white/brown/French bread- 4 to 6 slices
For the spread:
Butter- 1 tbsp.
Green chutney/pesto sauce made with fresh basil leaves- 2 tbsp./ mayonnaise sauce- 2 tbsp./ hung curd mixed with mint and roasted crushed jeera and pepper-2 tbsp./ peanut butter with honey or jam mixed- 2tbsp. - any spread of your choice can be used.
For the filling:
Tomato slices- 8 to 10 nos.
Cheese slices – 2 to 3 nos.
Onion rings- 3 to 4 nos.
Fresh basil leaves-4-5 no.
Lettuce leaves- 1 cup
As an option- boiled sliced eggs/Sliced grilled chicken/ fish/meat- as desired.
Method:
Prepare all the ingredients for the sandwich.
Use an oven/toaster for the bread if needed.
Apply the spread of your choice, place the fillings as desired, cover and close the sandwich, cut and serve.
Chefs Variations: we can make this sandwich in a number of ways, I also use paneer slices with tomatoes and peanut butter on the bread and grill and serve it. Also try using Achari mayo spread on the bread and sliced chicken tikka (chicken tikka recipe), sliced boiled eggs, grilled vegetables, tava fry prawns with little cheese and grill.
Recipe- 3: Sweet Dedication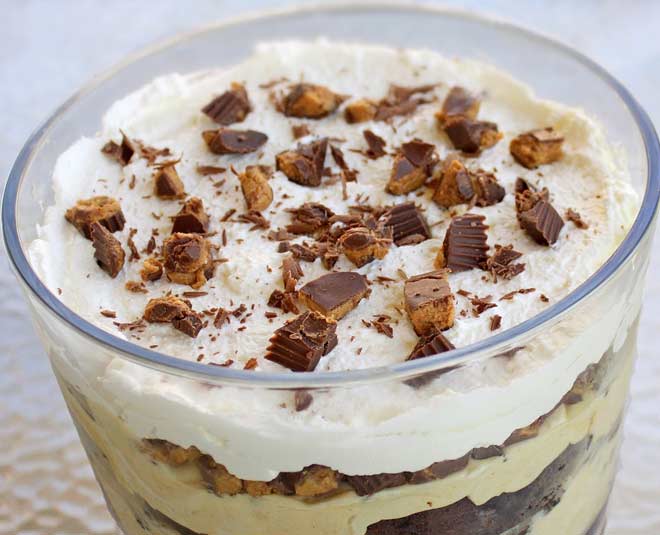 A simple yummy Indo- fusion style layered dessert to make and chill have it after a meal.
Ingredients
Rabdi- 1 cup
Gulab Jamun- 3 to 4 no. sliced.
Oreo/chocolate cookies-4 – 5 no.
Sliced cherries- 3- 4 no.
¼ cup Fresh cream mixed with 2 tsp peanut butter- 2 tbsp. or use mixed fruit jam.
Chopped nuts (health benefits of pine nuts)- 2 tbsp.
Wafer biscuits/chocolate coated wafer biscuits-2-3 nos.
Assorted fresh fruits as desired for more colour/texture
Method:
Prepare all the ingredients for the dessert.
Using a tall glass, layer the sweet starting with beaten up rabdi, place the crushed cookies, jamuns, nuts, cream and nut butter mixture and repeat the layers
Garnish add fresh fruit as per choice and allow to chill for 2 hours, serve chilled.
Chefs Variations: Try the same recipe with vanilla-flavoured custard with sponge cake soaked with brandy or rum, layer with sev burfi, fresh fruits, kiwi crush and fresh strawberries.
Another way of making it is using crushed cookies layered with seviyan kheer, chopped dates and sliced fresh colourful fruits and topping of chocolate chips.
Don't Miss: Celebrity Master Chef Kaviraj Tells How Millets Boost Health In Different Ways
Celebrity Master Chef Dr Kaviraj Khialani is a man with many talents. He.who is based out of Mumbai is an author, food designer, creative cuisine specialist, food writer and consultant. Not only he has mastered over 33 international cuisines but has also worked with the airlines and hotel industry. He has also been featured on various food shows on TV. A recipient of several National Awards, Khialani has been recognised globally for his valuable contribution to the food and hospitality industry.
Don't Miss: Chef Kaviraj Khialani Rolls Out Healthy Bajra Recipes
Stay tuned to HerZindagi for more such stories.