Having vegetables and different sabzis is not fun after a while for many. But what if they could be made into something delicious and presentable as well? Kids run away from your typical dishes but you can make food fun for all with a few twists in the recipes. Here are three innovative chef special recipes to make cooking fun.
Make the most of seasonal vegetables with these recipes curated by Chef Sumit Sethi from Crowne Plaza New Delhi Okhla.
Bharwa Karela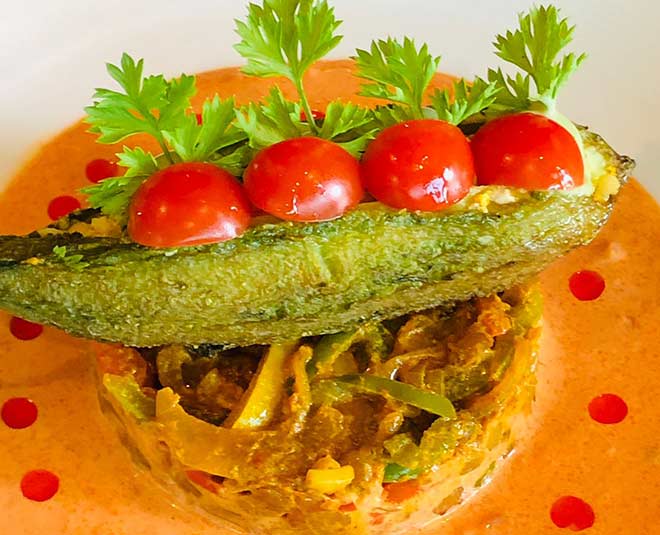 Ingredients
2 Whole Karela/Bitter Gourd
Pinch of salt
1 Tbsp vegetable oil
For Stuffing:
2 Tbsp oil
1 Tbsp of chopped onion
1 Tsp garlic
1 Tsp ginger chopped
1 Tsp green chilli chopped
2 boiled mashed potatoes
½ Tsp whole jeera
>½ Tsp whole Dhaniya
frac12; Tsp haldi
½ Tsp red chilli powder
1 Tsp saunf crushed
1 Tbsp green coriander
1 Tbsp fried Karela skin
Method
Pick the Karela/Bitter Gourds, peel it and scoop it for the stuffing.
Marinate the Karela with salt and oil.
Let it rest for 5 mins.
Fry both the Karelas.
For stuffing, pre heat the pan, add oil, jeera, ginger and garlic.
Saute It for 5 mins until the ginger and garlic turns golden brown.
Add onion and green chilies and saute it for 5-8 mins.
Add all the spices followed by potatoes, coriander and fried Karela skin.
Stuff the karelas and plate it with a makhani curry for new avatar.
Lauki/Bottle Gourd
Ingredients
1 Bottle Gourd
1 Ltr Water
1 Tbsp Salt
For Stuffing:
2 Tbsp Olive Oil
1 Tbsp Chopped Onion
1 Tbsp Chopped Celery
1 Tbsp Chopped Carrot
1 Tbsp Chopped Leaks
1 Tsp Garlic
1 Tsp Salt
1 Tsp Black Pepper
1 Tbsp Chopped Basil
200 Gm Ricotta
For Curry Sauce
1 Cup Water
1 Tbsp Yellow Butter
1 Tsp Curry Powder
2 Tbsp Cooking Cream
Method
Take the whole bottle guard, peel it and scoop it
Boil it for 15 to 20 min, add salt while it is boiling
Next, take a preheated pan and add olive oil and chopped garlic and sauté for 2 min
Add onion, celery, leeks and carrots and again sauté the mix for 5 min
Add ricotta cheese and salt, black pepper and chopped basil and mix it properly for stuffing.
Stuff the gourd with the ricotta stuffing and cut the Lauki/bottle guard into 4 pieces
For curry sauce take preheated pan and add butter followed by curry powder and cooking cream
Plate as shown the photograph.
Don't Miss: Add Karela Or Bitter Gourd To Your Diet For These Benefits
Thai Green Curry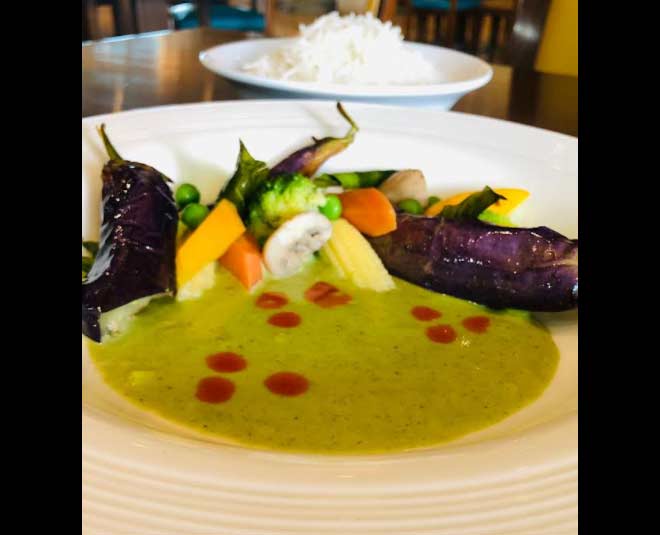 Ingredients
Green Curry Paste
5 Stalks Lemongrass
3 Green Chillies chopped
1/4 cup Coriander chopped
3 sprig Basil leaves
1 Tbsp Coriander whole roasted
1 Tsp Whole Black Peppercorns
1 Onion, roughly chopped
1/4 cup Spring Onion (Bulb & Greens) , roughly chopped
3 Cloves Garlic
1 inch Ginger
Salt to taste
For Thai Curry
400 ml Coconut milk, unsweetened
1 cup Broccoli
1 Carrot
2 finger eggplants
1/2 Green zucchini, yellow zucchini
1 cup vegetable stock
4 no mushrooms
1 sprig Basil leaves, or kaffir lime leaves
Salt to taste
Method
Pick up the lemongrass, trim away the root section of each of them.
For Thai Curry Paste, add all the ingredients in a blender and grind it along with little water to make a smooth paste.
For the curry, heat a teaspoon of oil in a heavy wok.
Add the veggies such as carrots, zucchini, broccoli and bell pepper.
Add in some salt and stir fry the vegetables.
Add a teaspoon of oil into the hot wok followed by 2 to 3 tablespoons of the Thai curry paste.
Don't Miss: Make Delicious, Rich Ghiya, Lauki Or Doodhi Korma For Lunch Or Dinner With This Easy Recipe
Saute for a few seconds followed by a cup of water.
Add coconut milk in the curry and stir it so that all the ingredients are combined.
Add salt to taste and allow the mixture to thicken a little and come to a boil
Add torn basil leaves let it cook for some time
Vegetable Thai Curry is ready to be served
Stay tuned to HerZindagi for more such recipes.