Uttapam is one of the most enjoyed South Indian dishes. Loaded with vegetables, spongy and crispy pancakes are not just loved by South Indians but just everyone.
We are sure many og you like having uttapam for breakfast. The best part about having an uttapam is that you can even have them without sambar or chutney. They just taste amazing!
If you are bored having regularuttapam then here we have 3 easy uttapam recipes that you can try and treat yourself!
Bread Uttapam
There are days when you don't feel like preparing uttapam batter at home. So an easy way to enjoy an uttapam without making a batter is trying this bread uttapam. This is an easy way to turn leftover bread into a tasty dish.
You Will Need
6-8 Bread Slices
1/4 Cup Rava Or Semolina
3 Tbsp Maida Or Refined Flour
1/4 Cup Dahi
1/4 Cup Chopped Onions
1/4 Cup Chopped Tomatoes
1/4 Cup Chopped Capsicum
1 Tsp Chopped Ginger
1 Tsp Chopped Green Chillies
Oil For Cooking
Salt To Taste
Directions
In a blender, add bread pieces, maida, semolina, curd, 3/4 cup water and blend smooth.
Transfer to a bowl and add all the vegetables. Mix well.
On a non-stick tawa, sprinkle some water and wipe it off with a cloth.
Pour the batter with a ladle and spread in a circular motion.
Cook on both sides till golden brown. Serve hot.
Oats Uttapam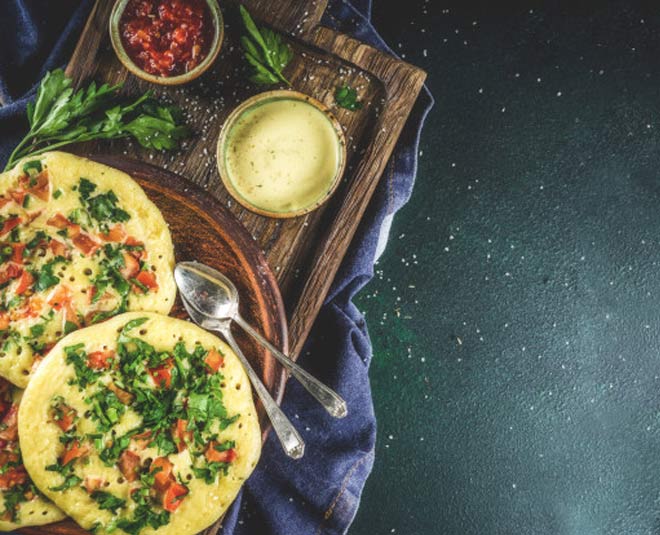 To make your uttapam healthier, you can prepare the batter using oats.
You Will Need
1/2 Cup Oats Flour
1/4 Cup Wheat Flour
2 Tbsp Besan
2 Tbsp Rava
1 Tsp Lemon Juice
Salt To Taste
Pinch Of Baking Soda
Oil For Cooking
Chopped Onions, Tomatoes, Capsicum, And Green Chillies
Directions
In a bowl, add oats flour, wheat flour, rava, and water. Whisk well. Keep aside for 15 minutes.
Add lemon juice, water, baking soda, and salt to the bowl and mix well.
Add chopped vegetables and mix again.
Pour the batter on a hot, non-stick tawa and spread.
Cook well on both sides till golden and brown.
Serve hot with chutney or sambar.
Pizza Uttapam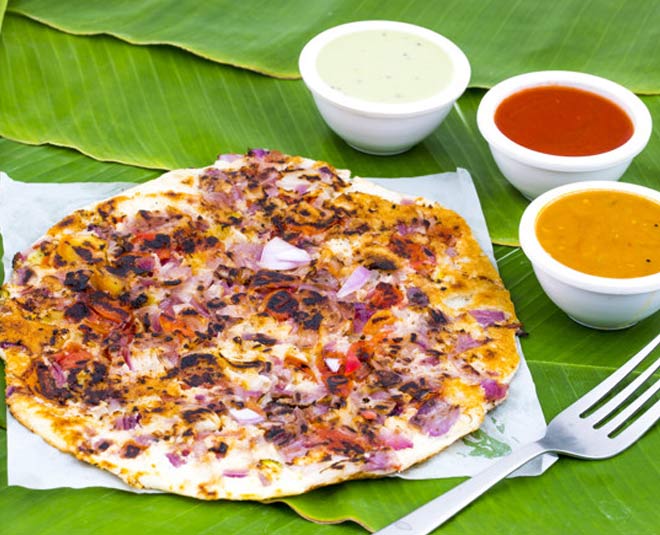 This recipe is just perfect if you wish to have a quick, healthy snack.
You Will Need
2 Cup Semolina Or Sooji
1/2 Cup Curd
2 Chopped Onions
2 Chopped Tomatoes
1 Chopped Carrot
1/2 Cup Pizza Sauce
1 Cup Grated Cheese
Pizza Seasoning
Salt To Taste
Directions
In a bowl, add semolina, curd, and water to make a batter. Cover for an hour.
Pour the batter into a hot and greased pan. Cook on both sides till crispy and take off flame.
Spread pizza sauce over the uttapam and garnish with chopped vegetables and cheese.
Sprinkle pizza seasoning, cut into slices and serve.
We hope you will enjoy experimenting with these easy recipes. You just need a few ingredients and you can treat yourself with a variety of uttapam recipes. Do try these and share your experience with us. For more such related food recipes, stay tuned!