Brighten up the colours this Holi with an array of traditional delicacies that are relished on this festival making the occasion even more enjoyable. Here are selected Holi recipes to help you celebrate the festival to the hilt by Executive Chef Avinash Kumar, Novotel Imagica Khopoli.
Thandai
Ingredients:
60 gm almonds
40 gm pistachios
30 gm poppy seeds
10 gm dried rose petal
10 gm fennel seeds
30 gm melon seeds
5 gm black pepper
5 gm cardamom
0.3 gm saffron
50 gm sugar
300 ml milk
Method:
Soak almonds, pistachios, poppy seeds, fennels seeds, melon seeds and cardamom in warm water.
Make a smooth paste of all soaked ingredients. Now add this paste with chilled milk and adjust the consistency and sweetness by adding sugar.
Garnish it with dried rose petals, chopped pistachios and chopped almond. Serve chilled.
Don't Miss: Give These Holi Recipes A Twist, Make Them Look Exotic!
Dahi Bhalla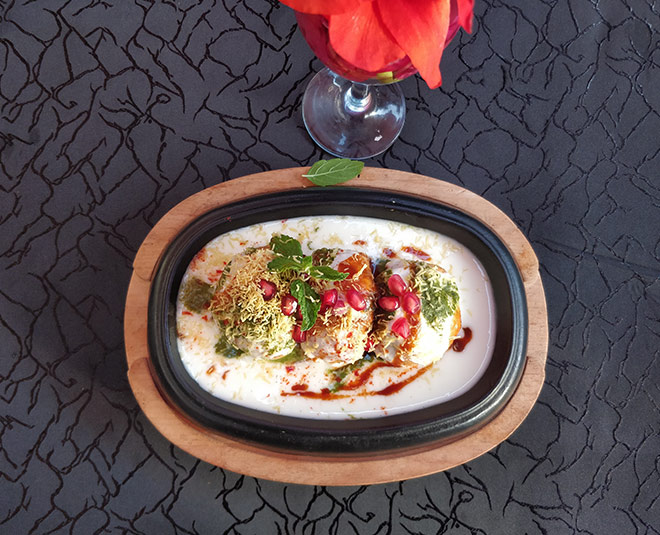 Ingredients:
120 gm white urad dal
20 gm moong dal
10 gm cumin seeds
5 gm Hing
Salt to taste
5 gm red chilli powder
5 gm cumin powder
3 green chillies
10 gm ginger
Black salt to taste
50 gm fresh coriander leaves
20 gm pomegranate arils
40 gm mint
5 gm chaat masala
50 gm tamarind
10 ml lemon juice
20 gm jaggery
150 gm curd
250 ml oil
Method:
First, rinse the white urad dal and moong dal and soak it for 4- 5 hours. Now, grind the dal in the grinder, add cumin seeds, ginger and asafoetida. Add water accordingly. Now make a fluffy and smooth batter.
Next, make wadas and deep-fry it until it turns golden in colour after that soak them in water for about 25- 30 minutes. Now remove excess water from the wadas by pressing it gently.
Take chilled curd and beat it until smooth, now gently put the wadas in it. Make green chutney and tamarind chutney.
To make individual portion of dahi bhalla, place dahi wada in a plate then add more curd if required, put green chutney, tamarind chutney and pomegranate arils.
Sprinkle some red chilli powder, roasted cumin powder and fine chopped fresh coriander. Finally, garnish with fine sev and serve.
Golgappa (Pani Puri)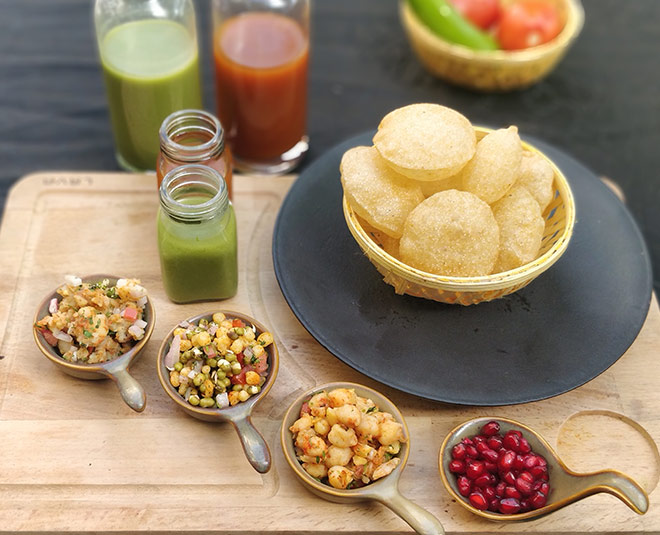 Ingredients:
300 ml water
50 gm tamarind
50 gm mint leaves
5 gm cumin powder
4 gm fennel seeds
3 gm amchoor powder
10 ml lemon juice
3 gm chaat masala
2 gm black salt
50 gm semolina
100 gm refined flour
3 gm soda
2 gm salt
50 gm fresh coriander
20 gm ginger
5 gm green chilli
80 gm onion
Golgappa stuffing
10 gm kabuli chana
20 gm potatoes
4 gm moong dal sprout
10 gm pomegranate
Method:
Make dough of refined flour, semolina, salt and soda; keep the dough for resting for about 15 minutes. Roll it and cut into circles and deep fry it or buy readymade puris from the market.
Soak some tamarind, make pulp out of it, and mix it with the ginger, black salt and jaggery. Add water till desired consistency.
Grind mint leaves, coriander, green chilli, amchoor powder black salt and cumin powder and make a paste add water until desired consistency.
Take the mashed potato, kala chana, red chilli powder, cumin-coriander powder, chaat masala powder, coriander leaves and salt and make the stuffing for poori.
Make sprout and Kabuli chana chat by mixing chaat masala and chopped onion and fresh coriander.
Assemble the pani poori stuffed it with the desired stuffing and pour pani on the poori and serve.
Wish you a very happy Holi from the team at HerZindagi!