One of the best and most refreshing things about summers are the summer fruits. With the arrival of the summers, the mango season is here and we can't stop gorging on the bright and vibrant yellow fruit in the hot summer afternoons! Mangoes don't just represent a fruit but also bring back memories of our childhood while we relished every piece during our summer vacations. And, while mangoes in all their forms and glory taste delicious on their own, they also make the perfect ingredients in many recipes.
Here are some recipes shared by By Ms Akshina Mehta, Co-Founder & Head Baker, Moonlight Bakers & Ms Raina Mehta, Co-Founder and Head Baker, Moonlight Bakers, that you will love!
Mango Sorbet
The mango Sorbet is a classic dessert that combines two of our favourites of the summer-mango and an icy treat. The crumbly icy crunch of the sorbet accentuates the fabulous flavour of mangoes and mint, making it a must-try recipe this summer.
Ingredients
4 Cups Mango Puree
½ Cup Water
½ Cup Sugar
Method
Mix sugar and water in a saucepan.
Add it to the heat and let it dissolve. Let it cool.
In a food processor, pulse the mangoes to a puree.
Add sugar syrup and pulse all together.
Remove in a wide and shallow pan.
Freeze for 4-5hrs.
Serve with fresh mint leaves.
No-Bake Mango Cheesecake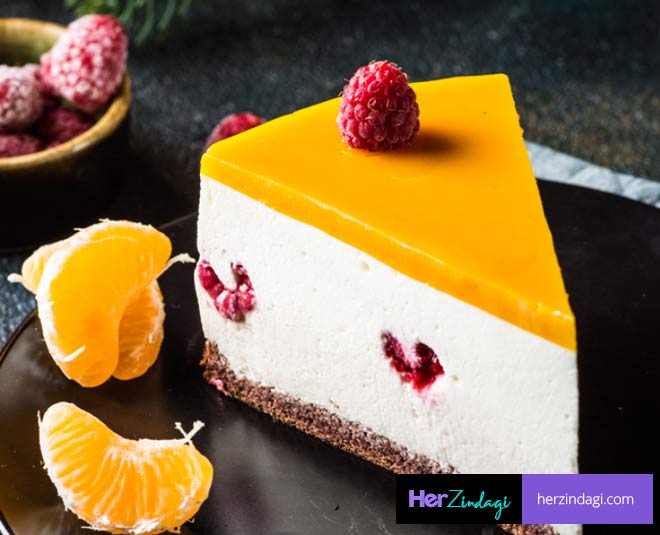 Can't wait to dig into this classic mango cheesecake. This exotic tropical dessert can be made in summer with fresh mango or any time of the year with frozen mangoes. This is a simple, easy and effortless recipe for a no-bake mango cheesecake. The natural sweetness and flavour of mangoes make this cake a light and refreshing summer blast.
Don't Miss: Make Eggless Peanut Butter Mug Cake In Microwave Within 3 Minutes With This Recipe
Ingredients for the Base
150gm Nice biscuit
50gm melted butter
Method
Blitz the biscuits to a powder and stream in the melted butter.
Mix and pat it down into a round-lined tin of your choice.
Set in the freezer for 40 mins.
Ingredients for the Filling
200 Gm Whipping Cream
400 Gm Cream Cheese
1 Mango Pureed
250 Gm Icing Sugar
5 Gm Vanilla
Method
Whip up whipping cream with icing sugar.
Cream the cream cheese and vanilla.
Beat in the pulp of 1 mango.
Fold this cream cheese mix into the whipping cream.
Pour the cheesecake filling on top of the frozen base and chill in the freezer for 4-5 hours.
Top with 2 fresh diced mangoes.
Serve chilled.
Don't Miss: Shrikhand Recipes For The Sweet Toothed Soul
Mango Trifle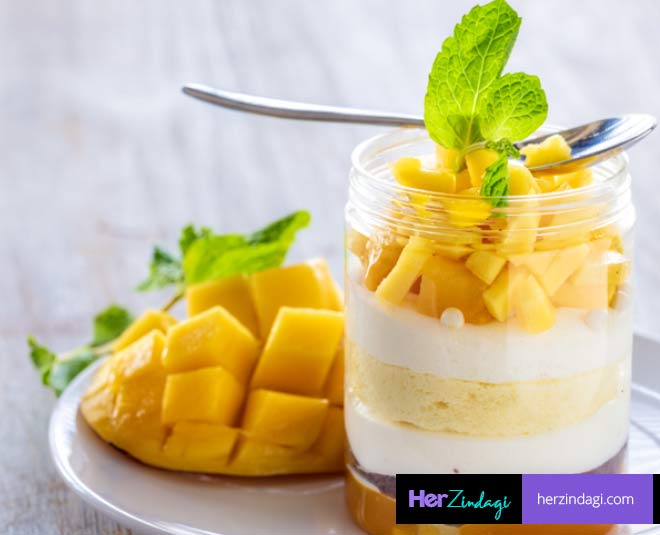 Don't we all love a beautiful trifle dessert? This beautiful Mango Trifle recipe just makes up for the perfect summer dessert. It's refreshing and light, with bursts of pulpy, juicy mangoes. There is also something so special about a trifle, with layers of luxurious cake and cream one on top of the other, that sure brings out that celebratory note. Whether there is a celebration or not this mango trifle is the dessert to make for any of your family get-togethers or sunny brunches.
Ingredients
1kg Store-Bought Vanilla Pound Cake
300 Ml Rabdi Of Your Choice (Homemade/Store Bought)
300 Gm Mango Puree
Diced 4 Mangoes
200 Gm Whipping Cream
Method
Divide the cake layer into 2.
In a deep glass dish, lay down one half of the cake. Using a fork, prick holes on the entire surface of the cake.
Pour ½ the rabdi over the cake and spread it evenly.
Pour ½ the mango puree on top and spread that evenly.
Sprinkle over diced mango pieces from 2 of the mangoes.
Repeat once more.
Let it sit covered in the fridge for 2-4 hours.
Serve with whipped cream.
So pick your favourite and whip up a batch of some beautiful mango desserts to beat the heat of the summers.
Stay tuned to HerZindagi for more such recipes using mangoes.