We all have become lazy in the lockdown and there is definitely no denying this fact. Not only that but our expectations have also increased during this period. So, we totally understand if you don't want to cook very complicated dishes and are on the lookout for easy solutions all the time.
Instant one-pot dishes are easy to make and do not involve the use of many utensils, which is why they are becoming really popular these days. If you too want to try out one-pot dishes then take a look at these recipes.
Split Pea Soup Bread Bowl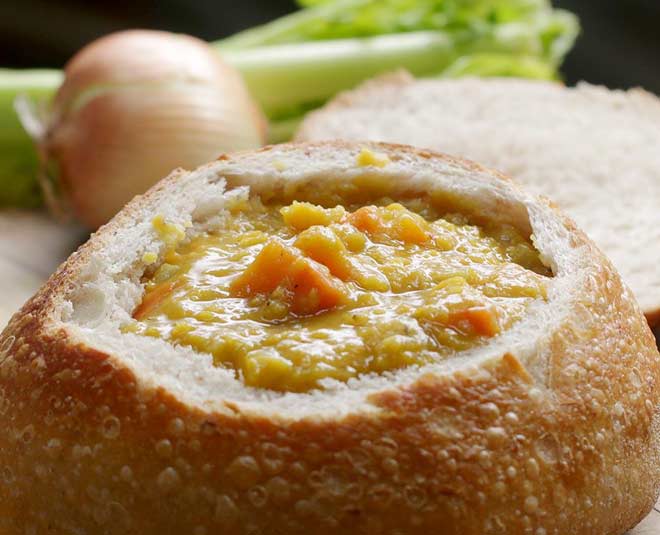 Ingredients
2 Sourdough Loaf
4 Tablespoons Olive Oil
4 Chopped Onions
4 Chopped Carrots
6 Stalks Chopped Celery
6 Cloves Garlic
5 Cups Split Pea
2 Teaspoon Dried Thyme
2 Teaspoon Salt
2 Teaspoon Pepper
2 Teaspoon Turmeric
1 Teaspoon Red Pepper Flakes
6 Potatoes
16 Cups Vegetable Stock
4 Bay Leaves
Method
Start by slicing the bread from the top. Then make an incision in the center of the bread and remove the middle region making a bowl-like space in the center.
Take a bowl and put it overheat. Add olive oil, celery, carrots and heat it all for 5 minutes add garlic and cook for 2 minutes, then add the rest of the ingredients including peas, thyme, salt, pepper, turmeric, red pepper flakes and combine all of them.
Add vegetable stocks and cook after covering with a lid on a medium flame for 45 minutes.
After this add the potatoes and cook once again for 20 minutes remove the bay leaves and serve in the bread bowl!
Instant Pot Flan Recipe
Ingredients
1 Cup Caramalised Sugar
4 Large Eggs
2 Cups Milk
1/2 Cup Sugar
1 Teaspoon Vanilla Extract
Method
In a baking dish combine the eggs, sugar, milk, and vanilla extract by whisking until the sugar dissolves.
Now, tap the dish to remove any air bubbles and steam cook the flan. In an electric instant pot or pressure cooker.
After 25 minutes check the flan by inserting a fork if it comes out clean the flan is ready.
Transfer the flan on a plate and pour the caramalised sugar over it ad berries over other fruits of your choice and you'll be done!
Stuffed Sweet Potato
Ingredients
4 Sweet Potatoes
1 Tablespoon Ghee Or Olive Oil
1 Cup Sliced Leeks White And Pale Green Part Only
3/4 Teaspoon Salt Divided
1/4 Teaspoon Black Pepper
1 Tablespoon Garlic Minced
1 Tablespoon Apple Cider Vinegar
225g Baby Spinach
225g Ground Italian Sausage
1/4 Cup Apple Cider
Method
Cook the sweet potatoes in the instant pot or pressure cooker for about 20 minutes.
Take them out and then add some ghee to a pan along with leeks, salt, and black pepper. Saute the lees for 4 minutes and then add garlic and vinegar. Cook this for a minute and then add spinach and cook for another 5 minutes.
Now keep the spinach mixture aside and saute the sausage over the pan add the vinegar liquid from the spinach to pan and let it simmer for 3 minutes.
In the meanwhile, slice the sweet potatoes into two halves and then scoop out the flesh from the center.
Combine the spinach and sausage mixture and then fill the center of the sweet potatoes with this and serve!
Don't miss: 3 Ingredients Recipes To Try At Home This Summer
Enjoy these dishes at home and let us know how they turned out. Stay tuned to Her Zindagi for more such recipes.