Mother's Day is just a few days away and this time we have many reasons to cheer her up. Times have been bad for all due to this pandemic and our ma remains the most tensed and workedup soul around. She worries about our nutrition and mental health and forgets about herself. This Sunday on May 9, you put on your selfless hat and begin the day with a lovely breakfast in bed prepared by yourself. What must you prepare? Here are some sorted, easy yet very fancy looking recipes that you can prepare with all that love in you for her.
English Breakfast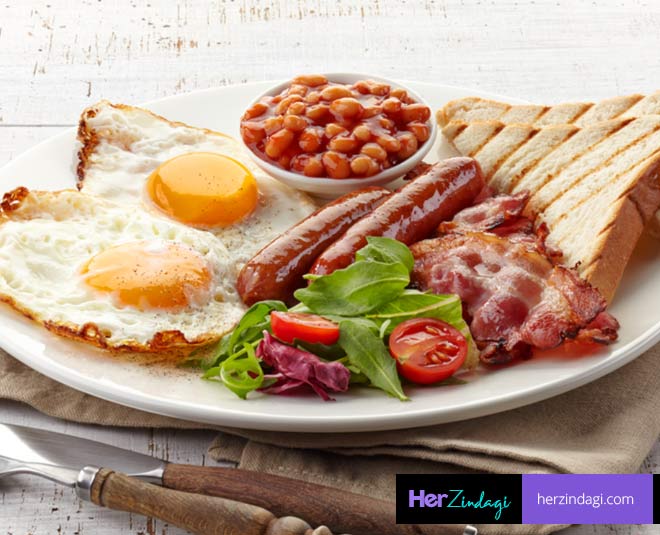 If ma loves food and she is a non-vegetarian then this breakfast plate is gold! You can always tweak it a bit as per liking but this is the basic that an English Breakfast contains.
Ingredients
A Can Of Beans
Cocktail Sausages
Bacons
Halved Small Mushrooms
Baby Tomatoes or 2 Small, Halved Tomatoes
Slices Of Bread Of Your Choice
Eggs As Per Need
Method
On a low flame, heat up the beans.
On another pan, cook the sausages until brown and then cook the bacon as well.
In another pan, cook the mushrooms until brown and caramelized so do not move them.
Cook the tomatoes from the open side a bit and then season them with salt and pepper.
Wipe the pan and fry the bread a little with some butter or simply toast them in a toaster.
Latly, fry the eggs as per liking and then set the plate.
Serve with sme orange juice on the side and you can also keep some chopped fruits in a bowl next to the breakfast plate.
Don't Miss: Wish Happy Mother's Day To Your Ma, New Moms With These Beautiful, Sweet, Loving Messages, Quotes
Egg Paratha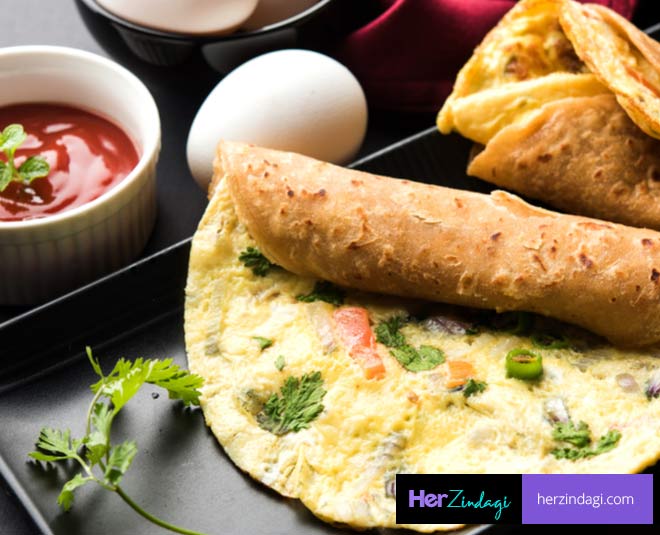 Ingredients
2 Eggs
Finely Chopped Onions As Per Liking
3 Diced Garlic Cloves
De-seeded * Diced Green Chill
Chopped Coriander Leaves
Salt To Taste
½ Cup Atta
Water For The Dough
Oil To Make Paratha
Method
Make the atta dough with water and keep it aside for 15 minutes.
To make the egg, whish together the eggs, and the chopped ingredients.
Roll out a paratha.
Heat the tawa and put the paratha on it.
Cook both the sides and apply oil and then open oe of the layers with a knife but be careful.
Pour in the egg with a big ladle and put the fold back and cook on low heat.
Flip and do the same on the other side.
Check the oil if needed.
Cook on low flame for 3 minutes and then serve with pickle.
Don't Miss: Quirky To Simple: Mother's Day Gifting Ideas For All Types Of Moms
Cheese & Mushroom Omelette Recipe
Ingredients
1 Egg
Chopped Onion As Per Taste
Salt As Required
Olive Oil
Chopped Coriander Leaves As Per Liking
Mozzarella Cheese
Sliced Button Mushrooms
Butter
Seasoning Of Your Choice
Cheddar Cheese
Don't Miss:
Method
Stir fry the mushrooms on a medium flame with a little butter and salt and pepper and then keep them aside.
In a bowl, beat the egg with onions, pepper, salt and chilli.
Heat a pan on medium flame with a littlemore butter and pour in the egg mix.
When the egg looks almost set, put both the cheese and mushrooms into the pan.
Oil the edges of the egg and after a bit, fold the omelette onto half.
Granish with coriander leaves and serve with warm toasts and coffee or tea.
So which recipe will you try out? Stay tuned to HerZindagi for more ways of making ypur Ma feel special.