Coffee lovers cannot do without a hot cuppa early morning or during the day. It could be with milk or black, but many like their coffee in whatever form just to get by during their stressful day at work. This beverage either hot or cold has been a staple for first dates as well. We have put together some interesting, easy and creative recipes which you could try.
Iced Vanilla Latte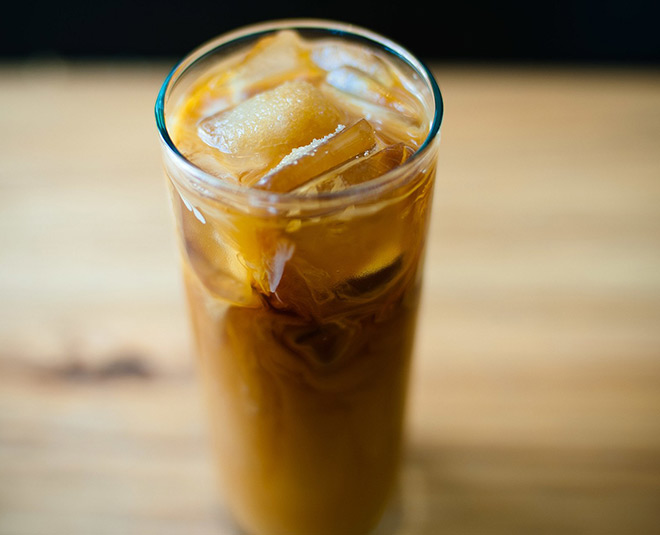 Image courtesy: amysilvermanfitness.com
This icey caffeinated latte needs just three ingredients. And the beauty here is that you can balance your calories by adjusting the quantity of the ingredient or just simply use skim milk or almond or coconut milk. Avoid sugar and calories with a sugar-free vanilla syrup.
Frozen Mochaccino
Create your own frozen coffee drink at home. Here you can use coffee or espresso and make coffee ice cubes to avoid the dilution of the rich flavour. Use low-fat milk and unsweetened cocoa powder as this cuts the calories to a fraction of what we get at coffee shops. Also, once the cubes are frozen, it only takes a few minutes to prepare.
Four Flavoured Syrups and Coffee Brew
Not only can you create your own cold brew coffee with this recipe, but, you can also create four different at-home syrups which are quite healthy. If you need something lighter, use a sugar substitute. Get yourself or make some almond syrup or a cinnamon brown sugar syrup and vanilla bean syrup, which are all standard favourites, but the blackberry syrup is amazing too and gives your coffee drink a pretty purple or pink colour when it infuses with the creamer.
Honey Cinnamon Iced Latte Recipe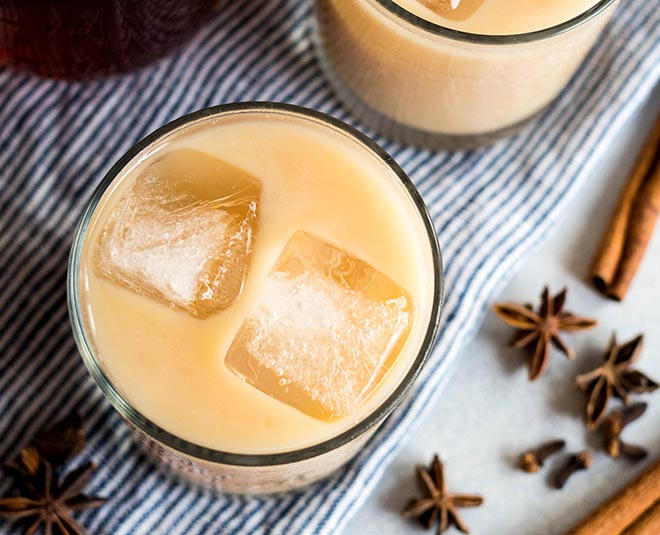 Image courtesy: simplyrecipes.com
This recipe is a combination of something sweet and light. Honey and cinnamon are two of the least processed substances you can find, and you can use organic milk if you want to.
Coconut milk tends to be sweetest, and almond milk gives a drink some nutty flavour that blends well with the other ingredients. There's no need for processed sugar, as the honey sweetens on its own.
Read More: Here Is How You Can Use Coffee To Achieve A Beautiful Skin
Vanilla Iced Coffee
To keep your coffee vegan, gluten-free, and/or dairy-free, you can make some changes in this recipe a bit. Choose from low-fat/skim milk, rice milk, soy milk, almond or cashew milk, or even hemp milk. There's even coconut milk if you are fine with that. Vanilla is an amazing ingredient for coffee blends, but you can play a bit with it by adding other spices like cinnamon or nutmeg.
Coffee Banana Smoothie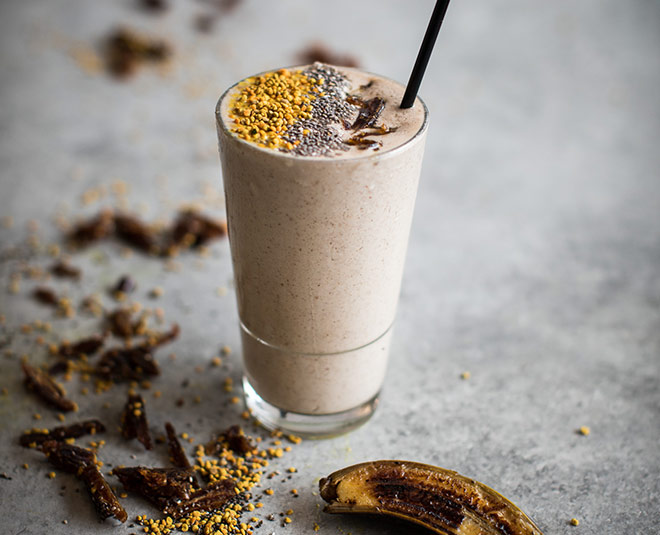 Image courtesy: hungryandfussy.com
Smoothies are packed with vitamins, fiber, and protein, and when you bring in the coffee, it gives you a jolt of caffeine to get your energy flowing for the rest of the day. If that is not enough, the bananas are major carriers of potassium, which is good for muscles as well.
This recipe is full of natural ingredients that boost your immune system and keep your body clean. We recommend you start your morning with this amazing blend to assure a healthy day.
Honey Coffee Recipe
We have often heard of the milk, tea and honey combination, its a habit many Britishers a latte, which really just means milk. Honey is a natural alternative to refined sugar, giving it an extra layer of flavour. Add other spices as well to make it more complex. Choose a milk that fits your diet.
Chocolate Espresso Protein Smoothie
This smoothie is a perfect way to incorporate caffeine into a healthy breakfast blend. Yogurt thickens the mixture and helps you keep your digestive system balanced. The unsweetened cocoa powder is great for blood pressure and it helps regulate sugar levels. Banana adds potassium and espresso gets your blood flowing, boosting your energy before the protein kicks in. What we suggest is that you prepare this smoothie a night before and refrigerate it if you do not get time to do things in the morning.