If you want to feel a little less guilty with snacks and drinks then this list may be it. Use almonds to their best and whip up a yummy shake, a paneer pesto, healthy amaranth kebabs and even a kulfi!
Almond, Banana Milkshake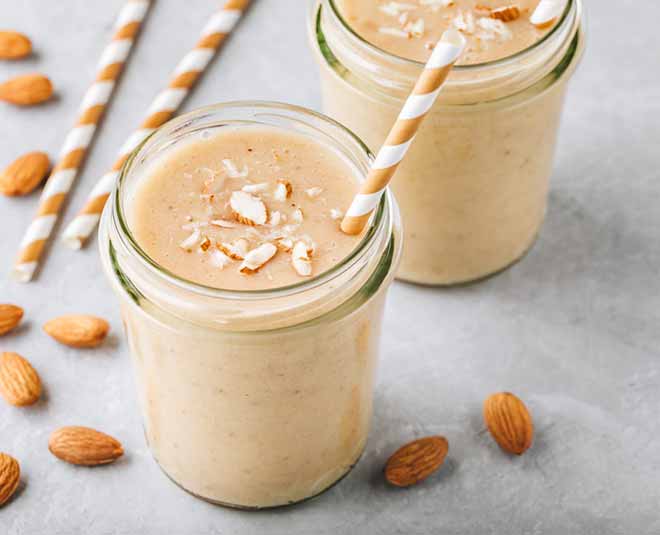 Ingredients
Frozen bananas
Almond Milk
Almonds
Method
In a food processor, blend in the milk, banana and almonds. You can aldo add a few ice cubes for a thicker froth.
Sprinkle some cinnamon powder if you like it and serve.
Almond & Amaranth Kebab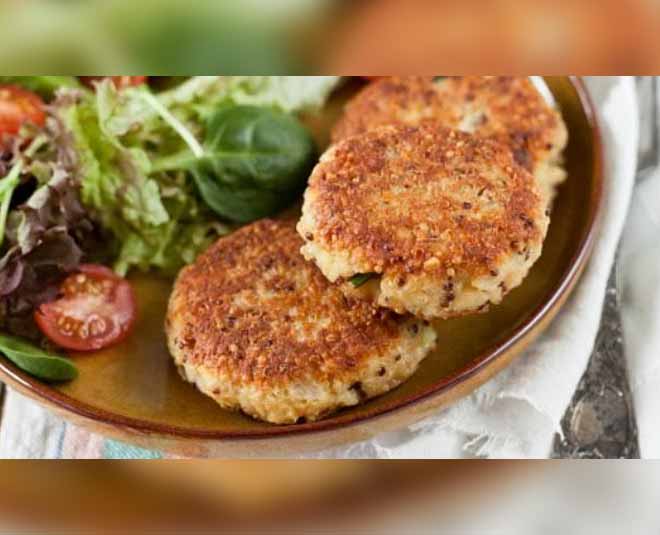 Don't Miss:
Ingredients
1/2 Cup Almonds
1 Cup Amaranth Flour
1 Cup Almond Flour
4 Tsp Garlic & Ginger Paste
Green Chilli As Per Taste
3/4 Th Cup Chopped Onions
1/2 Cup Mashed Boiled Potato
Salt To Taste
Red Chilli POwder As Per Taste
1/2 Tsp Garam Masala Powder
Freshly Chopped Coriander Leaves For Seasoning
Little Oil
Method
Roast the almonds in a pan and once the cool down, slice them roughly.
Combine the flours, the almonds, garlic and ginger, onion, green chili, salt, potatoes, garam masala, coriander leaves and red chili powder.
Make small porions for the tikkis and pan fry them until they are golden and crisp.
Serve with chutney.
Almond And Cherry Kulfi
Ingredients
Pitted Cherries As Per Liking
1/2 Cup Water
4 Cups Almond Milk
½ Cup Condensed Milk
½ Cup Cream
1/4 Cup Sugar
½ Cup Almond Meal
Method
Cook the cherries in sugar and water on a low flame until the cherries soften. Let the mixture thicken and let it cool.
In a fresh pan, heat the almond milk and cook it till it thickens.
When it halves, add the almond meal, sugar, condensed milk and mix well.
Let it cool and then stir in the cream.
Strain the mixture.
Add the cherry mixture and once the complete mixture has cooled down, pour it in small bowls and freeze them.
When you want to serve, demould and sprinkle some toasted almond flakes.
Almond Pesto and Paneer Tikka
Ingredients
300 Gms Paneer
1/4 Cup Almond Flakes
Coriander Leaves As Per Liking
1 Tso Crushed Basil Leaves
2 Tsp Chopped Ginger
Green Chilli As Per Taste
Salt As Per Taste
Grated Cheese
Little Chaat Masala
1/2 Cup Fresh Cream
Chopped Coriander Leaves
A Pinch Of Green Cardamom Powder
Haldi
Little Oil
Don't Miss:
Method
Roast the almonds and once they cool down, crush them to make a powder.
Make a paste using coriander leaves, basil, green chilli, ginger, salt and chaat masala.
Blend it all together and add in the cheese.
Mix the cream, coriander, green cardamom powde, haldi in a separate bowl and add salt as per taste.
Fill in the pieces of paneer with the pesto and coat them in the haldi marinate.
Sear the paneer and add them tp the pan with little oil to make them golden brown.
Once done, serve with chutney.
Stay tuned to HerZindagi for more such recipes.