Whenever we have a get-together or a party at home or even when the kids want to munch on something in the evening, we want to make something light, tasty and different which is easy to make and not a very tedious task right? So to serve that purpose, here is a quick recipe rolled out from the housed of Cornitos that can be made in no time!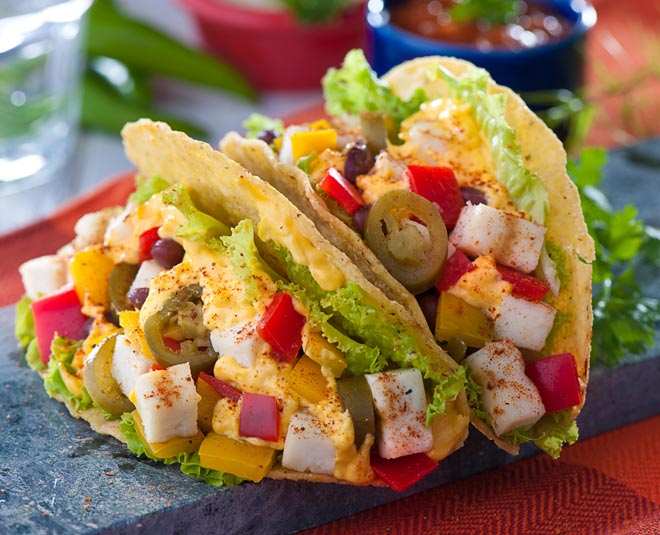 Ingredients
Taco shells pack of 12
225g paneer cubes
50g red bell pepper cubes
50g yellow pepper cubes
150g jalapeno cheese dip
50g sliced jalapeno
100g lettuce
Salt to taste
1 pack taco seasoning
50g chunky salsa dip
Method
Place taco shells on serving boat.
Line the taco shells with lettuce & put the grilled paneer cubes and veggies inside.
Top it with sliced jalapeno.
Then spread cheese sauce evenly on top and sprinkle taco seasoning.
Serve tacos with chunky salsa dip.
This recipe contains all the healthy ingredients you can think of. If you want to make your own additions and subtractions, go ahead, it is that customisable. You can use capsicum and bell peppers as well as they have a lot of health benefits as well. It is good for your eyes, great for weight loss and helps in detoxification.
Don't Miss: Try This Healthy And Monsoon-Perfect Corn Jalapeno Poppers Recipe
Same goes for paneer or cottage cheese which is amazing for weight loss. It also helps in maintaining blood sugar levels, it is good for heart health and improves our digestion.
Grilled Paneer Tacos with Jalapeno Cheese Recipe Recipe Card
It is an easy to make, tasty recipe which you can serve your guests with chai!
Total Time :

20 min

Preparation Time :

8 min

Cooking Time :

1 min

Servings :

6

Cooking Level :

Low

Course:

Snacks

Cuisine:

Mexican

Author:

Kishori Sud
Ingredients
Taco Shells pack of 12
225g Paneer cubes
50g Red Bell Pepper cubes
50g Yellow Pepper cubes
150g Jalapeno Cheese Dip
50g Sliced Jalapeno
100g Lettuce
Salt to taste
1 pack Taco Seasoning
50g Chunky Salsa Dip
Instructions
Step 1

Place taco shells on serving boat.

Step 2

Line the taco shells with lettuce & put the grilled paneer cubes and veggies inside.

Step 3

Top it with sliced jalapeno.

Step 4

Then spread cheese sauce evenly on top and sprinkle taco seasoning.

Step 5

Serve tacos with chunky salsa dip