There is something really special about the food served at local dhabas. Agree? The flavour and freshness of the tadka daal and parathas ordered at the dhaba win our hearts every single time. Well, that's not all. Our thali at any dhaba is incomplete without some fresh salad and chutney.
So many of us have been craving to have food at our favourite dhabas but thanks to the pandemic that we can't freely go and enjoy our favourite food items. Well, if you have been cooking at home all this while and missing that freshly made chutneys served at the dhabas then you have landed on the right page.
Here, we thought of bringing you some easy dhaba style chutney recipes which you can prepare at home using a few ingredients. These chutneys taste great just with everything, be it parathas, puris, or chapatis.
How To Make Dhaba Style Tomato Chutney?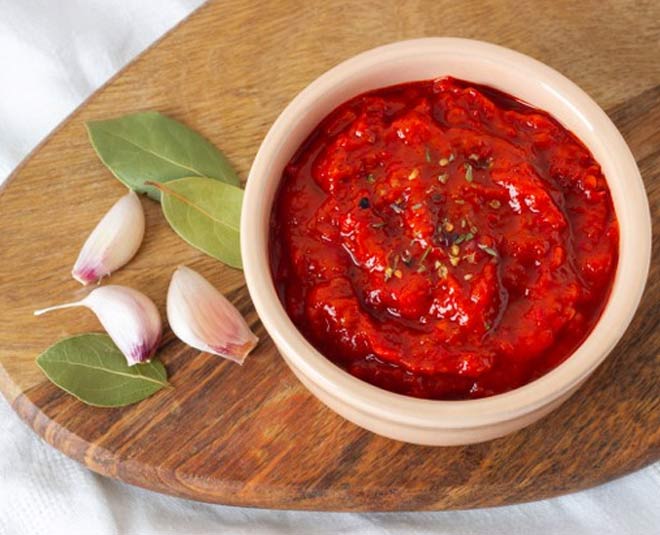 This easy recipe can be prepared using a few tomatoes, garlic cloves, and green chillies. Read on for a quick recipe.
Ingredients Required
2 Tomatoes
5 Garlic Cloves
3 Green Chillies
1 Tsp Mustard Oil
2 Tsp Coriander Leaves
Salt To Taste
Directions
Roast tomatoes over the stove till charred. Keep aside.
Using a fork, roast garlic cloves with their skin over the stove and then keep aside.
Roast green chillies over the stove and keep them separately.
Peel the outer skin of tomatoes, green chillies, and garlic cloves.
Make semi coarse paste by adding all the roasted ingredients to the pestle and mortar.
Transfer to a bowl and add salt as per taste. Next, add mustard oil and mix well.
Top with chopped coriander leaves and serve.
How To Make Dhaba Style Green Chutney?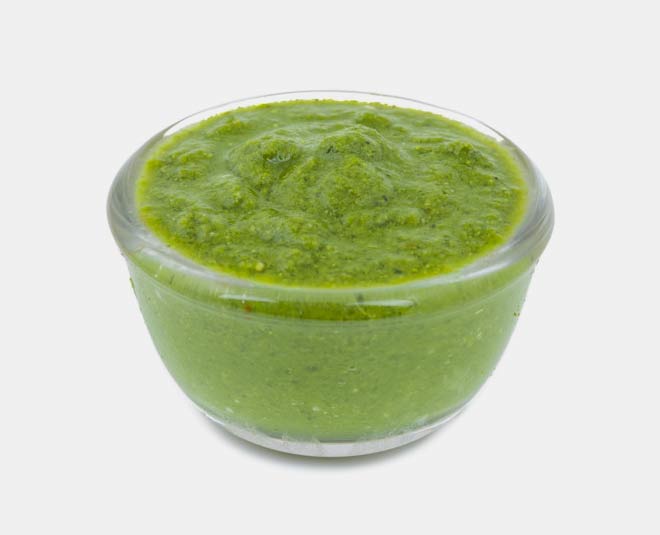 Ever thought why your homemade green chutney doesn't taste like the one you have at the dhaba? Well, they have a secret ingredient that adds a lot of freshness to it. Read on to know the easy recipe.
Ingredients Required
100 Gram Amla
100 Gram Coriander Leaves
2 Green Chillies
1/2 Tsp Cumin Seeds
1/4 Tsp Hing
1/2 Inch Ginger
2-3 Cloves Garlic
1/2 Tsp Sugar
2 Tsp Lemon Juice
Salt To Taste
Directions
Wash amla (amla benefits). Cut into two pieces, remove the seed and keep aside.
In a grinder, add chopped green chillies, coriander leaves, and amla.
Also add ginger, cumin seeds, hing, sugar, salt, and lemon juice. Grind well to make a smooth chutney.
This chutney can be served with anything, be it snacks or your regular Indian meal.
How To Make Ginger Garlic Chutney?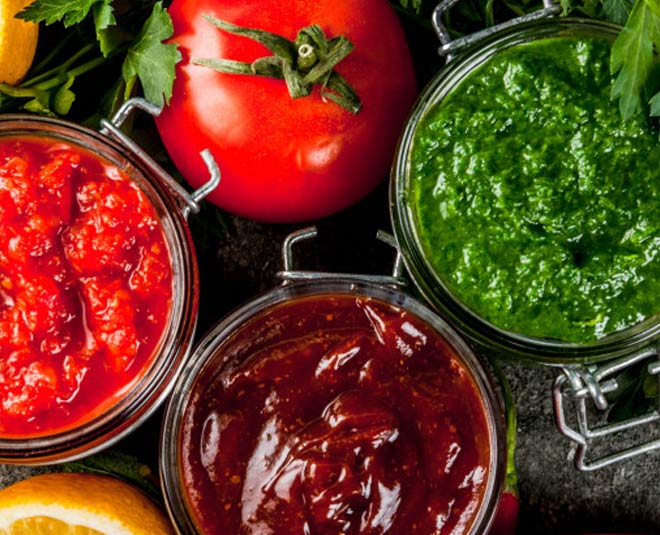 Ginger and garlic chutney instantly adds to the taste of your regular meals. Here is how you can quickly make it at home using a few ingredients.
Ingredients Required
1 Tbsp Chopped Ginger
10-15 Garlic Cloves
1 Chopped Onion
3 Dry Kashmiri Red Chillies
Salt To Taste
Directions
Peel ginger, garlic and onions. Cut into small pieces.
In a blender, add garlic, ginger and onion.
Sprinkle salt as required.
Next, add dry kashmiri red chillies and blend to make a smooth paste.
This chutney tastes great with rice meals.
Do try making these easy and interesting chutney recipes. Relish that dhaba style flavour at home! Which one is your favourite chutney recipe among these? Do shared with us on our Facebook handle. For more such recipes, stay tuned!