Janmashtami is the celebration of the birthday of Lord Krishna is celebrated with great devotion and enthusiasm. And what better way of celebrating the festive season by gorging on to mithais. Chef Swasti Aggarwal, Food Strategist at Foodhall, has shared two recipes that are different and can be made at home.
Peach and Rabdi Crumble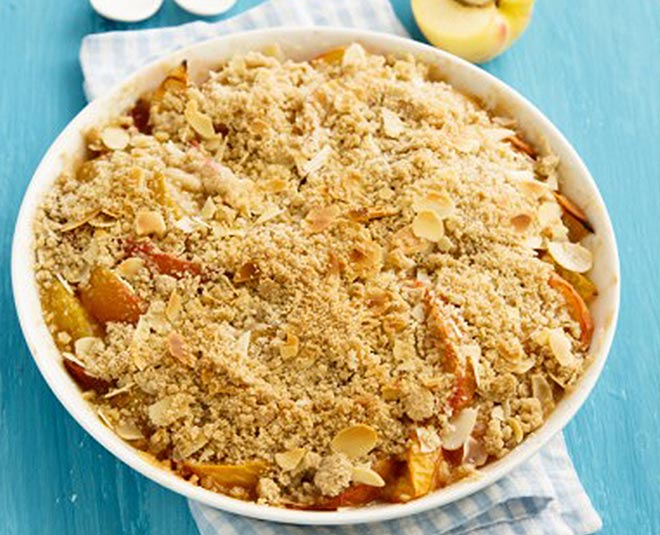 Ingredients:
For the Rabdi:
10-12 peaches, sliced and seed discarded
2 tsp caster sugar
Pinch of coarsely crushed black peppercorns
2 lt milk
½ cup condensed milk (milkmaid)
1 pinch saffron
For the crumble:
½ cup flour
¼ cup butter, chilled, cut into small cubes
2 tbsp oats
1 tbsp chopped nuts (Almond/walnuts/pistachios)
1 tsp brown sugar
Pinch of cardamom powder and nutmeg
Pinch of salt
Method:
For the Rabdi:
Pour milk in a heavy-bottomed vessel till it reduces to half, add condensed milk and saffron strands to it and cook it further down until it's very thick like how a rabdi is supposed to be.
Keep stirring the mix well in equal intervals. This process should take about 2 hours or so.
Combine peaches, caster sugar and pepper in a baking dish. Top it with rabdi.
To make the crumble topping – mix the flour and butter with your fingertips till it has a coarse crumbly texture.
Add oats, nuts, spices, salt and sugar to it. Give it a good mix and sprinkle over the rabdi.
Bake at 180 degree C for 10-15 min or till the topping crisps up. Serve warm.
Pumpkin Halwa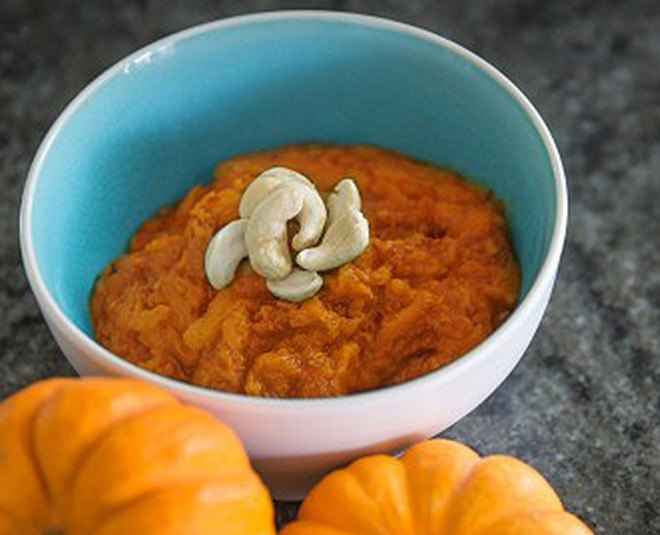 Ingredients:
500 g pumpkin, peeled and grated
250 g brown sugar
50 ml milk
4 tbsp ghee
10 cardamoms, ground (1 tsp ground cardamom powder)
20 cashew nuts
Method:
Heat up 1 tsp of ghee and then add the cashew nuts until they have roasted and turned golden brown (2-3 mins). Remove and set to one side.
Add a little more ghee to the pan and saute the pumpkin for about 10 minutes. Add the milk and cook until the pumpkin has a dry consistency.
Stir in the sugar and turn the heat up and stir to evaporate any excess liquid. Stir in the remaining ghee and crushed cardamom.
Once it has thickened it will start to come away from the sides of the pan. Remove from the heat.
Once the halwa has cooled sprinkle with the toasted cashews and serve at room temperature (a dollop of whipped cream goes really well with this too).
For more desserts and looks this Janmashtami, stay tuned to HerZindagi.