Corns are a great snacking option, they are healthy and filling. Corns are rich in fiber, minerals, and vitamins. They also have high nutrient content and this is why you should make them a part of your kids diet. One interesting way to make them consume corns is by preparing a delicious sandwich.
Spinach And Corn Sandwich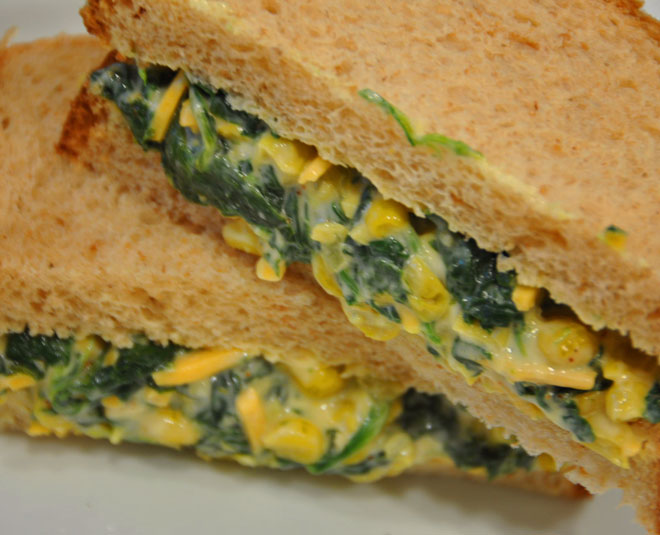 Ingredients:
½ cup corn
2 tbsp finely chopped onion
1 cup chopped spinach
½ tsp mixed herbs
½ tsp chilli flakes
¼ tsp pepper
Salt as per taste
Slices of bread
4 tsp green chutney
Butter for cooking
Directions:
Add onions, spinach in a pan. Add some butter and cook it well. Saute well and let the spinach shrink. Now add ½ cup corn, and cook. Sprinkle ½ tsp mixed herbs, ½ tsp chili flakes, ¼ tsp pepper, and salt to taste. Take this off the flame and let it cool. Now take two slices of bread and layer with green chutney. Spread the corn and spinach mixture over the bread slice and cover it with another slice of bread. You can add a slice of cheese (optional). Your sandwich is ready! Serve it with a dip of your choice.
Corn And Aloo Sandwich
Ingredients:
Bread slices
Butter for cooking
3/4 cup boiled potatoes
1/4 cup boiled sweet corns
1/4 cup grated carrot
1 1/2 tsp green chutney
1 ½ tbsp cheese spread
1 tsp dry red chilli flakes
Salt and pepper to taste
Directions:
Mash potatoes in a bowl. Add carrot, corns, chilli flakes, salt, and pepper. Now take bread slices and apply cheese spread evenly on one slice and green chutney on the other. Next, spread the potato and corn mix on the bread. On a tava, add some butter and place your sandwich. Let it turn golden brown from both the sides. Cut into 2 pieces. Serve with ketchup.
Benefits Of Corns
1. Corns have Vitamin B12 and iron which increases the production of red blood cells in the body. This prevents the risk of anemia. Don't Miss Love Corn Salad? Here's Your Secret Healthy Recipe
2. Corns give you instant energy. Kids need more energy to play and study throughout the day. Corns have complex carbohydrates that slow down the digestion process and keep the energy high.
3. If your child is underweight then corns are good for them. Make your kids on some weight in a healthy way by making them eat corns. Corns have healthy calories and eating them is way better than having junk food.
4. Corns keep the cholesterol and blood level in control. They are loaded with nutrients which help in lowering the cholesterol and sugar level of the body.
5. Corns have compounds which improve eye health. It prevents you from common eye problems like cataract and macular degeneration among others.