Beetroot is a star ingredient, especially during winters. This is because beetroot is healthy yet super delicious. You must be consuming beetroot as a salad or any other usual recipe. However, this can get boring at times and you might want to add some more flavour as well.
Therefore, we are here with some interesting recipes with beetroot as the main ingredient. These recipes are quite easy to make, extremely healthy and at the same time, super delicious. So, try these recipes at home and give your family a dose of health disguised with taste.
Beetroot Chutney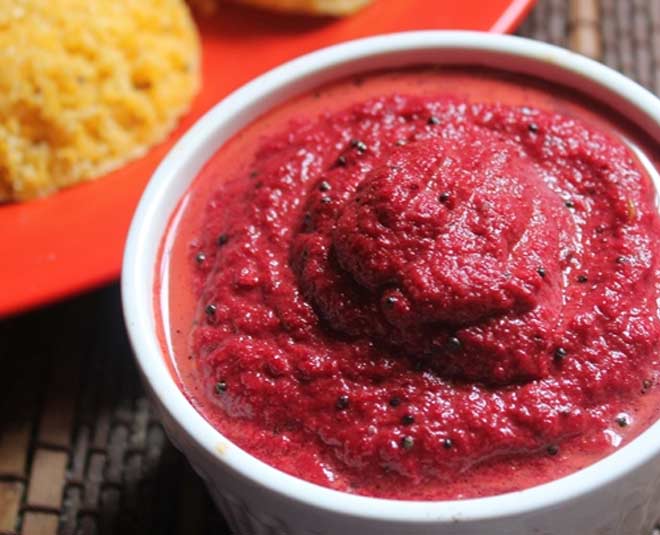 Ingredients
1 ½ Cups Beetroot (Grated)
1 Green Chilly
2-3 Red Chillies
1 Sprig Curry Leaf
½ Tsp Cumin Seeds
1 Pod Garlic
1 ½ Tsp Chana Dal
1 ½ Tsp Urad Dal
Salt
1 Tsp Oil
Lemon Juice Or Tamarind Paste
Instructions
Heat some oil in a pan. When the oil turns hot, add urad dal and chana dal.
Fry them until golden and aromatic.
Add curry leaves, garlic, red chillies and green chillies.
Fry until the leaves turn crispy.
You can set aside a few curry leaves, dal and spices for the final garnishing. Set aside to cool.
Fry the beetroot in the pan for 2 to 5 minutes until slightly tender.
Now, cool roasted ingredients.
Blend everything well without water. The moisture in the beets is enough.
Add lemon juice and tamarind. Blend once more until you get the desired consistency.
Transfer to a serving bowl and garnish with tempering.
Beetroot chutney is now ready to be served along with rice, paratha or anything else.
Beetroot Raita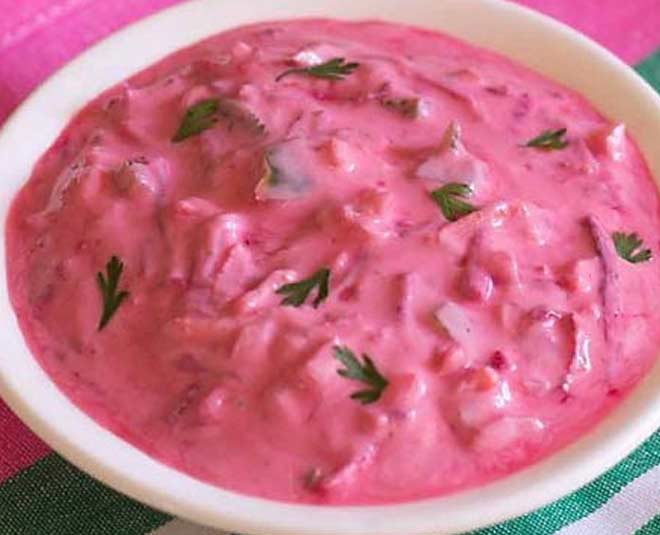 Ingredients
2 Cups Curd
1 Beetroot (Grated)
1 Carrot (Grated)
1 Onion (Chopped)
1 Capsicum (Finely Chopped)
1 Tsp Roasted Cumin Powder
Coriander Leaves (Chopped)
Salt
Instructions
Start with taking the curd in a bowl and whisking it until smooth.
Add all the chopped veggies together along with the roasted cumin powder and salt.
Mix it well to combine evenly.
Garnish with chopped coriander leaves.
Your beetroot raita is now ready to be served. Serve it with pulao, biryani or any meal of your choice.
It is best to enjoy the raita as soon as it is prepared. If there are any leftovers, then refrigerate it in a covered container but only for a couple hours.
Don't Miss: This Is The Right Way To Store Butter For Long Term Use
Beetroot Halwa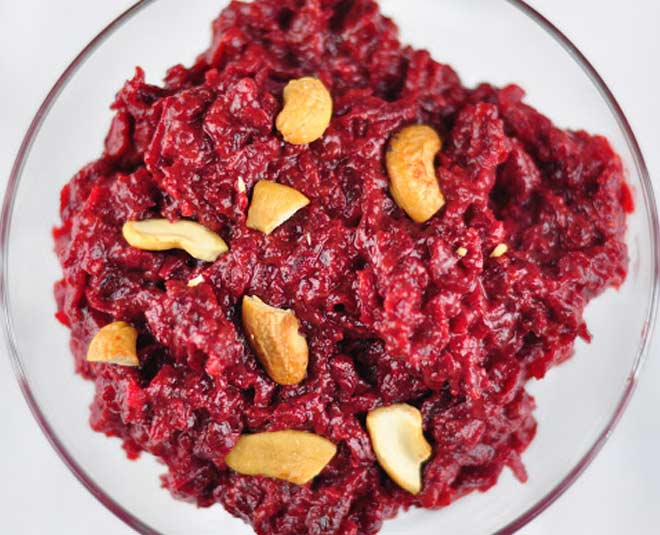 Ingredients
500 Grams Beetroot (Grated)
3 Cups Full Fat Whole Milk
6 Tbsp. Regular Sugar
3 Tbsp. Ghee
1/3 Tsp Cardamom Powder
15 – 20 Cashews
1 Tsp Golden Raisins
Don't Miss: Expert Shares 5 Old And Lost Recipes Of India That We Should Bring Back
Instructions
Take a pan, add milk and beetroot.
On a low to medium flame, bring the whole mixture to a boil and then simmer.
Keep on stirring at intervals.
The grated beetroots will cook in the milk. The milk will start to evaporate.
When the milk is about 75% reduced, add ghee and sugar to the mixture.
Stir well and continue to simmer. Keep cooking on low flame.
Towards the end, add cashews, raisins and cardamom powder. Simmer till all the milk has evaporated.
Now, switch off the flame.
Now, your beetroot halwa is ready to be served.
For more such stories, stay tuned to HerZindagi!