Recipes: Drizzle Your Desserts And Drinks With Rose Water
Rose water is one special ingredient which is missing from your pantry for so long. This flavourful potion can bring out the aromatic taste to many desserts and beverages.
Rose water is one special ingredient which is missing from your pantry for so long. Yes, you read it right. After reading enough redundant beauty benefits of this fragrance, people hardly know about the various other uses of this flavoured water made by steeping (soaked in liquid) rose petals. You will be surprised to know this flavourful potion can bring out the real aromatic taste to many foods and beverages. As we all know, rose water is heavily used in Middle Eastern cuisines (especially in sweets) and some parts of Turkey as well. Why are restricting our taste buds from this distinctive edible flavour.
Rose Water And Gin Cocktail
Image Courtesy: Pinterest
How about a romantic drink with your partner? This delicious cocktail not only looks tempting but equally conquers your senses in no time.
Ingredients:
Fresh squeezed lemon juice
Rose water syrup
Gin
Directions:
First you need to add 1 cup water and 1 cup sugar in a pot and simmer until sugar is dissolved. After cooling it down add 1 teaspoon rose water extract. Store your syrup in the refrigerator for some time. Put some ice in your cocktail shaker; pour gin (as desired), lemon juice and syrup. Shake well for about 20 seconds and dilute all the ingredients finely. Tip: You can also add soda if you wish to have a more sparkling flavour to your cocktail.
Rose Water Cakes/Pastries
Image Courtesy: Pinterest
Ingredients:
1 cup canola oil
1 1/2 cups caster sugar
2 eggs
1 cup natural yoghurt
2 cups self-raising flour
2 tablespoons rosewater
1 cup icing sugar
1-2 drops pink food colouring
Directions: As you plan to make your mouth-watering rose water car, reheat oven to 180C. Grease your decorative moulds as per the choice. Now put oil, caster sugar and eggs in a bowl. Beat well. Stir yoghurt, flour and rose water. Pour the mixture in desired moulds and bake for 30-35 minutes. Cool down the mould to room temperature and further refrigerate it. Now put icing sugar in a bowl with remaining rosewater, colouring and stir well in warm water. Take out cooled cakes and drizzle with icing. You can decorate with rosebuds to get that tempting floral feel to it.
Persian Rose Water Ice cream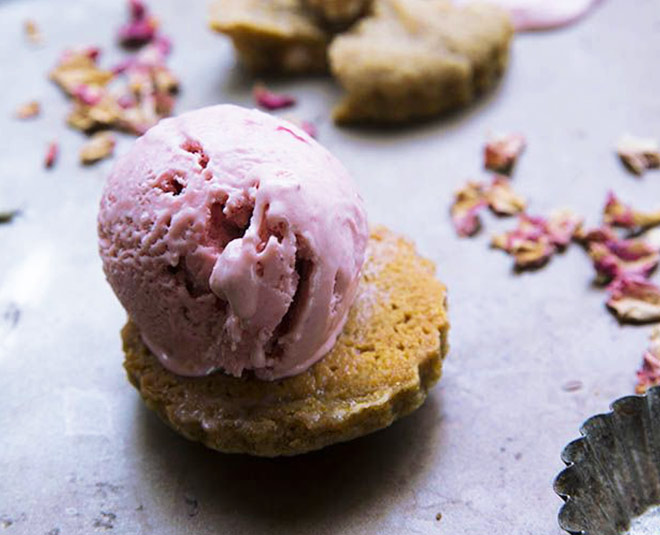 Image Courtesy: Pinterest
Ingredients:
2 1/4 cups heavy cream
1 cup milk
3/4 cup sugar
1/2 to 1 tablespoon rose water
1/4 teaspoon salt
1/2 cup chopped pistachio nuts
Directions: First pour 1/2 cup cream in a plastic bag and refrigerate it. Now mix the remaining 2 cups cream and milk in a saucepan. Heat it up to 175 degrees. Stir sugar until it dissolves finely. After removing from heat, add and stir rose water plus salt (as per taste). Pour your cream mixture in a container and freeze it for about 6 hours. This is the time you can remove the frozen bag of cream from the refrigerator.
Read More: Trailblazers - Women's Rights Activists In India
Chop finely into pieces. After freezing the ice cream, add the frozen cream pieces and nuts in your mixture and shake until all the pieces are distributed well. Last but not the least, transfer ice cream in a storage container and refrigerate for about 4 hours. Impress your friends and family with this much loved Persian ice cream.
Recommended Video