Make full use of your air fryer, cook your favourite dessert, snack or main course in a healthier way with these easy to make recipes that anyone can use. You do not have to be a pro at cooking for these dishes. Impress your family and loved ones, go ahead and try them out today!
Air Fryer Brownie
Image courtesy: forktospoon
Ingredients
½ cup maida
2 large eggs
6 tbsp cocoa powder
¼ tsp salt
¼ tsp baking powder
¾ cup sugar
¼ cup cooking oil or unsalted butter (whatever you have)
1 tbsp vegetable oil
½ tsp vanilla extract
Don't Miss: 4-Ingredient Parle G Ice Cream Recipe For Midnight Sweet Cravings
Method
Grease the baking pan with butter on all sides.
Preheat your air fryer at 330 degrees Fahrenheit for 5 minutes.
Meanwhile, prepare the brownie batter by mixing together maida, sugar, cocoa powder, butter, eggs, oil, vanilla extract, salt, and baking powder in a bowl.
Pour the batter in the greased pan and smoothen it.
Place in the fryer and bake for 15 minutes.
Remove and let it cool in the pan.
Cut it into pieces and serve.
Baked Potato
Image courtesy: cadryskitchen
Ingredients
3 large scrubbed potatoes

1/2 tbsp extra-virgin olive oil
Salt
1/4 cup softened butter
1/4 cup milk
1/4 cup sour cream
3/4 cup shredded cheese
1 sliced green onion
Freshly ground black pepper
Method
Clean the potatoes thoroughly and dry them up.
Poke them all over with a fork and then rub with oil and sprinkle with salt.
Place them in the air fryer basket and cook on 400° for 40 minutes. Once done, let them cool.
Now, cut them lengthwise, getting rid of a thin layer from the top of each potato.
Scoop out some of the insides and put it in a large bowl.
Take a bowl and mash the potato insides with butter, milk, and sour cream to make a smooth paste. Add cheese and green onions, sprinkle some salt and pepper.
Fill the baked potatoes with the mixture and place them back in the basket. Cook at 400° until the outside is crispy which should not take more than 5 minutes.
Serve hot.
Don't Miss: 5 Weight Loss Breakfast Recipes You Have To Try
Chicken Tenders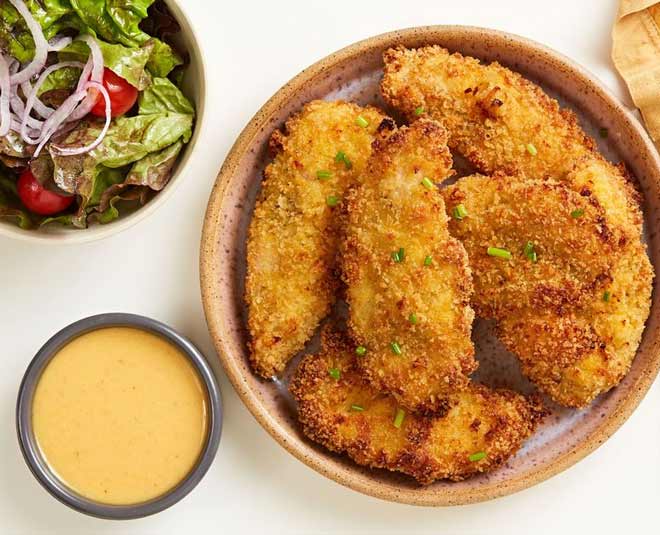 Image courtesy: hearstapps
Ingredients
680 gms chicken tenders or chicken breasts
Salt
Freshly ground black pepper
500 gms maida
2 cups bread crumbs
2 large eggs
1/4 cup buttermilk
Cooking spray or an oil and baking brush
Method
Season the chicken breasts on both sides with salt and pepper.
Now take a container with bread crumbs.
Take another container in which you must whisk together the buttermilk and eggs.
So taking each breast at a time, dip it in the flour or maida, then in the egg batter and then in the crumbs, repeat twice for each piece.
The chicken pieces must be coated well from all sides and you can do this in batches.
Place the pieces in the air fryer, spray or with a light hand brush the oil all over and cook at 400° for 5 minutes.
Flip chicken over, spray with more cooking spray and cook 5 minutes more.
Do so with all the pieces and then serve with your favourite dip.
These recipes are just perfect when you do not feel like cooking on a stove which needs your attention the entire time. This can be done by anyone and are a perfect way to start cooking, especially for bachelors who have been ordering food amid COVID-19 as well!
We will keep you updated with more such easy recipes, so stay tuned to HerZindagi!