To celebrate the Telangana Formation Day on June 2, a 13-year-old Hyderabadi Karate black belt holder, set a world record and we are so proud. Gana Santhoshinee Reddy broke 84 ceramic tiles in 84 seconds to mark 84 months since Telangana on June 2, 2014.
Breaking 84 tiles per Gana shared that she had been practicing for almost 6 months and even broke a few times to reach this speed which set a new record.
"Since Telangana formed 84 months, I decided to set a world record by breaking 84 ceramic tiles by hand on 31 May 2021, just 84 seconds," she told ANI.
Santhoshinee holds several records, including a world record for the highest number of side-to-side head rotations (left to right and right to left) which were completed by her in 39 minutes in 2012.
'I did 3,395 rotations in 39 minutes and that was my first record. In the year 2013, I received the Bala Surya award for her performance to mix dance, yoga and karate in a single performance," said Reddy.
In 2019, on the 5th Telangana Formation Day, both Santhoshinee Reddy and her sister are honoured for their performance.
Speaking on women empowerment, the teenager shared that karate is very important and it plays an important role especially when it comes to the empowerment of women.
In the conversation, it was revealed that it was her father who teaches her as he is a karate master and runs a karate academy in Hyderabad.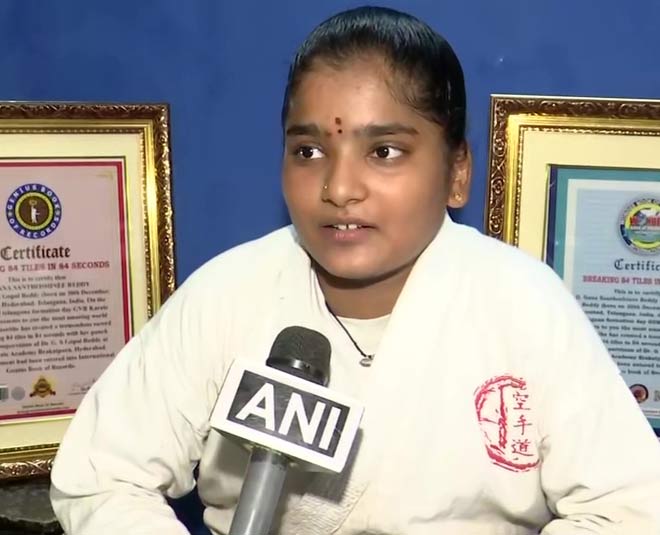 Santhoshinee is now hell-bent on making her name in the sport and win international championships. She is also an aspiring IAS officer and wants to serve the people and the government.
Talking a bit more about karate and women, Dr. GS Gopal Reddy, the father of Santhoshinee Reddy, said women should be able to defend themselves in any situation.
'I am very proud that both my daughters have won several awards so far and set several records. It is very important that women do this because I believe that Karate is all about building self-confidence in a person and especially in women. "They must be confident and able to defend themselves in any position," he said.
Don't Miss: Tashi Yangjom: First Indian Woman Mountaineer To Scale Everest In 2021
Given the times today when women are not safe, it is crucial that we all know self defence instead of waiting for a knight in shining armor. We have to become our own knights and take inspiration from Gana who is just 13 but is already a black belt holder and has set several new records.
Stay tuned to HerZindagi for more such inspiring stories and women.