Some extraordinary stories of just common people just like us stay in our hearts forever. This is one such story! This is the story of Ann Russell Mille, who until the age of 60 was a US socialite.
Later, she decided to dedicate herself to God. After bidding goodbye to all her guests on her 61st birthday party, she flew to Chicago and became a nun. Sister Mary Joseph recently passed away and this is her extraordinary story, read on.
Ann Russell Miller Always Dreamt Of Becoming A Nun
Born in the year 1928, Ann Russell Miller dreamt of becoming a nun but she fell in love with Richard Miller. She got married to him when she was 20. Richard Miller was the vice president of Pacific Gas and Electric, which was a utility company.
At the age of 27, she had five kids. She had a good life with a lot of friends, a big family. Later, she went on to have 5 more children. She used to drink, smoke, play cards but one day she quit everything, right from smoking to caffeine to alcohol.
Ann's husband died in the year 1984 due to cancer. Then, she decided to join one of the strictest orders of nuns in the world. About 5 years later, she decided to give away everything and join the Sisters of Our Lady of Mount Carmel in Des Plaines, Illinois.
The Carmelite nuns are said to live in silence largely and they do not leave the monastery unless necessary. The nuns here only speak when essential.
Ann's 61st Birthday Party
On her 61st birthday, Ann Russell Miller threw a big party with around 800 guests to bid all of them goodbye. At the party, all the guests had expensive seafood, listened to orchestral music. The birthday girl, Ann wore a flower crown and a helium balloon which read 'here I am' so that people could easily spot her and bid her a goodbye.
At the party, she told all her guests that she devotes her life's first 30 years to herself, next 30 to her children and the last 30, she would like to dedicate to God. Next day, she flew to Chicago and started to live at the monastery as Sister Mary Joseph.
Don't Miss: Lata Khare: A 68-Year-Old Woman Who Saved Her Husband's Life By Running A Marathon
Ann R Miller's Son On Her Life
Mark R. Miller, Ann's 9th child of her 10 children in a Twitter thread wrote about her life. He tweeted, "A 92 year-old nun died today in a Carmelite Monastery in Illinois. She was kind of an unusual nun. She didn't sing very well. She was frequently late to her required duties around the convent. She threw sticks for the communal dogs which was not allowed. Also she was my mother."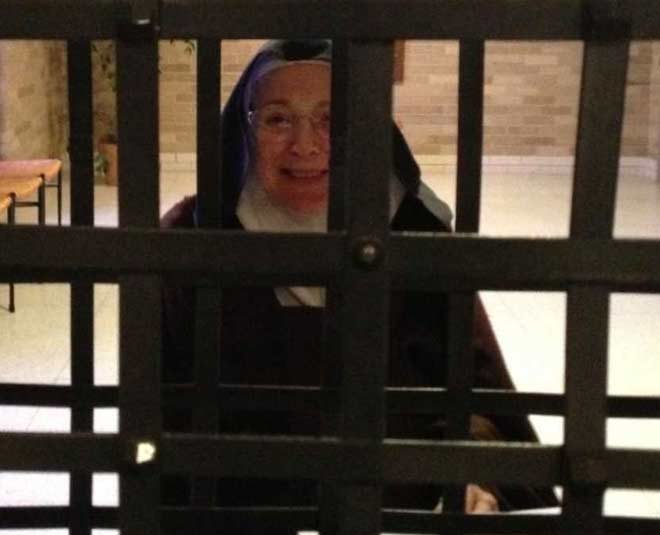 "I have only seen her twice in the last 33 years since she joined the convent—-partly because the Carmelites are a contemplative order. They don't teach school, or work in hospitals, or even leave the building in which they live. They pray. They live in silence 23 1/2 hours a day," he shared in his next Tweet.
He also shared that when he went to visit her, they couldn't hug or touch her. They were separated by an offset pair of double metal grilles.
Well, you get just one life. She truly lived hers well. No? Tell us your thoughts on the 92-year-old nun's life story on our Facebook page. For more such stories, stay tuned!