Rujuta Diwekar, the celebrated author of Don't Lose Your Mind, Lose Your Weight, Pregnancy Notes: Before, During & After and Women and The Weight Loss Tamasha always has golden words of advice when it comes to healthy eating and fitness. While it is still easy to follow a fitness regime for us, when we start thinking about how to keep our kids active and healthy in this digital age, it makes our heads all dizzy. Read on to find out why she recommends that kids play at least 60 minutes every day, even at the cost of tuition class or homework as part of her 12 week fitness project 2019.
60 Minutes Of Kiddie Fun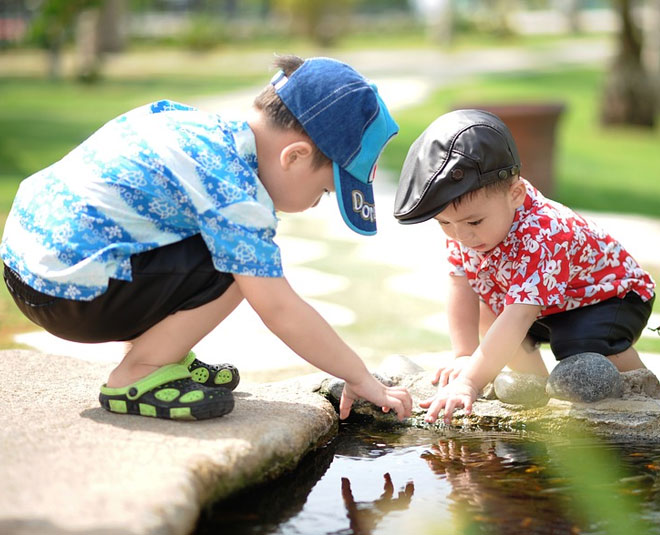 Our children are not getting the basic minimum physical activity that is recommended for good health and that is one of the reasons why we see rising rates of obesity, allergies and frequent sicknesses in our kids, says Rujuta. As per WHO recommendation, kids should get a minimum of 60 minutes of free play every day till the age of 17 years. Do note that higher than 60 minutes brings additional benefits.
Benefits Of Regular Physical Activity
Healthy musculoskeletal tissue (bones, muscles and joints).
Healthy cardiovascular system (heart and lungs).
Neuromuscular awareness (coordination and movement control) - facilitates maintenance of healthy body weight.
Improves psychological wellbeing, self-confidence, social interaction and integration.
Long term it also ensures that they are less tempted to get into drugs, alcohol and smoking once they begin to experience the benefits of staying physically fit.
Don't Miss This: Rujuta Diwekar's Weekly Plan For Healthier Children Is Here Now!
What Can We Do As Parents/ Society To Facilitate Physical Activity For Children?
Encourage them to play in all weathers and seasons.
Teach boys to share open spaces with girls and teach girls to fearlessly occupy open green spaces to run, jump and roll.
Allow children to bunk tuition class or homework if it comes in the way of 60 minutes of free play.
Make politicians realise that free access to open spaces will get them your vote.
Want to know more about tips to make your child smarter, tiffin recipes that your kids will love, Shilpa Shetty's kiddie recipes or how to have a pep talk with your kid? Then stay tuned to Her Zindagi.