Try Sushmita Sen's At Home Workout With Her Bestie
Sushmita Sen is working out with her best friend at home and it's not her beau Rohman Shawl. Here's how you can have a fun workout with your bestie too!
Sushmita Sen continues to wow us with her exceptional fitness regime which gives her a body to die for. While we just sit and watch in awe, the model turned actor pulls off the toughest moves in the gym along with martial arts, pilates, aerial yoga, dancing, callisthenics and what not. Her buddy in working out these days is beau Rohman Shawl who has managed to match her agility step by step but it was her bestie Aaradhika Chopra who challenged her to do a gruelling workout at home which got her fans in frenzy.
So Who Is Sushmita Working Out With Now?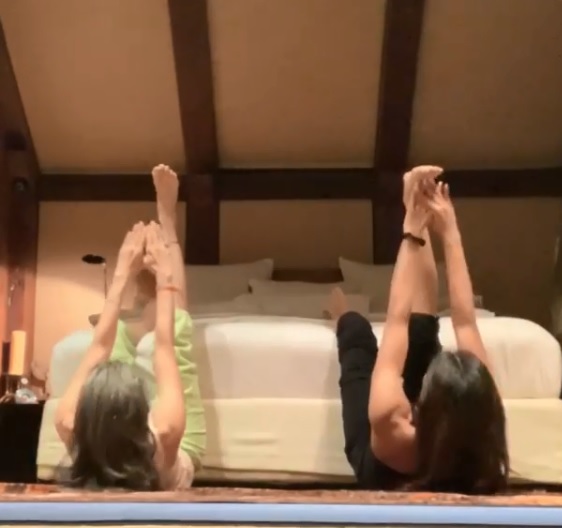 In a video that has garnered many likes and comments on Instagram after it was posted, Sushmita, aged 43, can be seen matching reps with her friend Aaradhika Chopra who looks like she has killer fitness levels at 58. Take a look yourself:
View this post on Instagram
Bestie Workout Is The Best!
Sushmita has shown us ultimate couple workout goals but working out with her friend looks so much fun too. While we have bonding sessions with our gal pals over coffee, shopping, bits of gossip and during our leisure time, it makes sense to challenge your friend to a workout session from time to time too. It is way better than slogging it out alone at the gym. Isn't it?
Image Source: www.giphy.com
Umm...but maybe not like this!
Rather, take some inspiration from Alia Bhatt and Katrina Kaif:
Or Malaika and Sara:
View this post on Instagram
Sushmita Sen-The Motivation Guru
Sushmita Sen is the ultimate guru of motivation as she has some wellness gyan for people every day. Believing in the adage that it's all in the mind, her latest post talked about refusing excuses and how the body must follow when the mind is made up. No wonder then that she has strong and shapely legs that make her glide even in 7 inch heels with ease. Add to that, a handsome boyfriend like Rohman who has her back!
Don't Miss This: Sushmita Sen's Fitness Secrets Revealed
Sushmita's Workout Mantra For Lazy Souls
If her bestie workout wasn't enough to make you start moving to get into shape then try this easy trick that Sushmita recommends. Just start stretching every day. Now that's not too hard, is it? This is what she had to say in a post that was written for people just like you and I:
"An open mind in a closed body is still closed! #strech everyday even if you don't enjoy exercising much!! It helps in learning to be patient with ourselves & nurturing our body's capacity!! Opening up the body results in happy hormones & even happier choices try it, be consistent & see for yourself!!!"
Still wondering where to begin? Read about the benefits of stretching here and when you are done, look at Sushmita stretch her body to work out all the muscles:
So what are you waiting for? Get started with Sushmita Sen's simple workout mantra and see the difference in a few weeks.
Recommended Video