In today's busy life, fitness is getting lost due to which weight is increasing. Because of sitting for too long, fat usually gets deposited in the lower part of the body, that is, due to which the whole body looks very uninterested. Come, let's talk about some easy workout that will help you in reducing the fat of your legs, in shaping your body, as well as in weight loss.
Split jumps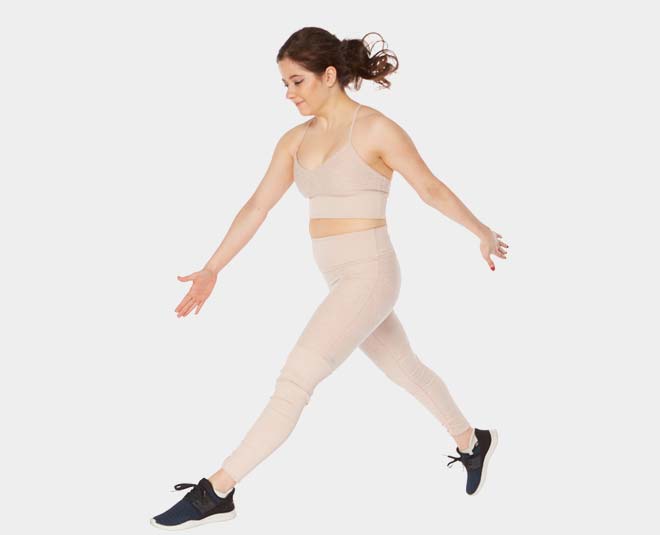 Image courtesy: meredithcorp
Split jumps is a very easy CARDIO EXERCISE that will help you to do weight loss as well as to reduce leg fat at home. You can do this exercise anywhere without any tools.
The right way to do split jumps is to stand up and rest the hands on the waist. Jump and open the legs back and forth like if the right foot has gone forward by jumping, then the left leg will go back at the same time and keep repeating it back and forth. Split jump is a cardio exercise which is very effective if empty stomach is taken in the morning.
How to Split Jumps and the Benefits of Doing It
If you do 4 sets of 50 in the first week, then it is enough, then increase the repetition and set every week: This will reduce help you to reduce fat of legs as well as if you are sitting all day, then this exercise will not cause tightness in the leg.
Jumping squats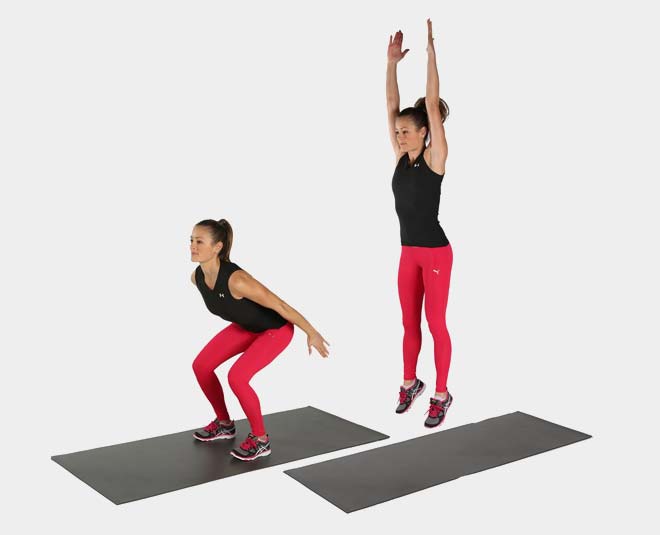 Image courtesy: popsugar
Usually everyone does squat i.e. simple sit ups. Let us make a little difference in it so that a simple exercise will turn into a super and effective exercise and its benefits will increase equally. The right way to do jumping squats and the right time is- Just like we do a simple squat, we have to do just that, for a simple squat, we have to bring our hips down like we are sitting on a chair. Just when we are in a position to sit, only then do we have to stand by jumping 1, and repeat it again by standing. If we make a jumping squat set with cardio exercise, then it will be more beneficial. If you put it in the middle in any workout, it will give very good results.
How many jumping squats
If you had just started doing the workout a short time ago, then start with 3 sets of 10 counts in the initial phase. Mix it in your daily workout. After a short time, by increasing the count, you can also do 4 sets of 25 rapes.
Benefits of doing a jumping squat
This is a great exercise for thinning and toning down the abdomen. Along with making the legs thin, strong and flexible, it also tightens the legs.
Stair workout
Stair workout is a very easy and effective workout. The stair is usually around the house, we just have to take advantage of the stairs to thin our legs. Come, let's learn about stair workout.
Don't Miss: Battle Stress & Relax Your Mind, Body By Practicing These Yoga Asanas
The right way and time to do stair workout is
Stair up and down then all the simple steps are done if you keep doing it continuously for some time, then it is called stair workout. We have to descend slowly while descending stair and climb fast while climbing. Put your whole energy while climbing the stair. When we climb with gravity upside down, the legs will be very strong and the legs will become thinner over time. You can do this with daily workout and you can also do it to digest food.
How to count stair workout
Consider 1 round of stair as 1 count. Initially, 7 to 10 counts a day is enough. Then when the stamina is formed, gradually increase the count and bring your legs in thin and shape.
For more such articles on fitness and diet, stay tuned to HerZindagi. You can also share and comment on our Facebook Page.