It is believed that yoga was developed in India hundreds of years ago. With time, its popularity has increased throughout the world, with many finding it very effective to stay fit and healthy. There are several practitioners and yoga gurus, who keep researching new forms of yoga. Aerial yoga is a type of exercise that is considered hybrid yoga.
Reportedly, it was discovered in 2014. It includes a couple of traditional yoga poses, pilates, and dance moves, etc and this is all done with the help of a hammock. Within a couple of years, fitness enthusiasts and many Bollywood celebrities have become a huge fan of aerial yoga. Some of them are Alia Bhatt, Rakul Preet Singh, Sonal Chauhan, etc. Keep reading to know how aerial yoga helps to become wholesome!
Makes You More Flexible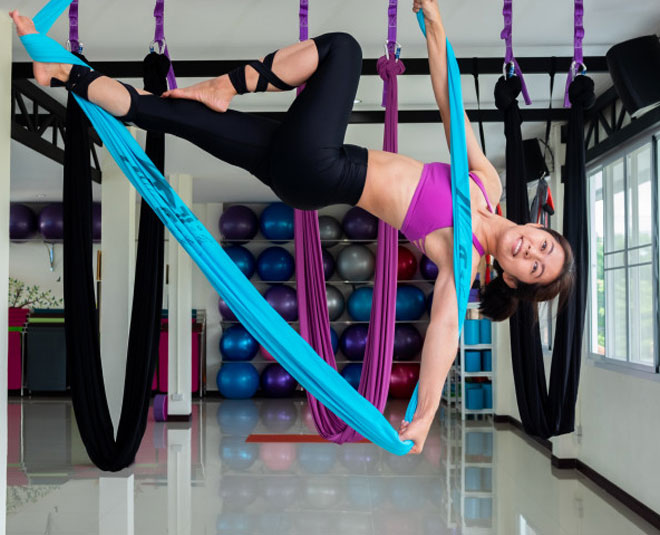 Given most of our sedentary lifestyles, our bodies remain out of motion for hours. This leads to weight gain and stiff muscles. In order to become flexible, a workout routine that involves shaking up your whole body is required. Aerial yoga is ideal for this, as it helps you to tone your abs, burn fat, work each and every muscle in the body, and much more. Being flexible can keep you healthy and energetic to accomplish any task.
Keeps Back Problems At Bay
While earlier issues related to the backbone was mostly seen in older people, now it has become a common health problem. Office and college-goers are also suffering from back pain and muscle stiffness. This happens due to sitting in the wrong position for hours and less body movement. Aerial yoga requires hanging freely to give the spine the chance to lengthen. By doing this, you will put less strain on your back and will eventually heal.
Improves Respiratory Function

Due to the current coronavirus pandemic, we need to wear face masks before stepping out. While it is a significant measure, constantly putting face mask is also giving people breathing issues. The situation is worst for people already suffering from some kind of respiratory problem. Besides medication, aerial yoga can be really helpful, as it allows you to breathe deeply without any restriction.
Great To Release Stress
The lockdown took a toll on almost everyone's mental health. While some lost their jobs, others struggled with health problems. Yoga is one of the best things to do when every other thing fails to soothe your mind and body down. Especially aerial yoga is known to put an individual's mind at ease. You meditate and focus on positive thoughts, further getting rid of all the negativity and stress thoughts.
Don't Miss: 5 Yoga Asanas To Warm Up, That Will Keep You Active This Winter Season
Improves Heart's Health
The heart is one of the most crucial body organs, without which survival and well-being become difficult. Besides eating healthy and staying away from junks, indulging into physical activities like aerial yoga can improve the health of your heart. Cardiovascular issues have become extremely common. Fight it with by boosting healthy blood circulation.
Don't Miss: Try These Ways To Improve Your Step Count Figures While Staying At Home
If you liked this article, do comment on our Facebook page. Stay tuned to HerZindagi to read more such stories.