Whenever we are invited to any kind of a celebration with a traditional theme for dressing up we go shopping for the gaudiest and shiniest lehengas and sarees. However, when it comes to dressing for normal day-to-day activities, we choose to wear clothes with Chikankari embroidery. Being your fashion guide, it is our duty to update you on the latest trends and break your fashion bubble while informing you that gone are the days when functions meant wearing outfits that literally reflect light. At present, fashion statements are made by those outfits that are classy and sophisticated, not by the ones that bling the loudest. To keep yourself at the top of the fashion game, have you ever considered wearing Chikankari embroidered outfits for functions? No? Well then let us burst the myth that equates Chikankari with simple! So, here are some gorgeous Chikankari outfit ideas!
Dinner Party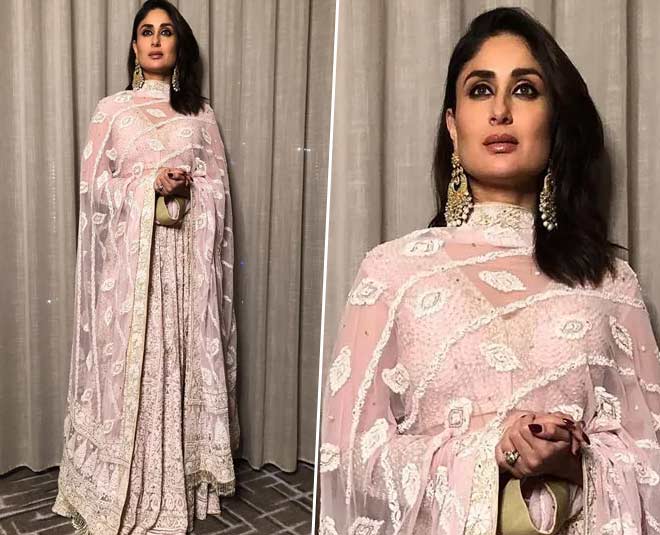 Image Credit: assets.vogue
If you are planning to wear a gorgeous-looking Indian outfit for a dinner party, get yourself a heavily embroidered Chikankari suit. You can have tiny sequences along with the embroidery depending on the occasion. Make sure the dupatta is heavy as well because no matter how simple the outfit is, a heavy dupatta completely changes the look. Along with that, choose a colour that makes you stand out at the party. If everyone is expected to wear black and red, you wear white or pink. While everyone will look tacky, you choose a sophisticated look! You can add to this look by making the kurti sleeveless or backless. Make sure the fitting is perfect and you are all set. If Kareena Kapoor Khan, the queen of fashion can choose to wear Chikkankari, you are following the right trend!
Haldi Function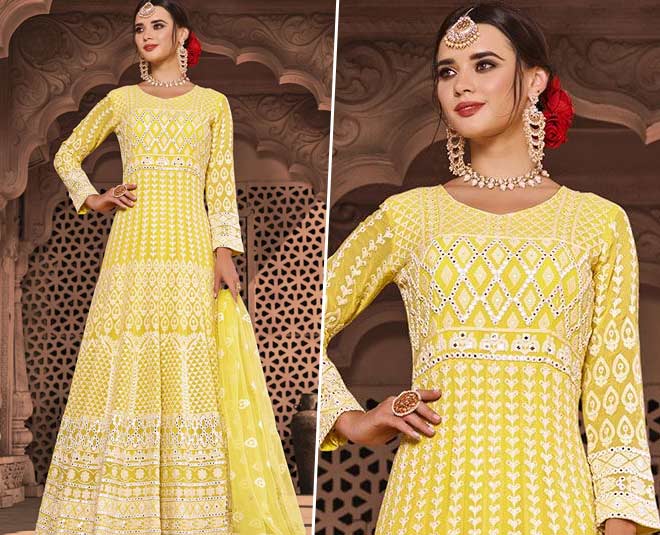 Image Credit: shahifits
Haldi is a fun-filled function with loads of music and dance! While dressing up for the Haldi ceremony you need to not only focus on looking beautiful but also be comfortable because you have to be prepared to dance as well as run from all those people who are chasing you with haldi in their hands! For an occasion like this, a yellow Chikankari outfit works best! Opt for a 'full jaal' chikankari lehenga or saree and pair it with a rose in your hair. You can also wear big jumkas(earrings) and fill your hands up with bangles. You will be comfortable as well as be the one standing out in the crowd for all the right reasons!
Learn More About Styling Chikankari- Style The Trendiest Chikankari Kurtas, Take Some Inspiration From Our Bollywood Divas
The Wedding Lehenga
Image Credit: assets.panashindia
Now we know this sounds insane to you because a wedding lehenga for you probably means glitz and glam! Well, it is high time you change your mind and consider wearing a classic yet classy Chikankari lehenga. This outfit will definitely make your look extremely royal. Keep your look traditional, opt for a deep round neck, hair pulled back in a bun, heavy makeup, and jewellery. You will look like a queen and that is our guarantee! This look will differentiate you, the bride, from every second female at the wedding who is wearing a heavy and shiny outfit!
Read More On The Kurta Trends- Printed To Chikankari, Kurtas That Deserve Space In Your Closet This Summer Season
The Reception Party
Image Credit: cdn.shopify
If you are someone who thinks Chikankari goes well only with traditional outfits, you think too little of this gorgeous embroidery! Pick a subtle colour and get a flowy and gorgeous dress made out of it. Since reception is a part of the various wedding ceremonies, you can't go all out and wear the shortest dress in your closet. You have to dress wisely so here is a perfect outfit for your party! Pick a colour that makes you stand out from the crowd, just like you did for the dinner party. Get a fashionable neckline made, here you can push your limits and even go for off-shoulder. However, for the bottom choose something that has a nice fall. This combination of a long skirt and a fashionable blouse will make you look like the perfect combination of 'when sanskaar meets fashion'!
So, what are you waiting for? Go get yourself the perfect Chikankari outfit for every occasion and for more such articles, stay tuned to Her Zindagi!