Be it any part of the world, the wedding day happens to be one of the most significant occasions of a girl's life. She dreams and plans about her bridal look for months if not years. While some think to follow the traditional path, others decide to blow everyone's mind and make statement.
One such bride is Wazhma Awan, whose D-day appearance is taking the internet by storm! The first look that garnered attention and appreciation was her Mehndi outfit. As per reports, she designed the entire look herself, by adding components from different corners of the world.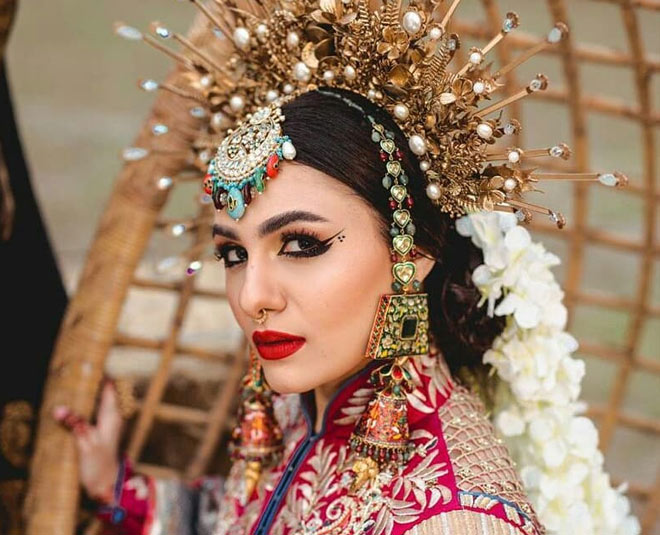 Going by the photos, she can be seen sporting various accessories that Pakistani brides are not usually seen donning. A gold crown, a white flower veil, chunky colourful jewellery pieces, dramatic makeup, and a septum nose ring. Stylist by profession, Wazhma, during an interview with a Pakistan-based news website, talked about the theme and idea of going with such an unconventional look for her wedding ceremony.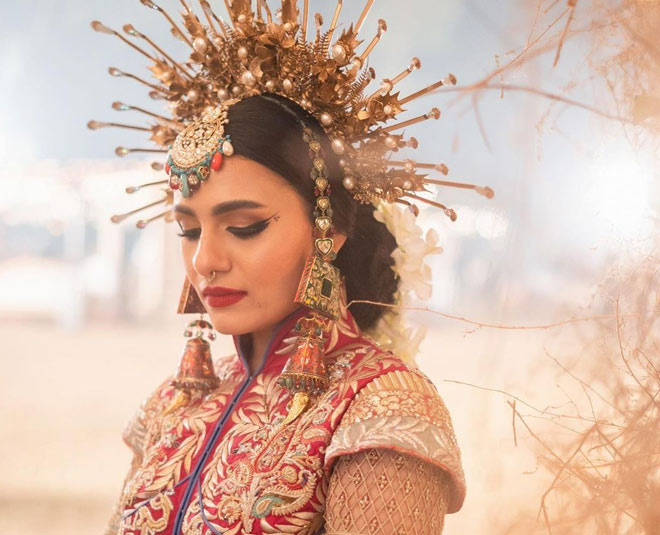 Being a stylist, she gets to play around with various colours and designs for other people's wedding. But when it came to her own nuptials, she wanted to stand out. "I was looking at brides all over Asia and was drawn to a more tribal, nomadic style," she said and further described her look.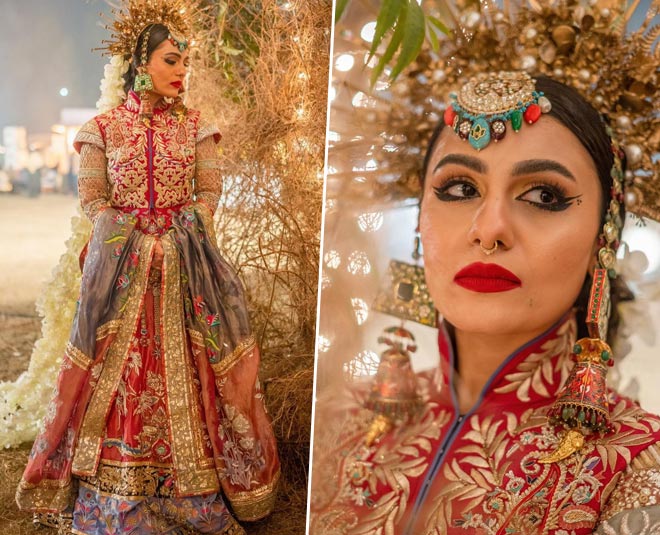 Instead of out of the world designer attire, the stylist fell for an old school House of Kamiar Rokni outfit. To accessorise the look, she picked a dramatic gold crown from an Etsy shop in the Czech Republic. The gorgeous ornaments are made by the bride herself. And lastly, out of the world flower trail, she got it made specifically for her.
Talking about the same she said, "I didn't want a matha patti or a dupatta," instead, a flower veil. She took the help of her wedding florist, who helped to get the veil made for her. When it comes to deciding the theme of her wedding appearance, she incorporated elements from older Chinese brides, who used to don headgear, and Indonesian brides, whose dramatic eyebrows simply look stunning.
Unlike most brides, who pick red (Sonam Kapoor's red outfit), maroon, pink, or green dresses, this Pakistani bride decided to make heads turn in gold. For the main day, Wazhma sported all gold traditional Balochi dresses. The Balochi outfits are traditionally very colourful and vibrant. But this bride particularly wanted it to be in gold, so, she got it custom made for her by her aunt, who according to Wazhma makes traditional Balochi dresses.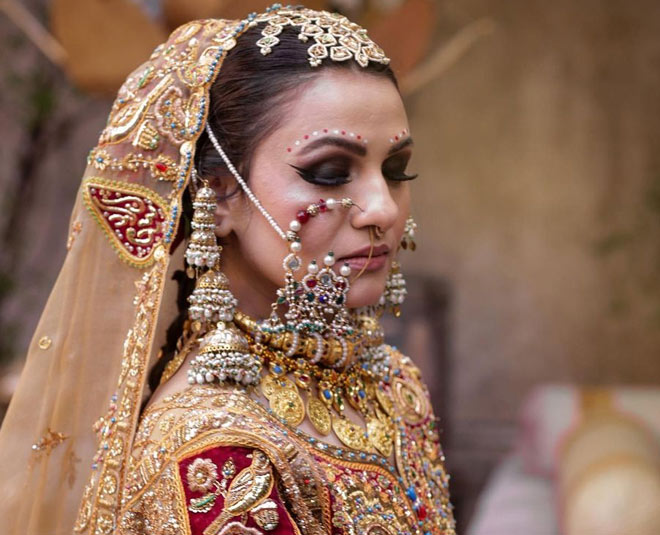 Don't Miss: Here Are Some Cross-Cultural Bridal Jewellery To Make Fashion Statement At Mixed Marriages
When asked about what she thinks of people's perspective about her outfits (offbeat bridal outfits), she said, "People could have been like what the hell is this [about the outfit]. I'm sure there were some people who were like what is this, but most were nice," she said during an interview and added the comments on social media shows people are more keen in something unconventional too.
Don't Miss: Bridal Trends: Check Out 10 Trend-Setting Bridal Lehengas From India Couture Week
Do let us know what you think about this Pakistani bride's appearance by commenting on our Facebook page. Stay tuned to HerZindagi for more such stories.
Picture Courtesy: Instagram (Mahamiqbalbosan, ikramgoharofficial, the_videographers)