Your Valentine's Day look puts too much pressure on perfection, but we understand its significance. Be it a formal candlelight dinner or a casual Netflix and chill hangout, this date makes it even more special for the lovebirds. It's not every day that one can show their love for their significant other, and thus this extravagant day requires some gorgeous outfits ranging from ethnic touch to a complete western.
Tanvi Gauri, Designer at Tanvi Gauri, has shared some beautiful outfit ideas for HerZindagi readers. Be it the colour of love, red or the colour of friendship, yellow.. everything find its rightful place this day because we all know and have learnt growing up, that love is friendship and friendship is love!
The Boss Lady Look
Who says white is not a valentines colour? It is serene and composed, lovely and light. While people feel that black helps make a statement, we feel that white can do the task pretty well too. With the right accessories and a statement bag, your white jumper can make your man swoon over your boss lady vibe. Style it with dark red heels and a shiny bracelet, and voila!
The Queen
A date by the poolside, under the stars. A bottle of chardonnay with your favourite selection of delectable dishes and your Mr. Right. Can one have a more surreal date? For a date that resembles a dream, you can look like one too. You can never go wrong with a saree. If you want to give it a different look, go for a neck scarf twirl of the dupatta. Interlace the myths, the hymns, the legendary tales of the most beautiful and the most valiant, in this stunningly graceful blue saree and celebrate this day of love in the most awe-inspiring way.
Bold And Fierce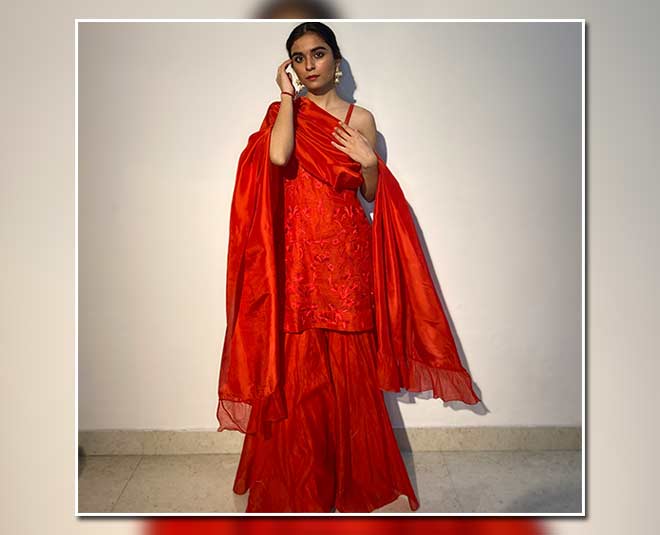 One cannot talk about Valentines without touching on the significance of the colour Red. This colour embodies all characteristics of love- bold, fierce, passionate and exciting. So for your valentines, the outfit should be nothing less than a fairytale dream. It is the best choice for him to fall in love with you all over again! This bold yet excruciatingly beautiful outfit can colour your day red, with love and passion.
Don't Miss: Astro Expert Explains Gemstones For A Smooth Love Life As Per Sun Sign
Breezy Elegance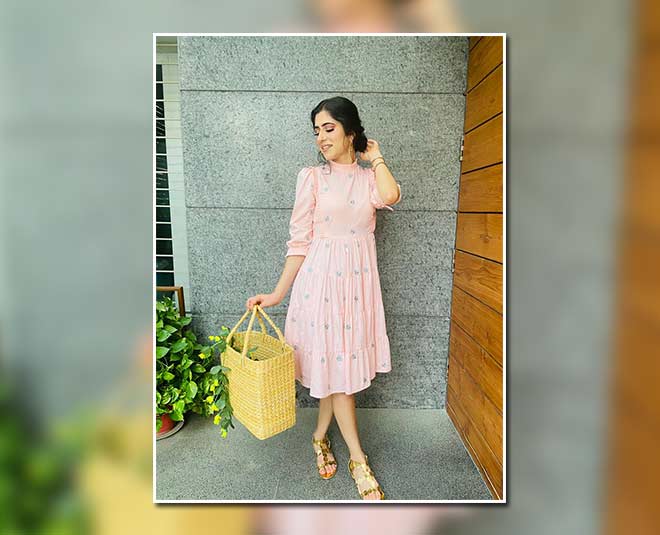 Basking in the afternoon sun, brunching on a plate of mouthwatering breads and dip, sipping on your favourite wine- sounds like a sunny date! To look as radiant and lovely as the day, we suggest going for a light peach embroidered dress. Layers of fabric beautifully stitched together with grey hand-embroidered flowers all over the dress, makes one look like a vision. Light colours and flowy dresses, with a loose bun hairstyle, is a good look for an afternoon of love, light and laughter.
Don't Miss: February's Love Forecast: Astrologer Predicts Your Would Be Love Life As Per Zodiac Signs
Black Bae
One can never go wrong with a black dress. A strappy flowy black dress with a signature handbag styled with the best heels that you have! You can make a great statement with this colour, especially with a smokey eye look and minimalist jewellery.
Which look resonates with you? Get ready and look gorgeous this Valentine's and stay tuned to HerZindagi for more ways to make the day special for your love.