Met Gala is known for its fashion and allows its attendees to express themselves in an eclectic manner showing off their creativity and personal style. 2021 Met Gala's theme was 'America: A Lexicon of Fashion'. The theme of Met 2021 presents to redefine the past which definitely the most ambitious aspect of the exhibition and is in fact only the first of two. "In America: An Anthology of Fashion," the second and larger exhibit, will open in May 2022.This year just like the rest was full of iconic guests. This year included this year's Co-chairs; Billie Eilish, Timothée Chalamet, Naomi Osaka, and Amanda Gorman. Some of the iconic A-listers included Rihanna, Kim K, Kendall Jenner, Gigi Hadid, Simone Biles and more.
We saw a star stud list of celebrities from Rihanna in Balenciaga Couture,Maria Tash, Thelma West and BVLGARI jewelry and A$AP Rocky in ERL to Normani in Valentino and Lorraine Schwartz jewellery. Cara Delevingne in Christian Dior and Jimmy Choo shoes; as well as K-pop idol Rosé in Saint Laurent and CL in a beautiful gown designed by Alexander Wang.
Lourdes Leon's Met Gala Look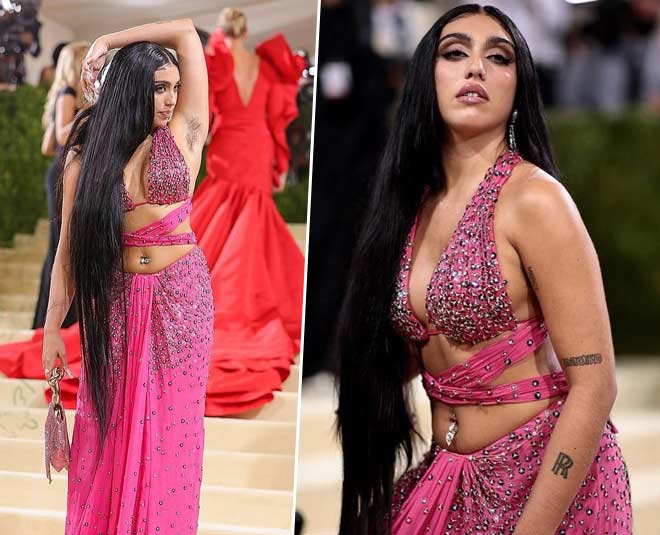 At Met Gala 2021: Dawning a beautiful sparkly fuchsia Moschino number by Jeremy Scott Lourdes Leon (Lola) shocked the Met Gala with her proud display of armpit hair. The whole look was a reminiscent of Cher's iconic style. The theme was beautifully represented by Lourdes.
Though the Met Gala saw some of the most iconic dresses worn by the biggest celebrities; Lourdes' appearance at the Metropolitan Museum of Art in New York City on Monday was the talk of the show. The beauty made her debut in a stunning hot pink metallic embroidered dress. The skirt seemed to be inspired by the Indian sari with its pleats and embellished design.
Leon looked stunning with her long dark hair cascading down with a smokey-eye look, a nude lip with just the right amount of blush. For accessories, she went for a colour-coordinated sparkly handbag, silver earrings and shiny navel piercing. But the show stopper was definitely the proud display for her armpit hair.
Don't miss; Met Gala 2021: Have A Met Gala 2021: Have A Look At All the Striking Appearances At The Red Carpet
Talk Of The Town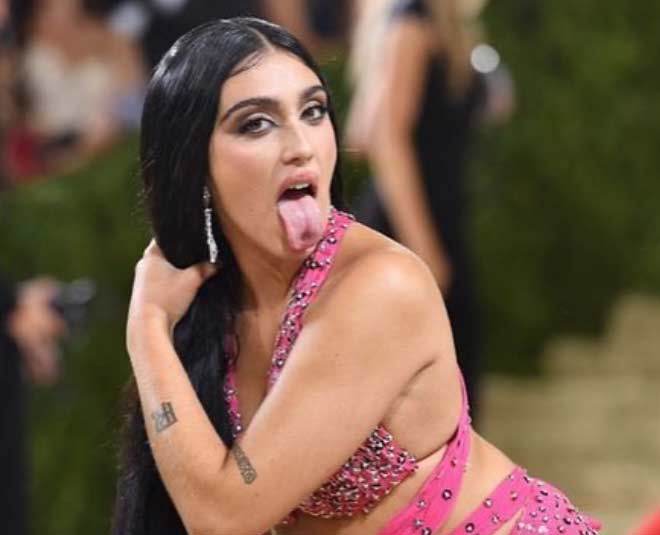 Don't miss; Kim Kardashian Steps Out In A Leather Head To Toe Bodysuit, Netizens Go Bonkers On Twitter
Lourdes Leon made her Met Gala debut honouring the 75th anniversary of the Costume Institute of the Metropolitan Museum of Art. on the red carpet, celebrating her unshaven armpits in a pink bedazzled gown. The display got people talking about the 24 year old celeb. The look pulled in comments ranging from "real beauty", "stunning" to "disgusting"; but it definitely got people talking online and offline.
With a mix of glamour and sass Lourdes shocked the audience driving the paparazzis crazy. Her ever so loving boss lady attitude definitely broke the patriarchy's beauty norms creating a social media buzz creating an iconic fashion moment.
Lourdes even walked the whole red carpet on her own, posing for many pictures in all her armpit-hair glory. She made a statement about social and fashion norms bending them. Being women means that you will have hair; yes even armpit hair and it should be normalised and not looked down at.
Talking about her experience Lourdes said "A teacher of mine made me understand movement in a whole new way. You're using your body to define the space around you to change it. That's a very naked form of expression." This truly defines Lourdes' bold choice of using her body to make a big statement at the Met Gala.
Similar statements have been made by other big celebrities like Miley Cyrus, Demi Lovato etc. Lourdes' look has been mostly taken with open arms and talked about in a positive light yet there are people who have taken the look with a grain of salt but then again haters will always exist.
Stay posted on HerZindagi for more reviews on the Met Gala 2021.