After donning some amazing sarees and lehengas for various wedding and pre-wedding ceremonies, it is natural to feel like sporting something unique to your reception party. What is better than a regal gown that will make you look nothing less than a queen. Check out some great options.
1Pistachio Green Gown
The embellishment on this gown is to die for! On the other hand, the fresh hue of this piece is charming and will good on every Indian tone.
2Baby Pink Gown
After doing reds and yellows, you must try something that is easy on the eyes. Why not a baby pink gown with floral embroidery.
3Dual-Hue Gown
The contrast of silver and maroon is making this piece an ideal bridal gown. The intricate embroidery is chic and the off-shoulder style is high-fashion.
4Grape Heavily Embroidered Gown
If you are someone, who has a taste for regal outfits, we recommend you try this grape gown. The embroidery is stunning and the full skirt is uber-chic.
5Satin Bridal Gown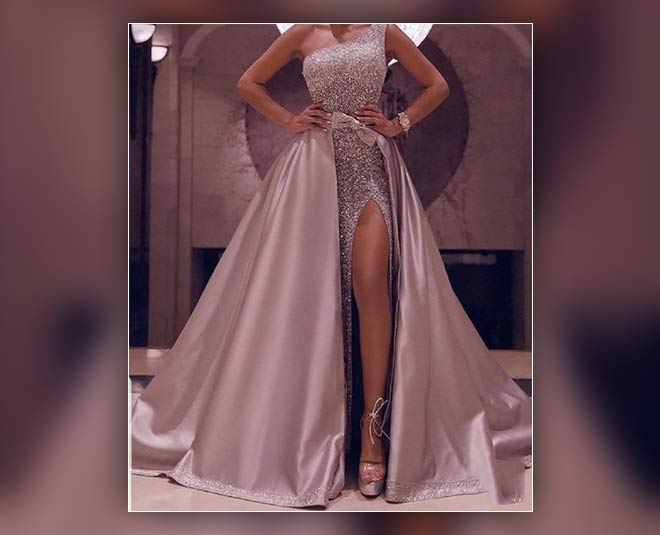 If you want to flaunt the figure that you have worked on for many days, here is the perfect gown for you. The high slit skirt is to die for and will help you make statement.
6Peacock Blue Gown
For the perfect amount of glitter and glam, pick a statement piece like this one. The shade of the piece will make you stand out.
7Maroon Bridal Gown
Want to look like the new stylish married woman at your reception party? Let your gown exude your happiness. This maroon piece is ideal and will help you flaunt your figure.
8High-Slit Floral Gown
When it comes to statement-making gowns, this gown is topping all the charts. The gold floral work and the high-slit are simply to die for.
9Scarlet Red Gown
Be the queen you're donning this high-fashion gown! Pair this with your diamonds and you will make others sit and take notes.
10Ruffle Red Gown
Be the newly wedded wife in this red ruffle gown. You will look elegant and smart in something gorgeous like this.