Every woman wants to own a luxury bag. Isn't it? There is one actor who has a drool-worthy collection of bags and clutches. From Birkin to Gucci and Fendi, Kareena Kapoor Khan has been flaunting super sexy hand bags. She recently carried a Tom Ford crossbody bag at Christmas lunch. This magnetic closure and adjustable strap bag is worth £1,293 (Rs. 1,14,822). Yes, you read it right. You can actually buy a car out her fancy bag. Do you want to grab and run away?
Few days ago, she had dinner with designer Manish Malhotra at his home where she was seen flaunting a Ralph Lauren bag which is close to Rs. 24,420 ($347.50). That's not all, this stylish mommy, who is stopping at nothing, is a proud owner of Chanel, Givenchy, Balenciaga and Olympia Le-Tan.
Tom Ford - Rs. 1,14,822
Let's do a small round up on the prices of her favourite bags.
Hermes Birkin – Rs. 12.6 lakh
Givenchy Nightingale – Rs. 1.2 lakh
Balenciaga Papier – Rs. 1.7 lakh
Chanel – Rs. 3.2 lakh
Gucci – Rs. 76,000
Which one is your favourite out of the whole lot? These super classy pieces can instantly level up your style mantra. What to wear? Here's your cue. The 38-year-old gym rat teamed up her skinny black jeans with a white Maison Margiela shirt for a Christmas day lunch. Plus we liked her striking red lip, black pumps and Tom Ford Bag. And for the other house party at Manish Malhotra's residence, she paired up chambray shirt with boot cut denims, cutout boots and a Ralph Lauren bag. Similary, you can also carry the fuss-free style like Kareena Kapoor Khan.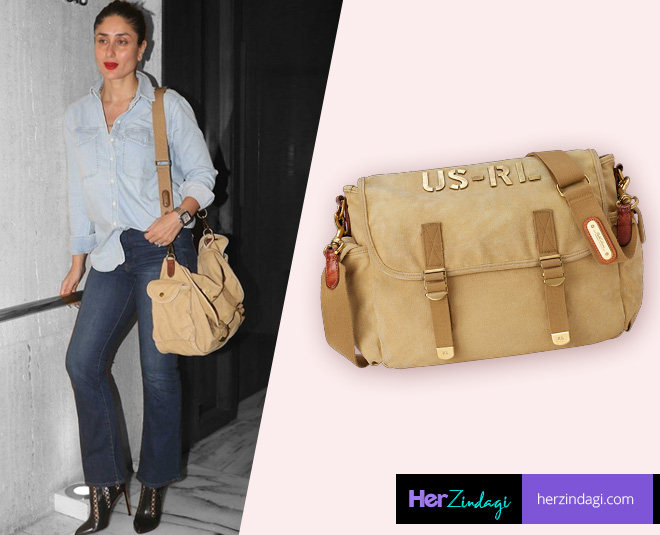 Ralph Lauren - Rs. 24,420
Be it whisking through airports or taking a casual stroll with her gang, Kareena Kapoor Khan has been spotted a number of times, sporting some expensive bags. On the contrary, she is not the only actor who is crazy for designer labels. Sonam Kapoor has a similar plush taste when it comes to fashion and accessories. This 33-year-old, who was last seen in 2018 movie 'Veere Di Wedding', has a collection of Dior, Balenciaga, Chloe, Chanel and Dolce and Gabbana.
Read More: Simmba Girl Sara Ali Khan Scores A Perfect 10 In Style
This stylish celebrity celebrity mommy was in Cape Town to celebrate Taimur Ali Khan's second birthday on December 20. The shutterbugs caught family at the airport heading to South Africa. Last year, Pataudi clan, flew down to have a cutesy intimate bash in Pataudi Palace. Reportedly Kareena Kapoor Khan was shooting for a television commercial and celebrated her little munchkin's birthday here.