So the trailer of Alia Bhatt and Ranveer Singh starrer Gully Boy is out and it's got us all excited about seeing this fresh jodi in a fresh story directed by Zoya Akhtar. The rave reviews the trailer is getting is hinting at the huge success the movie is going to be and the stylish actors stepped out for Gully Boy trailer launch event all decked up. While Ranveer was his usual stylish self wearing a purple Adidas T-shirt, lowers and a puffy jacket in an eye catching shade of yellow, it seems Alia Bhatt decided to balance him out by wearing an off-shoulder dress with statement ruffled sleeves. The outfit was a Jonathan Simkhai creation and Alia paired it with red peep toe boots with oversized hoop earrings to complete the look. But this left us wondering what's the temperature like in Mumbai in January!
What catches the eye is that the men in the entertainment industry always dress according to the weather while women have to forsake their comfort for the sake of style. Ranveer dressing up all cozy for a winter event while Alia wearing an off-shoulder dress is a case in point and if you look to Bollywood, all you can see is famous songs shot in snowy locales where the hero will be having a cool vibe in a stylish cardigan or jacket with boots. The heroine, meanwhile will be prancing around in a thin-as-air georgette saree or a mini dress or a spaghetti top, raising the mercury up!
History Repeated Again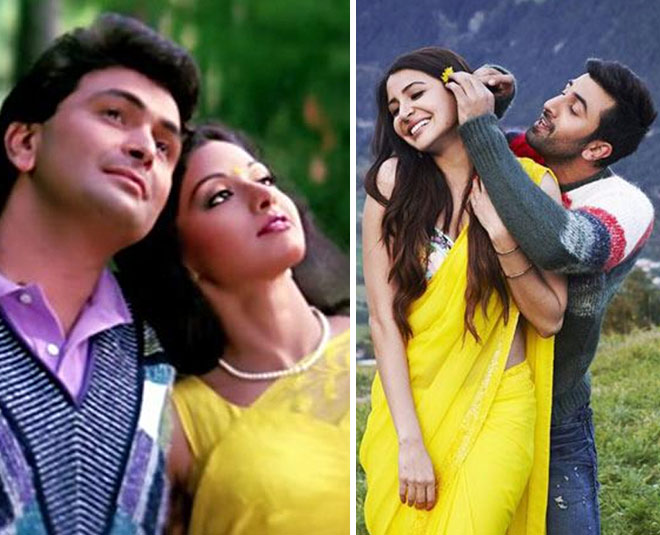 We can't blame the younger stars for pulling off this trend as Sridevi and Rishi Kapoor showed us way back in 90s that women throw caution to the wind to look as hot as possible in movies while men look 'logically dressed'. The couple presented the contrast in the song 'Tere Mere Honton Pe' which was shot in Switzerland and years later history was repeated as Anushka Sharma and Ranbir Kapoor set out to recreate the look in Austria for their movie Ae Dil Hai Mushkil.
When Madhuri Braved The Cold
Remember the song Kismat Se Tum Humko Mile Ho from Pukaar? Madhuri Dixit braved the icy coldness of Alaskan glaciers to look gorgeous in a blue chiffon saree and reportedly had a tough time at the shoot while Anil Kapoor was all covered up for the same.
Sanam Re, It's Very Cold Re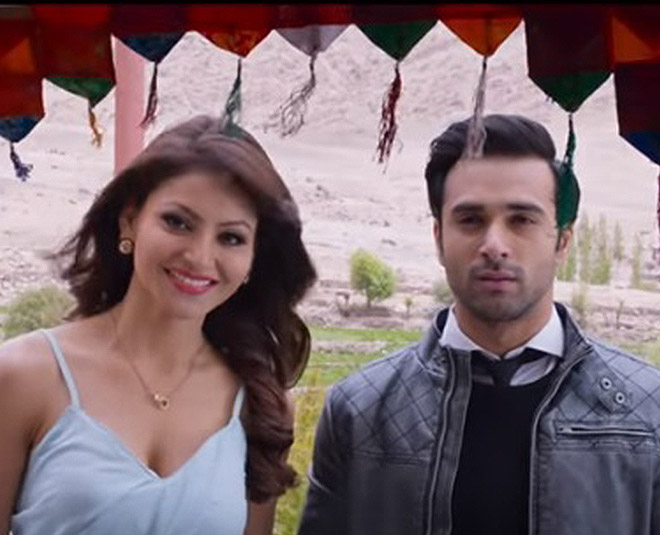 The movie Sanam Re features Pulkit Samrat romancing Urvashi Rautela and Yami Gautam at the beautiful locations of Shimla, Kalpa, Ladakh and Canada – all places that are icy-cold. So guess what Pulkit wore for the shoots? Stylish windcheaters, pullovers and jackets to keep himself warm. But Yami and Urvashi had to make do with chiffon saree and skimpy tops. Seriously, what is it with Bollywood torturing women like this? And why can't we have the men flaunting their bods in the snow?
Read More: Celeb Approved-Flaunt Your Red Saree With Sass This Wedding Season
O Winter Clothes, Where Art Thou?
The song Ye Haseen Wadiyan had breathtaking sights but notice again how Arvind Swamy was all covered up while exploring the valleys of Kashmir even as a visibly cold Madhu is wrapped up in a red chiffon sari. Thank God, girls don't take a cue and go around flaunting their chiffons in the snowy winters or the causalities would have been enormous! But yeah, we girls do end up following this trend for wedding fashion. Who cares for sweaters when you can flaunt that sexy blouse at your cousin ki shaadi in January?
Cold Wala Love
Alia Bhatt has not just dressed up with a summer vibe for off-screen appearances but being romantic for Student Of The Year song Ishq Wala Love also required her to appear in a short dress looking visibly cold even as Varun Dhawan and Sidharth Malhotra appear in the same frame all covered up from head to toe!
Seems like Bollywood heroines are the only eye candy out there when shooting happens in colder climes and men are just there to compliment them. Incredibly sexist but that's Bollywood for you!
Keep reading HerZindagi to know all about the fashion sense of celebs, celeb fashion disasters, latest trends in fashion accessories and more. #BeStylish. #Be.Smart.