Veteran actor Neetu Kapoor is quite active on social media these days and keeps sharing a lot of interesting things from her everyday life.
Recently, on the occasion of World Health Day, Neetu Kapoor took to her Instagram story and shared a picture of her water bottle. Interestingly, Neetu Kapoor's water bottle had two ingredients - bay leaf and star anise.
In the post, Neetu Kapoor shared that she is drinking it these days and that the drink is great for anxiety. She shared that she has started to drink this after 2 weeks of having chia seeds in water everyday.
We thought of bringing you a detailed story on how this drink can benefit your health in numerous ways. Read on.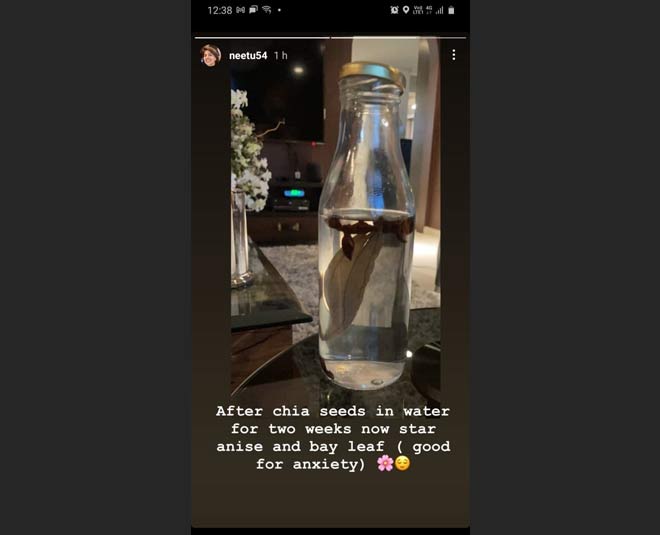 Jaya Johri, Dietician, LNJP Hospital shared, " Star anise seed water helps in relieving symptoms of menopause and is also useful for depression n anxiety."
She also shared that bay lead water helps in digestion and also has micronutrients which are great for our health.
How To Make Bay Leaf And Star Anise Infused Water?
In a glass bottle, add water and drop 2 star anise and one bay leaf. Leave this bottle overnight and drink it the next morning through the day.
Benefits Of Adding Star Anise To Water
Star anise has vitamins A and C, antioxidants that help fight the free radicals in the body and prevent cancer.
Drinking star anise water helps prevent you from common cold, cough, and flu and that's because the oils produced from this spice have thymol and anethole.
Sipping on star anise water after a meal can help you treat digestive issues like bloating, indigestion, and gas.
As shared by the expert, star anise can help in relieving cramps. It also helps in reducing nausea.
Benefits Of Adding Bay Leaf To Water
Bay leaves have organic compounds which can help treat digestive issues like irritable bowel syndrome, indigestion, bloating among others. The enzymes present in these leaves help improve the digestion
Bay leaves can help you get rid of stress which is one of the most common health issues these days. Adding a bay leaf to your water can help you lower the stress hormones of the body.
Do you know, bay leaves have antimicrobial properties? This means that they are a natural wound healer. Adding them to your diet will help you heal your minor wounds.
According to a lot of studies, consuming bay leaves can help you control type 2 diabetes. (spices diabetics should consume)
Also, bay leaves are rich in antioxidants which help the body fight harmful radicals in the body and protect us from cancer.
Consuming bay leaves can help you strengthen your heart. This is because the leaves help in lowering the bad cholesterol in the body.
Neetu Kapoor's simple remedy for anxiety relief is indeed effective. We hope you keep yourself hydrated through the day just like the actress during these hot summers to stay healthy.
Both star anise and bay leaves are great for your overall health. However, if you are undergoing medical treatment then make sure you consult your doctor before adding these to your water. For more such health-related stories, stay tuned!