Do you enjoy having digestive candies after having your meals? If yes, this article is for you. I have always been a fan of these candies or golis. They taste tangy and so delicious, just what you need after a heavy meal to digest it all.
Usually, our stomach starts to feel so heavy and bloated after bingeing on our favourite foods. Having these candies make our stomach feel much lighter and happy.
One of the most relished candies among all is the hing goli or peda. The delicious flavour and digestive properties of hing or asafoetida make this goli our saviour after a heavy meal.
We thought of sharing an easy, homemade hing goli recipe for you. Read on.
How To Make Hing Peda?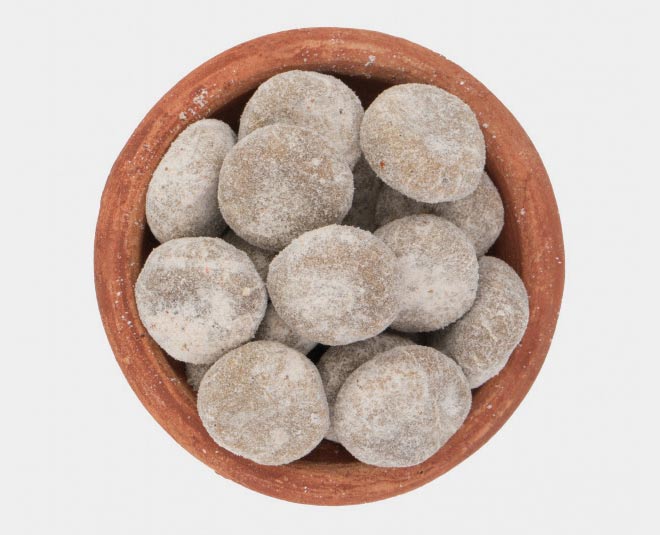 Ingredients Required
Cumin Or Jeera Powder
Powdered Sugar
Ajwain Or Carom Seeds
Lemon Juice
Aamchur Powder
Black Salt
Black Pepper Powder
Hing Or Asafoetida
Directions
In a bowl, add 1/2 tbsp cumin powder or jeera powder.
Next, add 1/4 tbsp hing.
Add 1/2 tsp black pepper powder, 1/2 tsp black salt, and 1/ cup aamchur powder.
Now add in 1 cup powdered sugar. Mix well using a spoon.
Pour in 1-4 tbsp lemon juice. Combine well to give it a dough-like texture.
Start making small balls and keep aside.
On a plate, spread powdered sugar.
Homemade hing pedas are ready!
These pedas can be stored in an air-tight container.
Benefits Of Eating Hing Peda Or Goli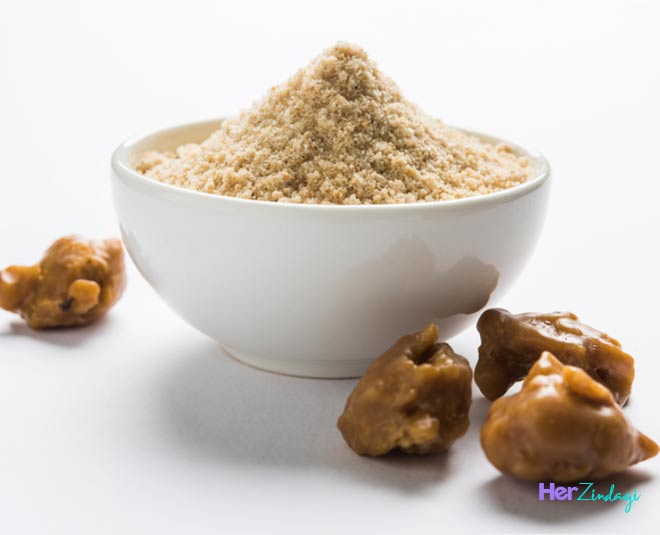 What Does The Expert Say?
Jaya Johri, Dietician, LNJP Hospital shared that having hing peda after a meal aids digestion. A lot of us have stomach discomfort after having heavy meals. Having a hing peda can help provide relief from stomach discomfort, shared the expert. She further shared that hing pedas help in bloating.
Aids Digestion
One of the biggest benefits of adding hing to your diet is that you keep digestive disorders at bay. Consuming hing goli or peda can help reduce digestive issues like constipation, gas, bloating, irritable bowel syndrome among others. This is because asafoetida has anti-inflammatory properties which treat digestive issues.
Don't Miss: Drinking Hing Or Asafoetida Water Everyday Can Be Great For Our Overall Health
Cures Respiratory Issues
Many don't know that hing or asafoetida has anti-inflammatory, anti-viral, and antibiotic properties which are believed to be highly beneficial for the respiratory system. Consuming hing peda can help in providing relief from chest congestion.
Regulates Blood Pressure
Adding asafoetida to your diet can help lower blood pressure levels. Hing works as a natural blood thinner and lowers the blood pressure levels of the body.
Reduces Menstrual Pain
During periods, it is beneficial to have 1-2 hing pedas. Consuming hing helps in promoting easy blood flow and provides relief from menstrual pain.
Remember that these hing pedas should be consumed in limited quantity or they can negatively affect your health, lead to stomach disorders. You can have 1-2 hing candies after your meal.
Though these homemade hing pedas have no side effects, it is best you consult your doctor before adding them to your diet if you are undergoing any medication or treatment to prevent any health issues.
If you try making these hing pedas at home, do share your experience with us on our Facebook page. For more such stories, stay tuned!