Ginger or adrak is one superfood that everyone should include in their daily diet. Ginger is widely known for its medicinal uses. From helping in weight loss to treating common health issues like indigestion and nausea, ginger can really do wonders.
Ginger Health Benefits
Helps treat nausea, morning sickness.
Lowers blood sugar levels
Reduces risk of heart diseases.
Treats digestion problems like bloating, constipation.
Helps prevent cancer.
Kills bad bacteria in the body.
Reduces cholesterol levels.
There are different ways you can add ginger to your daily diet to enjoy its amazing health benefits. Read on.
Sip On Some Ginger Tea
One of the best ways to add ginger to your diet is by drinking homemade ginger tea. If you are a tea lover then this can be a great idea. In a saucepan, add some water and some grated ginger. Let the ginger steep in. Add some tea leaves and cook as your regular tea.
Ginger tea is not just great to taste but also good for health issues like indigestion, nausea, morning sickness among others.
Chopped Ginger With Lemon And Carom Seeds
This one is an old remedy that my grandmother tells us to follow on days we feel a bit uneasy or have digestive issues. Simple peel off the skin and chop the ginger into thin strips. Place in a bowl, squeeze in some lemon juice, and sprinkle some carom seeds. Mix well and chew on the ginger strips. (ginger pickle recipe)
This home remedy instantly helps in getting relief from bloating. It is great for days you have had a heavy meal. You can chew on one or two ginger strips after a meal for good digestion.
Don't Miss: Ginger Tea: Here Are Amazing Reasons To Add This Herbal Drink To Your Daily Diet
Add Ginger Juice To Curries, Salads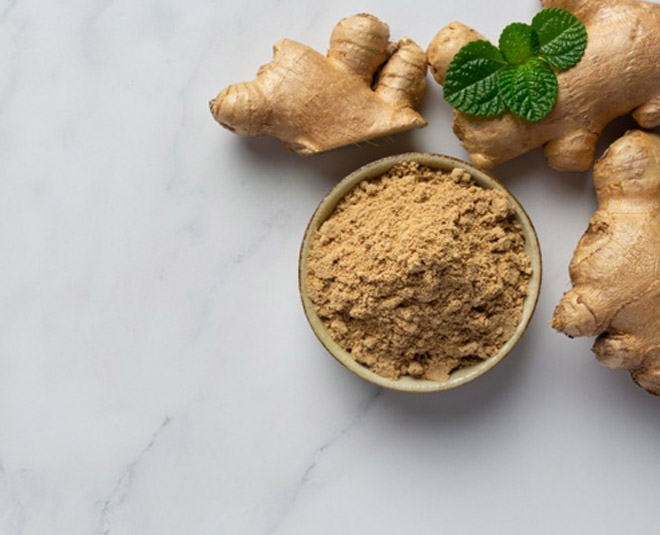 Another easy way to add ginger to your daily diet is by adding some ginger juice to your stir-fries, curries, and salads. While preparing curries, you can add ginger paste or chopped ginger to the oil first, let it cook, and then add in the other ingredients.
You can also add some ginger juice to your stir-fries. It will not just add to the flavour of your meal but also help you enjoy the health benefits of ginger.
Make Immunity Boosting Drink
With the rising number of COVID cases, you must be looking for immunity boosting drinks. If that's the case with you then you can prepare an immunity-boosting drink. Add carrots, ginger, and grapefruit to a blender to make juice. Strain and sip on it.
Don't Miss: 6 Ways To Use Ginger As A Beauty Product
Add Ginger To Baking Goods
Ginger as a flavour is enjoyed by many. If you like baking then you can add ginger to your dough while making cookies or cake.
Have Ginger Water
Don't like having plain water? Have ginger water instead. It not only keeps you refreshed all day with its unique flavour but you stay hydrated too. In a glass container, add some water and ginger slices. You can keep it overnight. Also, drop in some mint leaves and lemon wedges. Stir and sip on the drink.
We hope this guide helps you add ginger to your everyday diet in different ways. For more such diet-related stories, stay tuned!