If you ask me one reason why I absolutely love the winter season, I would say food. There is something special about the food we get to relish during this chilly season. Right from seasonal greens like palak and methi to delicacies like gajrela, moong dal halwa.
If we talk of sweet dishes enjoyed during this season, there is nothing like the atta panjiri. Packed with the goodness of ghee, whole wheat, and loads of dry fruits. I remember my grandmother used to prepare it all through the winter season and we used to enjoy it with a glass of hot milk.
The traditional dessert is not only loved for its taste but for health benefits too. Atta panjiri has multiple benefits for your overall health.
What Does The Expert Say?
Dietician Simran Saini, "Atta panjiri has many health benefits and is a wonderful snack for winters. The first ingredient is wheat or atta which provides energy and acts as the perfect base. The nuts are rich in micronutrients and provide health benefits like improving cardiac health, bone health, stamina, and muscle strength. The nuts also provide the required heat to keep body warm and increase immunity."
"The ghee acts as the perfect lubricant for the aching joints, helps to give moisture and improves skin health, and keeps the stomach full for some time. Seeds added to the panjiri like flaxseeds improve cardiac health and milk flow for lactating mothers. Atta panjiri is a powerhouse of nutrients in winters for all age groups and consuming it each day is a good way to start a winter morning," she added.
Health Benefits Of Atta Panjiri
A lot of people suffer from joint pain and body ache during the winter season. Consuming panjiri helps prevent such pain because of the nutritious ghee and dry fruits present in them.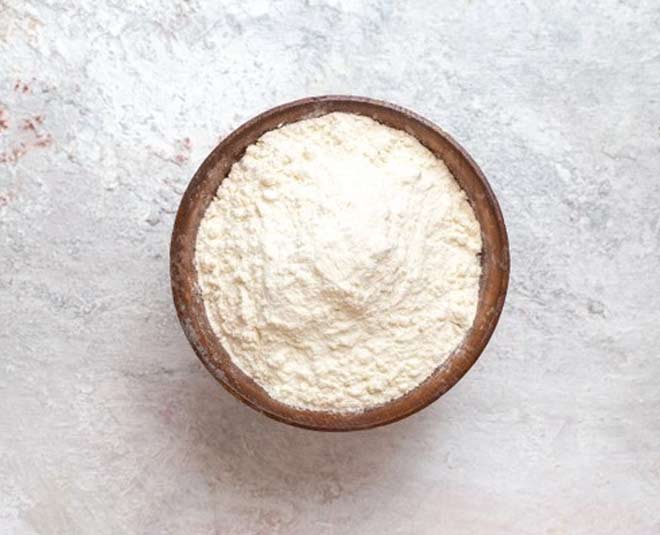 If you are a new mother then panjiri is the best thing you can consume. It helps in postpartum healing. It is highly beneficial to consume because it helps in lactation by increasing the flow of breastmilk.
Panjiri also helps the new mother to fuel her body with calcium and energy.
As the panjiri is loaded with ghee and the goodness of dry fruits, it helps keep your body healthy overall. Especially your bones, consuming panjiri helps strengthen your bones and muscles.
Also, during the winter season, we all need something warm. Atta panjiri keeps your body warm and energetic all day long.
Don't Miss: Ghee Milk At Night: Expert Shares Health Benefits Of Drinking It
How To Make Atta Panjiri?
Ingredients Required -
2 Cup Atta Or Whole Wheat Flour
Ghee As Required
Chopped Dry Fruits (Almonds, Cashews, Raisins, Walnuts)
Cardamom Powder
Directions -
In a pan, dry roast all the chopped dry fruits.
Once crisp, keep aside.
In another pan, add some ghee and roast whole wheat flour or atta.
Cook till the whole wheat flour changes its colour.
Keep adding ghee as required.
Next, add powdered sugar to the mix and combine well.
Add in chopped dry fruits and mix.
Transfer panjiri to an air-tight container once it cools down. Serve.
Though atta or whole wheat panjiri is highly nutritious and has many benefits, it is best you consult your doctor before adding it to your daily diet if you are undergoing any health problems.
Do you have another interesting atta panjiri recipe to share? If yes, write to us on our Facebook page and we will be happy to share it with our readers. For more such stories, stay tuned!