Rainbow Salad To Trail Mix, Healthy Snack Substitutes For Your Kids
Treat your kids with these 5 homemade tasty and nutritious snacks whenever they get those hunger pangs between meals.
Kids are always looking for delicious snacking options. In between their three main meals, they crave for quick snacks which can work as a dose of energy for them. While there are a lot of readymade snacks available in the market, most of them lack nutrition which is crucial for growing kids.
If you are looking for healthy and tasty snacking options for your kids, you have landed on the right page. Anshu Arora, Food creator on Trell, shared some easy to make snacks which are great substitutes to packed foods.
These snacks will not only satiate their in between meal hunger pangs but also fuel their body with the much required nutrition.
Fruit Popsicles
Kids love ice creams but they are fattening and not at all healthy for everyday consumption. For days your kids are craving some ice cream, prepare frozen fruit popsicles for them. They are not just healthy but tasty too.
How To Make Fruit Popsicles?
Begin with chopping fruits into small bite size pieces.
Place the chopped fruits in the popsicle mould.
Fill up the mould with coconut water or fresh fruit juice.
Add sticks to the popsicles.
Freeze for a couple of hours.
Once frozen, enjoy!
Trail Mix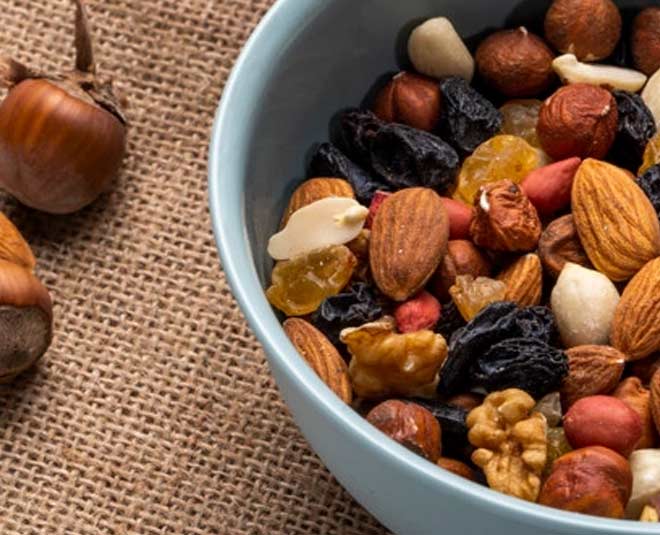 Trail mix is a very healthy snack option for your kids. Add dried fruits, your child favourite nuts, pumpkin, melon, chia and sunflower seeds to the trail mix to make it more nutritious.
How To Make Trail Mix?
Chop walnuts, raisins, almonds, dates, dry apple slices, dry apricots. Add to a bowl.
Add in sweetened chocolate chips.
Transfer to an airtight container.
Pack the trail mix for snacking through the day at school.
Cornflake Clusters
Kids love chocolates but again they are not healthy and quite fattening. To satiate their sweet cravings, prepare cornflake clusters for them at home. They are healthy and tasty.
How To Make Cornflake Clusters?
Melt some dark chocolate.
In a bowl, add cornflakes. Top with melted dark chocolate. Mix well.
Scoop out the mixture on a parchment paper to make small clusters.
Sprinkle some sea salt over the clusters.
Drizzle peanut butter over the clusters.
Refrigerate for a few minutes. Serve.
Rainbow Salad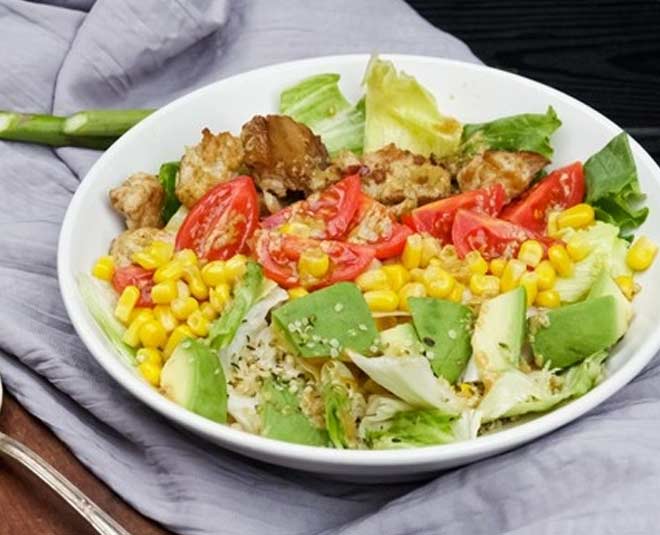 Instead of fried snacks, prepare a rainbow salad for your kids. It is super healthy and you can modify the recipe as per the taste and preferences of your kids.
How To Make Rainbow Salad?
Wash all the vegetables, some good options are carrot, cucumber, onion, tomato, lettuce.
In a large bowl, add yogurt and beat it using a whisk.
Add in the chopped vegetables.
You can also add in fresh chopped fruits like apple, guava and pomegranate.
Sprinkle salt and pepper as per taste.
Serve fresh.
Oatmeal Based Snacks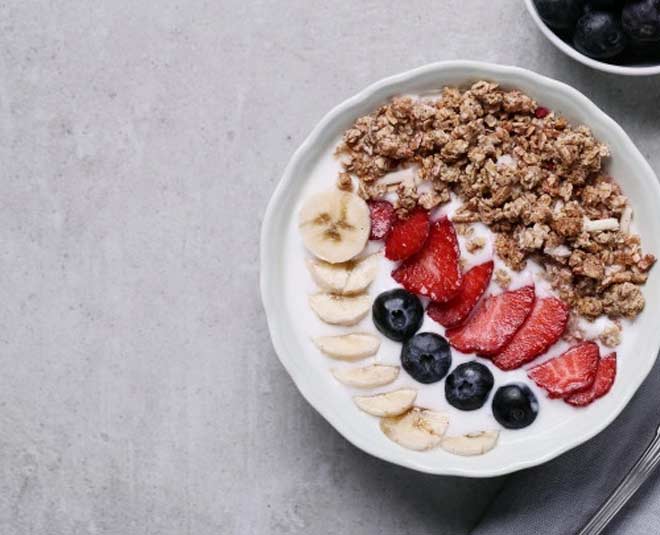 To ensure your kids consume good amount of fiber through the day and have a healthy digestion, it is important for them to conusume fiber rich snacks. Oatmeal is packed with a lot of fiber. There are different oatmeal snacks you can prepare at home. Some good options are oatmeal pancakes, energy bars, oatmeal bowl, brownies among others.
How To Make Oatmeal Pancakes?
Begin with whisking 1 cup rolled oats and milk together.
Let the mix rest for 10 minutes.
Add butter, 2 eggs and sugar as per taste to the oats mix and combine.
Next add in all purpose flour or maida, baking powder, ground cinnamon and whisk till all the ingredients are combined.
Let the mixture rest for 5 minutes.
On a pan, spread some butter.
Pour some oatmeal batter on the pan and cook on both sides till golden and crisp.
Take off flame.
Drizzle some chocolate sauce or maple syrup over the pancake and serve.
We hope you enjoy making these healthy snacks for your kids. These are all kid friendly recipes and you can also get them together in preparing these snacks at home. For more such recipes, stay tuned!